Ahn and Padhye are co-authors of new study on knee osteoarthritis pain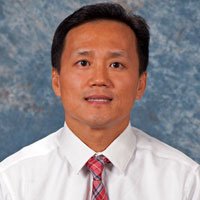 (Aug. 9, 2017) – UTHealth School of Nursing Associate Professor Hyochol "Brian" Ahn, Ph.D., R.N., holder of the Theodore J. & Mary E. Trumble Professorship In Aging Research, is lead author of a new article about the use of noninvasive brain stimulation for pain relief in older adults with knee osteoarthritis. Associate Professor Nikhil S. Padhye, Ph.D., Center for Nursing Research, is a co-author.
H. Ahn, A. Woods, E. Choi, N. Padhye, R. Fillingim. Efficacy of Transcranial Direct Current Stimulation on Clinical Pain Severity in Older Adults with Knee Osteoarthritis Pain. (2017) The Journal of Pain, 18(4), S87-S88. DOI: http://dx.doi.org/10.1016/j.jpain.2017.02.306
More than 22 million adults in the United States struggle with daily life activities due to arthritis pain. Patients with chronic pain, such as knee osteoarthritis (OA) pain, often have insufficient pain relief. Because pharmacologic treatments are often inadequate and can lead to adverse events among older adults, there is a growing interest in non-pharmacologic interventions targeting central nervous system pain processing.
"This study was one of the first to test the efficacy of active transcranial direct current stimulation (tDCS) in older adults with knee OA using an experimenter- and participant-blinded, randomized, sham-controlled design," said Ahn.
Preliminary results of the study show that tDCS reduced clinical pain severity in adults with knee osteoarthritis. Further studies with larger samples and longer-term follow-ups are needed, the authors noted.
In this story