Nicholson Distinguished Professorship awarded to Diane Santa Maria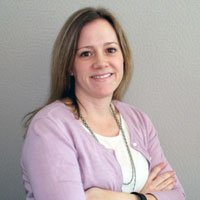 (April 27, 2017) – Diane M. Santa Maria, Dr.P.H., M.S.N., R.N., assistant professor in the Department of Nursing Systems of The University of Texas Health Science Center at Houston (UTHealth) School of Nursing now holds the Dorothy T. Nicholson Distinguished Professorship.
The endowment fund was established in 2016 in the university's Game Changers Initiative to honor past, present and future chairs of the PARTNERS organization who have generously devoted their time and resources to support the students and faculty of the School of Nursing.
"It is truly an honor for the UTHealth School of Nursing to receive the Dorothy T. Nicholson Distinguished Professorship," said Dean Lorraine Frazier, Ph.D., R.N. "The award will support research to help the underserved, a passion to which Mrs. Nicholson has committed many hours in her work with the Salvation Army."
The donor expressed a preference that the holder of this endowed academic position "work with underserved populations." Santa Maria's research focuses on parent-based adolescent sexual health and HIV and drug prevention in homeless youth.
In May 2015, as co-principal investigator, Santa Maria completed a study of homeless youth in the Houston community called YouthCount 2.0! She conducted this collaborative, community-based research study in partnership with the University of Houston and with support from the University of Houston-Downtown.
"This research is truly hands on, taking Diane into the streets and shelters of Houston as she reaches out to homeless youth," said Frazier, the John P. McGovern Distinguished Professor. "The research will impact the care of homeless youth both on a community and national level."
In 2015 Santa Maria received a three-year grant from the Eunice Kennedy Shriver National Institute of Child Health and Human Development (NICHD) to scientifically evaluate the efficacy of a parent-based adolescent sexual health intervention delivered by UTHealth nursing students in a community setting.
Santa Maria also was awarded a PARTNERS Faculty Research Scholar endowment to help support her in acquiring an R01 grant award from the National Institutes of Health (NIH) for her research. The appointment runs through August 2017.
A 2016 recipient of the Dean's Service Award for outstanding service in the community to promote health or health education, Santa Maria was chosen last year for a highly competitive three-year summer training program at the Center for AIDS Prevention Studies (CAPS) of the University of California, San Francisco.
"This is a huge opportunity to learn from experts in HIV prevention in marginalized populations," said Santa Maria. "CAPS provides $20,000 in funding for a pilot study, and the program runs six weeks at UCSF each summer for three years with UCSF covering the costs to be out there."
Santa Maria joined UTHealth School of Nursing in 2009 as a clinical faculty member and was promoted to Assistant Professor (tenure track) in May 2013 after earning her doctoral degree. She also is an adjunct faculty member in the Center for Health Promotion and and Prevention Research at The University of Texas Health Science Center at Houston (UTHealth) School of Public Health.
"We are very proud of this collaborative effort of donor and researcher coming together to make a difference," said Frazier, who holds the Huffington Foundation Chair for Nursing Education Leadership. "Such philanthropic gifts as Dorothy Nicholson's provide distinction, consistent financial support and validation of their scholarship and teaching for outstanding professors like Dr. Santa Maria."
– David R. Bates, Communications Director
In this story