Hispanic Heritage Month: Remembering Role Models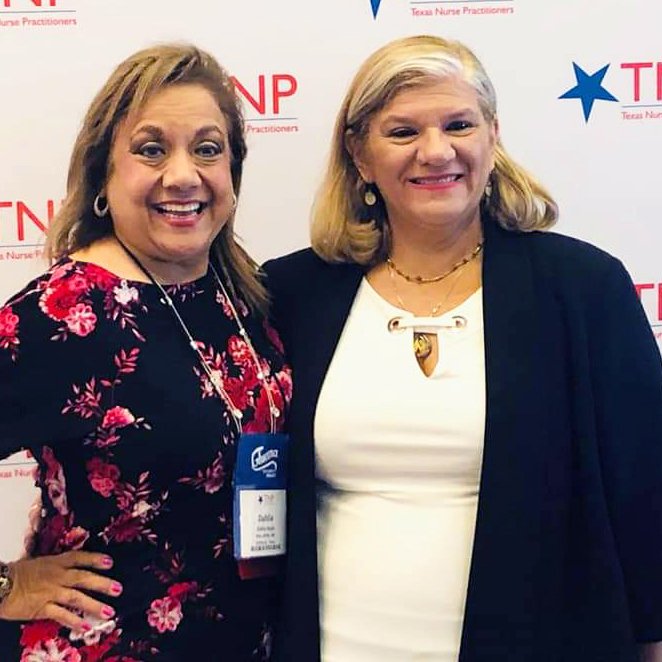 (October 1, 2020) A grandmother who never let anyone go hungry, a grandfather who held nurses in high esteem, a cousin who volunteered in an emergency department – in honor of Hispanic Heritage Month, we asked a few members of the Cizik School of Nursing at UTHealth community to share stories about the people who influenced them to pursue health care careers.
* * * * *
"My family immigrated from Costa Rica. I grew up in a traditional Latin home where my grandmother, Lila Jimenez, lived with us. She was a very strong woman and always encouraged me to be independent and to pursue as much education as possible.
"As a little girl, I spent many hours watching her cook. Every celebration was filled with enough food to feed an army. She inspired my love for cooking. When I learned that there are people in this country who struggle with food insecurity, I wanted to learn more. When we were doing some qualitative interviews with people who had food difficulties, we found that it didn't matter whether or not you have an abundance of food, sharing food with others is still important."
Associate Professor, Daphne Hernandez, PhD, MSEd, FAAHB
Lee and Joseph Jamail Distinguished Professor in the School of Nursing
Department of Research
Dr. Daphne Hernandez with her grandmother,
Lila Jimenez, at her doctoral commencement.
* * * * *
"The person who inspired me was my grandfather, Joel Castillo. I was born in Mexico, and growing up my parents both worked. My older brother and I would get dropped off at my grandparents' place.
"He was a smoker and had a lot of lung complications. He would always tell us how the only people who would take him seriously were the nurses. They spent time with him and took care of him. He died of lung cancer when I was very young, and a couple of the nurses came to his funeral.
"The patient-teaching aspect of nursing is my absolute favorite part of my clinical rotations. My dream is to work at Harris Health System's Lyndon B. Johnson Hospital, because it is the hospital that serves the community that I grew up in here in Houston."
Kevin Castillo Sandoval
Pacesetter BSN student
Pacesetter BSN student Kevin Castillo Sandoval today and as a child with his grandfather, Joel Castillo.
* * * * *
"When I was about 13, I had to go to the emergency department because of a stomach problem. My cousin walked in with a salmon-colored apron – she was a junior volunteer. No matter how sick I was, I was jealous! Once I got past my illness, I convinced my mother to let me volunteer.
"Through that experience, I learned about the disparities in health care at a very young age. There was one gentleman who was an amputee. He would come in every afternoon and borrow a wheelchair to visit his wife upstairs, and I would always help him. One day he was brought to the hospital with CPR in progress. I was in the room when he passed. I think that was probably one of the most pivotal moments in my life when I realized what I wanted to do.
"My mentor while I was a BSN student at UTHealth was Dahlia Rojas. She was the only Latina role model I had in nursing," Ramirez said. "She is now faculty at The University of Texas Rio Grande Valley."
Professor Elda G. Ramirez, PhD, RN, FNP-BC, ENP-BC, FAAN, FAANP, FAEN
PARTNERS Research Scholar
Professor
Nurse Planner
Drs. Dalia Rojas and Elda Ramirez
Sherri Deatherage Green