BSN to DNP Nurse Practitioner program approved by THECB for fall 2019 start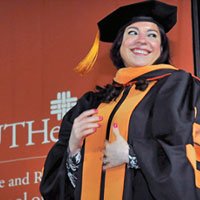 (May 14, 2019) – Cizik School of Nursing at Houston has received approval from the Texas Higher Education Coordinating Board (THECB) to offer the BSN-DNP Nurse Practitioner degree program starting in the fall 2019 semester.
This new program will offer an opportunity for BSN-prepared RNs to seamlessly advance their nursing degree through to the doctoral level, specializing in one of two fields: Family Care (FNP) or Psychiatric/Mental Health Care.
An Adult/Gerontology Primary Care specialty will be added in fall 2020.
"Nurses at every level of preparation bring forward the need to change practices in order to increase safety and improve the health of those they serve," said Assistant Professor Lisa W. Thomas, DNP, RN. "The emphasis of the DNP program is quality issues such as these, and the performance improvement techniques needed to effectively lead change."
Unlike the PhD in Nursing, the Doctor of Nursing Practice (DNP) is a practice doctorate that focuses on interprofessional collaboration and developing competencies in quality improvement and safety that lead to enhanced outcomes important to patients, families, providers and organizations. The creation of an integrated BSN-DNP curriculum is in line with a commitment by the National Organization of Nurse Practitioner Faculties (NONPF) to move all entry-level nurse practitioner education to the DNP degree by 2025.
Nursing schools nationwide are reporting sizable and competitive DNP student enrollment. Employers are quickly recognizing the unique contribution these expert nurses are making in the practice area, and the demand for DNP-prepared nurses continues to grow.
The Commission on Collegiate Nursing Education (CCNE), the leading accrediting agency for baccalaureate- and graduate-degree nursing programs in the U.S., began accrediting DNP programs in fall 2008. To date, CCNE has accredited 286 DNP programs in all 50 states plus the District of Columbia.
Cizik School of Nursing graduated Texas' first class of DNPs in 2009, and remains one of the three highest-ranked DNP programs in the state.
From 2017 to 2018, the number of students enrolled in DNP programs in the U.S. increased from 29,093 to 32,678, according to the American Association of Colleges of Nursing (AACN). During that same period, the number of DNP graduates grew from 6,090 to 7,039. Forty-three post-master's DNP graduates will walk the stage at Cizik School of Nursing's commencement ceremony on May 16.
For a brief video overview of the program, click HERE.
For detailed information or to apply: go.uth.edu/bsn-dnp-np
– David R. Bates, Communications Director