Branson's new research study funded to dig deeper into health benefits of pet caretaking for older U.S. adults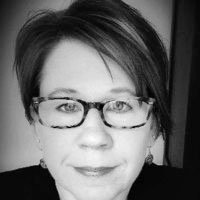 (Jan. 16, 2019) – A research project by Cizik School of Nursing Assistant Professor Sandra Branson, Ph.D., R.N., Department of Research, is one of five in the nation to win 2019 competitive funding from The Human Animal Bond Research Institute (HABRI). HABRI, entering its sixth grant-funding cycle, considered a total of 40 proposals for new research focused on the positive effects of human-animal interaction on human health.
These five new studies will examine the influence of pet ownership, pet caretaking or animal-assisted therapy on a wide array of health conditions among a varied group of populations, including older adults, children with pediatric cancer and suicidal adolescents.
Branson's project, with Cizik School of Nursing collaborator Stanley Cron, M.S.P.H, is "Pet Caretaking and Risk of Cognitive Impairment and Dementia in Older U.S. Adults Participating in a Nationwide Longitudinal Probability Cohort Study." The amount of the HABRI grant is $16,181, and the project runs until March 2020.
"Evidence suggests that pet caretaking is associated with reducing cerebrovascular or cardiovascular risk, improving physical activity and social engagement, and reducing loneliness and depression," Branson said. "Findings from our study will clarify these relationships, using a large sample from a national probability sample of older U.S. adults."
Branson's project will draw on data of 5,000 older American adults who were followed through a nationally representative longitudinal probability cohort study – the Health and Retirement Study – and responded to a question on pet caretaking over a 14-year time period (2002-16).
Since HABRI's founding in 2010, the institute has funded 26 competitive research projects from institutions around the globe, and has supported the creation of the world's largest online library of human-animal bond research and information, bringing its research funding to more than $2.75 million. For more, visit habri.org.
In this story