Ambassador program "cherry on top" for fourth group of selected students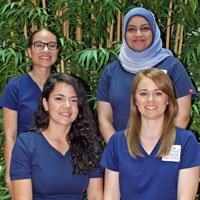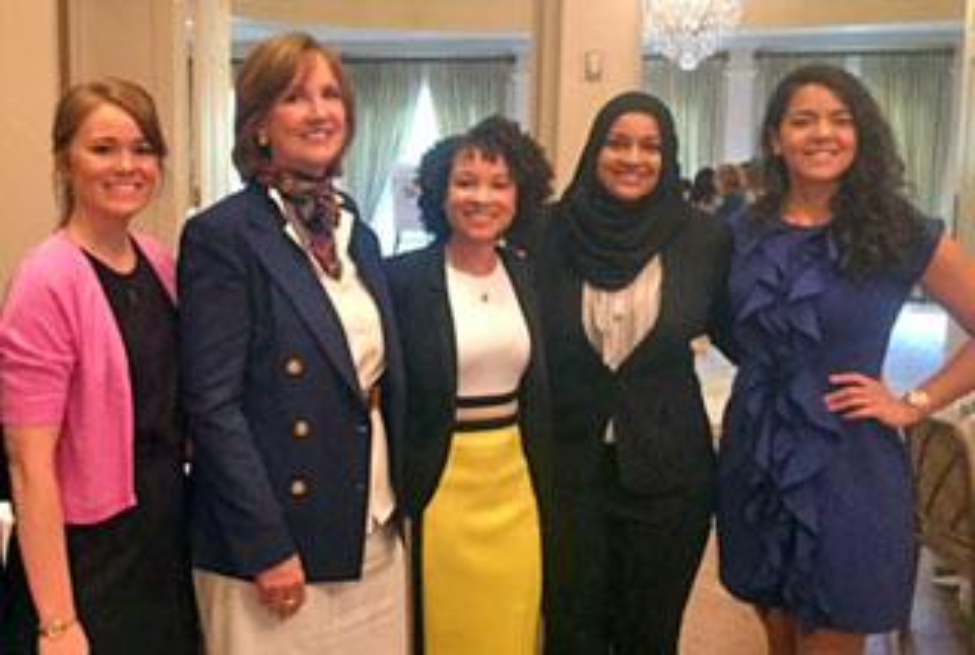 (April 19, 2018) – A fourth group of outstanding nursing students have been benefiting this semester from Cizik School of Nursing's extracurricular Ambassador Program, which offers a unique slate of mentorship and leadership development activities that will help make select students into confident, competent and empowered nursing leaders. This cadre of four Pacesetter B.S.N. students also represented the School in various functions during their studies.
The Ambassador program is philanthropically supported by the Deborah Garrett Adams Leadership Development Fund and the Emily and Jordan Marye Leadership Development Fund, both established in January 2016.
Participating as Ambassadors in the spring 2018 semester are:
Liana Depew –

a 2011 graduate of The University of Texas at Austin with a Bachelor of Arts in Latin American Studies, Spanish/Portuguese and Government. Currently doing a professional student nurse externship at UT MD Anderson Cancer Center, she has recent private-sector work experience with NRG Energy and alliantgroup. "I believe the most valuable part of the Ambassador program is the variety of people we meet and get to interact with – we really get to meet all sorts of wonderful people," said Liana. "Nursing school has been an amazing experience on its own, but this program has really been the cherry on top for me."

Fatma Osman – was on the Dean's List three times while earning an Associate degree from Houston Community College with a final 4.0 GPA. At the nursing school, she has worked for two semesters as a tutor for fellow students. In addition to English, Fatma speaks Swahili, Cutchi, Urdu and Gujarati. "By being an Ambassador, I have learned to be confident in public speaking, to advocate for myself and others, effectively communicate with my peers and improve my teamwork skills," Fatma said. "Through this program, I have learned to be courageous, compassionate and 'professional.' I will carry these qualities forward in my nursing career, and I will remember to heal with a smile and be strong as a leader can be!"
Toni Gardner – has earned an Associate of Science degree from Lone Star College and graduated from Summer Creek High School in the Humble ISD. She has served as a volunteer at area elementary schools, Houston Food Bank, Meals on Wheels, Star of Hope and in Texas Children's Hospital playrooms. "The most fun I had during the Ambassador program was going to the School Of Public Health's Holistic Garden, picking fresh fruits and vegetables and learning different ways of preparing these foods," Toni said. "It's important as a future nurse to be aware of different approaches to improving health through something many people find comforting – which is food. Healthy eating can potentially improve a patient's overall outcome and decrease mortality rates in some disorders through changing the way you eat by including more vegetables or fruits, and learning healthy ways to prepare them."
Catherine Leigh "Caty" Johnson – said: "For me, the most fun activity was the PARTNERS Luncheon at River Oaks Country Club. It was such a privilege to mingle and speak with those who support the mission of Cizik School of Nursing and dedicate much of their time to being advocates for the faculty and students." A product of San Jacinto College's Associate of Science program with a 3.9 final GPA and two Dean's List appearances, she worked for 20 months as a manager at veterinary treatment facility in Santa Rita, Guam (2013-15). "I also very much enjoyed the 'Power of Nursing' course we attended for five weeks," Caty recalled. "This course taught me so much about myself and my power to heal with generous listening, compassion and courage."
The spring 2018 Ambassadors have completed:
the Dining Etiquette and Protocol course at the University of Houston Conrad N. Hilton College Department of Hotel and Restaurant Management, including real-time dining etiquette, professional attire and business networking

gardening in the Holistic Garden, followed by a cooking activity focusing on health and wellness in the School of Public Health research and demonstration kitchen

attending the PARTNERS Spring Luncheon on April 5th at the River Oaks Country Club

completed the "Power of Nursing" course directed by past PARTNERS Chair Susan Cooley, Ph.D., R.N. – an experiential course, in which students are encouraged to identify, strengthen and cultivate the human dimensions of the practice of nursing, recognize common personal concerns among peers and faculty

seminars regarding professional attire, nursing research, graduate nurse residencies and countering incivility in the workplace.
Practical objectives of the program, which requires about 12 hours per semester, are to: foster effective communication and teamwork skills; provide occasions for students to demonstrate leadership behaviors and skills; create opportunities to expand peer and community networks for leadership development and growth.
The initial cohort of five Ambassadors kicked off the program in the fall 2016 semester.
Faculty members associated with the Ambassador program are Linda M. Brown, Ph.D., assistant professor of clinical nursing and director of the school's Academic Success Center; Associate Dean for Professional Development and Faculty Affairs Debra L. Fowler, Ph.D., M.B.A., R.N.; and Assistant Professor of Nursing Systems Linda Cole, D.N.P., R.N.
"Not only is Dr. Brown phenomenal at scheduling events around our exams, but the activities we were involved in are so rewarding that they end up being a much-needed break from all the school work," commented Liana Depew.
Ambassador Caty Johnson added: "Applying for the Ambassador Program was a bit scary because we already have so much on our plate, but this program offers an uplifting break from studying that doesn't add more work or stress. It has given me great confidence in myself as a future nurse leader and has allowed me the opportunity to work closely with those I greatly respect and admire. I can honestly say that I will look most fondly upon this experience and am so thankful to be apart of it."
This special program is available to second-semester (J2) and third semester (S1) Pacesetter B.S.N. students with at least a 3.5 GPA. The selection committee considers each qualified student's application, résumé, short essay and one faculty recommendation. The next cohort will be chosen to begin in the summer 2018 semester.
For more about the Ambassador program: http://go.uth.edu/cocurr
– David R. Bates, Communications Director