Fellowship teaching future nurses about caring for people with disabilities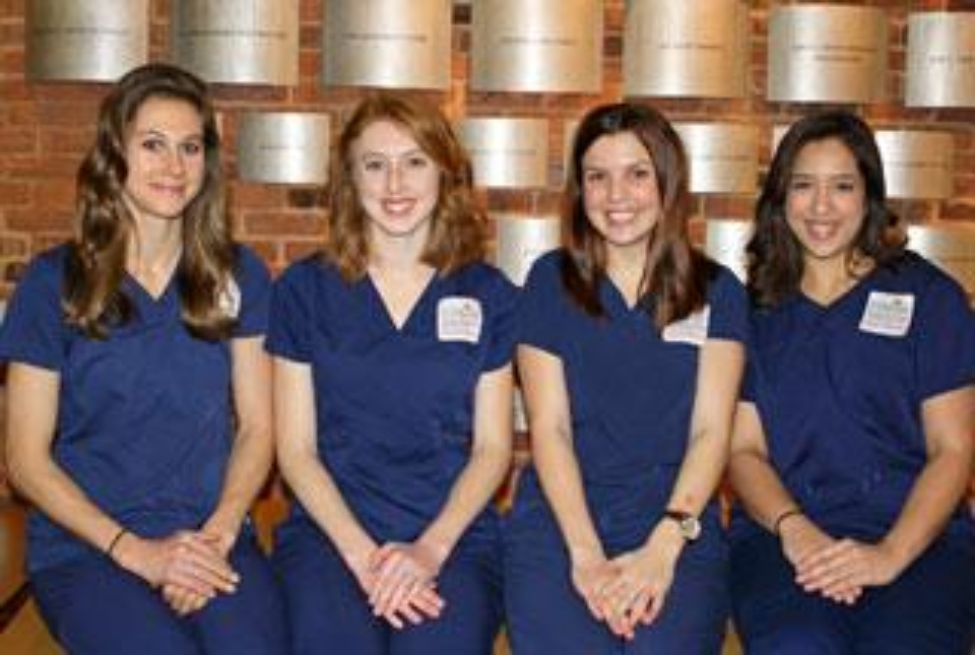 (April 9, 2018) – A generous grant from Joan and Stanford Alexander is funding specialized fellowships at UTHealth's Jane and Robert Cizik School of Nursing for undergraduate nursing students each fall and spring semester. Recipients chosen for the Joan and Stanford Alexander Fellowship in Intellectual and Developmental Disabilities are awarded $2,500 each and participate in a one-semester, two credit hour program of co-curricular study.
The first four participants all are second-semester Pacesetter B.S.N. students with a 3.5 grade point average or better and have personal motivations for applying for the fellowship:
Belle MacFarlane – a Rice University summa cum laude graduate with a bachelor's degree in Sports Medicine and Psychology (double major), where she also was a standout on the track and field team. MacFarlane credits UTHealth Professor of Biomedical Informatics Lex Frieden for teaching her that "Disability may impact a person, but it does not become the person – a lesson I must hold close to my heart as a future nurse." She says she applied for the Joan and Stanford Alexander Fellowship in Intellectual and Developmental Disabilities "because I want my biases to be broken and to experience what I don't know."
Kayleigh Lamphere – previously attended Oklahoma State University as an honor roll student who studied Biological Science before coming to UTHealth to attain a bachelor's degree in nursing. She was attracted to the communication challenges and interdisciplinary teamwork required of serving "a new and fascinating patient population." Lamphere says: "In the field of developmental disability nursing, you get the opportunity to not only motivate others, but to see them grow over the time spent working with them."
Bianca Maciel – fluent in both Portuguese and Spanish, with an Associate of Applied Science (A.A.S.) degree from Wharton County Junior College, she says she was attracted to the fellowship: "Because I feel the need to connect to patients in a holistic level, and I believe that I need to have profound experience with one's intellectual level and development, in order to make accurate diagnosis and deliver the best care possible."
Amber Carter – graduated cum laude from Texas A&M University with a Bachelor of Science in Health and has extensive experience as a volunteer with Project Sunshine and Global Medical Brigades. She says: "My experience with individuals with cognitive and intellectual disabilities has opened up a whole new area of interest in health care. I think that these individuals require nurses who are focused on the integration of mind, body and spirit into their care."
"At completion of the program, Fellowship recipients will be able to demonstrate delivery of competent care for People with Disabilities – across the life span," says Allison P. Edwards, Dr.P.H., M.S., R.N., who is the program coordinator and an assistant professor in the Department of Nursing Systems.
The fellowship includes 90 hours of clinical and enrichment activities fulfilled as independent study. The fellows rotate through various primary, acute and community care sites while working with interdisciplinary professionals. They will take part in multidisciplinary rounds and present clinical case studies during debriefing conferences.
"Fellows were exposed to one of the most vulnerable populations: individuals (adult and children) with intellectual and developmental disabilities," said Edwards. "Disabilities included but were not limited to cerebral palsy, down syndrome, spina bifida, autism, cleft lip/palate, sensory/visual and physical disabilities and spinal cord injuries."
Clinical locations included: The Transition Medicine Clinic at Baylor College of Medicine and TIRR Memorial Hermann, providing health promotion activities and primary care interventions. Fellows also had enrichment and observation experiences at sites including Shriner's Hospital, Rise School of Houston, Jewish Family Services' Celebration Company, the Autism Center at Texas Children's Hospital and The Center.
Edwards is a member of the Developmental Disability Nursing Association and will serve as a member of the Texas Board of Nursing until January 2021.
Application links will be emailed to all to second-semester Pacesetter B.S.N. students at the start of the summer semester, along with the deadline to apply for the Fellowship in the fall 2018 semester.
A new video discussion by the four inaugural fellows is available now on YouTube: [https://youtu.be/mvrH80lfwls]
For more about the program online, see: go.uth.edu/cocurr
– David R. Bates, Communications Director