Calvin receives prestigious Regents' Outstanding Teaching Award for 2016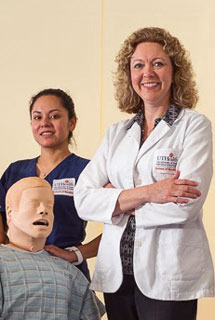 (June 28, 2016) – The University of Texas System Board of Regents' has awarded its highest honor in recognition of a faculty member's performance in the classroom and laboratory to UTHealth School of Nursing Associate Professor of Clinical Nursing Amy O. Calvin, Ph.D., R.N. She is one of 7 exceptional UTHealth faculty members who will receive the prestigious Regents' Outstanding Teaching Award for 2016.
The Regents' Outstanding Teaching Awards (ROTA), among the most competitive in the nation, recognize faculty members at University of Texas System institutions who have demonstrated dedication to innovation and advancing excellence.
Each distinguished recipient will receive a $25,000 award that will be distributed to the institution for disbursement directly to them or for use in their department or program.
"Congratulations to Dr. Calvin on this important recognition of her extraordinary commitment to teaching through the delivery of the highest-quality health education instruction," said UTHealth School of Nursing Dean Lorraine Frazier, Ph.D., R.N.
"To win one of these awards is truly a remarkable achievement," wrote Regents Chairman Paul L. Foster in his official letter to Calvin. "We all commend you on your phenomenal accomplishments and look forward to the opportunity to meet you and visit with you in August about your experiences."
Additional UTHealth ROTA awardees for 2016 are:
Eric Boerwinkle, Ph.D.
Ian Butler, M.B.B.S.
David Marshak, Ph.D.
Hope Northrup, M.D.
David Lairson, Ph.D.
Belinda Reininger, Dr.PH.
"These faculty members – our many faces of UTHealth - represent the very best in health care education," said Giuseppe N. Colasurdo, M.D., president and Alkek-Williams Distinguished Chair at UTHealth. "We are truly fortunate that we have such a talented and committed community of educators serving our students."
Each of the ROTA winners and their guest will be honored during a presentation and dinner hosted by the UT System Board of Regents on Aug. 24 in Austin.
Calvin is lead faculty member in the Pacesetter B.S.N. program's third and fourth semester of "Management of Patients in High Acuity Settings" (N4528). In 2012, undergraduate nursing students chose Calvin for the John P. McGovern Outstanding Teacher Award.
"To me, teaching is synergistic – when I expend energy and enthusiasm in making something complex simple, I am energized by students' expressed comprehension and self-efficacy," Calvin said about her teaching. "I consistently encourage students to care for their own minds, bodies and spirits so that they, in turn, can provide first-rate holistic nursing care to patients and their families."
Calvin received a Bachelor of Science in Nursing (B.S.N.) from the University of Louisiana at Lafayette and her Master's and Ph.D. in Nursing from The University of Texas at Austin. Her research interests focus on advance care planning for patients receiving hemodialysis and communication among patients, families and healthcare providers at the end of life.
Previous UTHealth School of Nursing ROTA awardees include: Joanne V. Hickey, Ph.D., R.N., in 2014; Associate Dean for Academic Affairs Cathy L. Rozmus, Ph.D., R.N., in 2013; and Marianne T. Marcus, Ed.D., R.N., in 2012, which was the inaugural year of health institution awards.
– David R. Bates, Communications Director
In this story