Endowed positions at School of Nursing awarded to Drs. Johnson and Ahn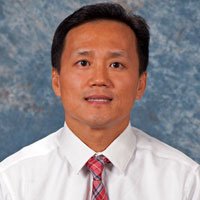 (Dec. 22, 2016) – Two recent additions to the UTHealth School of Nursing faculty have been appointed to endowed professorships, Dean Lorraine Frazier, Ph.D., R.N., FAAN, announced today.
Associate Dean for Research Constance Johnson, Ph.D., M.S., R.N., FAAN, now holds the Lee and Joseph Jamail Distinguished Professorship and has been granted tenure. A health informatician with interdisciplinary training in nursing and health informatics, Johnson has over 25 years of experience in research and informatics in the area of health promotion and disease prevention. She joined UTHealth in October after serving as a tenured associate professor and a member of the senior research faculty in the Center for Nursing Research at Duke University School of Nursing.
Appointed to the Theodore J. and Mary E. Trumble Professorship in Aging Research, Hyochol "Brian" Ahn, Ph.D., R.N., is an associate professor in the Department of Nursing Systems. Ahn came to UTHealth School of Nursing in August 2016 with support from the University of Texas System "Rising STARs" program, which provides supplemental funding for recruitment of promising faculty members who are hired for a tenure-track position. Currently, Ahn is principal investigator on a major grant that investigates the efficacy of innovative computer technologies, such as noninvasive brain stimulation, on pain and mobility performance in older adults with chronic pain.
"Endowed positions are one of the highest honors a university can bestow upon a faculty member," said Frazier, the John P. McGovern Distinguished Professor. "Such philanthropic gifts provide distinction, consistent financial support and validation of their scholarship and teaching for outstanding professors like Drs. Johnson and Ahn. I congratulate them both."
In this story