Two UTHealth nursing leaders selected as 2019 American Academy of Nursing fellows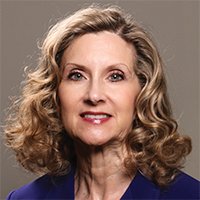 (June 19, 2019) – Two senior administrators and faculty members of Cizik School of Nursing at UTHealth are part of the American Academy of Nursing's 2019 class of new fellows. Interim Dean Diane M. Santa Maria, DrPH, MSN, RN, the Dorothy T. Nicholson Distinguished Professor, along with Vice Dean for Academic Affairs and PARTNERS Professor Cathy L. Rozmus, PhD, RN, will be inducted October 26 at a ceremony during the Academy's annual policy conference, "Transforming Health, Driving Policy," in Washington, D.C.
The latest 231 fellows represent 38 states and the District of Columbia, as well as 17 countries. Twelve other new inductees are from Texas, eight of these from within The University of Texas System.
Interim dean since her appointment by UTHealth President Giuseppe N. Colasurdo, M.D. in August 2018, Santa Maria is principal investigator of a research project titled, Come As You Are – Assessing the Efficacy of a Nurse Case Management HIV Prevention and Care Intervention among Homeless Youth. It is funded by a new five-year grant award from the National Institutes of Health (NIH) totaling more than $3 million.
Santa Maria, the John P. McGovern Distinguished Professor in Nursing, is an adjunct faculty member in the Center for Health Promotion and Research at The University of Texas Health Science Center at Houston (UTHealth) School of Public Health, where she received her DrPH degree in 2013.
In addition to her leadership responsibilities at the nursing school, Rozmus is the Assistant Vice President for Institutional Assessment and Enhancement in the UTHealth Office of Academic and Research Affairs. She also is a faculty associate in the McGovern Center for Humanities and Ethics in the McGovern Medical School at UTHealth. The Texas Nurses Association (TNA) District 9 Foundation honored Rozmus among its "Twenty Outstanding Nurses of 2018."
Rozmus first joined UTHealth's nursing school faculty in 2007 after serving, with tenure, in several leadership positions at Georgia Southwestern State University beginning in 1997. Her research interests include health behavior decision-making and health professions education.
"I am proud to welcome this incredible class of leaders to the American Academy of Nursing," said Academy President Karen Cox, PhD, RN, FAAN. "Their amazing accomplishments have changed health and health care across the country and around the globe. I look forward to celebrating the new fellows at our 2019 policy conference and working with them in the future so that our collective knowledge can impact and influence health policy."
With the addition of this new class, the total number of Academy fellows stands at more than 2,600 nurse leaders in education, management, practice, policy, and research. With more than 2.8 million registered nurses in the United States, selection is a very high professional honor. The new fellows may use the credentials "FAAN" (Fellow of the American Academy of Nursing) after their October 26 induction.
Including 2019 inductees Rozmus and Santa Maria, 16 current faculty members of Cizik School of Nursing are FAAN-designated. The others are:
Joan Engebretson, DrPH, RN, Judy Fred Professor in Nursing

Sandra Hanneman, PhD, RN, Jerold B. Katz Distinguished Professor for Nursing Research

Joanne Hickey, PhD, RN, Patricia L. Starck/PARTNERS Endowed Professor in Nursing

Constance M. Johnson, PhD, MS, RN, Maria C. and Christopher J. Pappas Family Distinguished Chair in Nursing and Lee & Joseph Jamail Distinguished Professor in the School of Nursing

Janet C. Meininger, PhD, RN, Professor Emerita

Susan Ruppert, PhD, RN. PARTNERS Endowed Professor in Nursing

Elizabeth Ulrich, EdD, RN

Geri L. Wood, PhD, RN, Bette P. Thomas Distinguished Professor in Innovative Health Care Delivery

Elda Ramirez, PhD, RN, PARTNERS Research Scholar

Melanie McEwen, PhD, RN

Jennifer E. Beauchamp, PhD, RN, Nancy B. Willerson Distinguished Professor in Nursing

Marianne Marcus, EdD, RN, Professor Emerita

Thomas A. Mackey, PhD, RN, UT Health Services

Deanna Grimes, DrPH, RN, Professor Emerita
"I am honored to be a Fellow of the American Academy of Nursing, as I continue to stand in awe of the collective power of nurses committed to serving the public by advancing health policy, practice, and science through nursing leadership," said Associate Professor Jennifer E. Beauchamp, PhD, RN, Cizik School of Nursing inductee to last year's class of 195 new FAANs.
– David R. Bates, School Communications Director
In this story