ANA president will be commencement speaker for 2019 graduation ceremony, May 16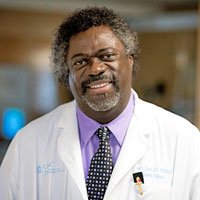 WHEN: Thursday, May 16, 2019 at 2 pm
WHERE: SMART FINANCIAL CENTRE, 18111 Lexington Blvd., Sugar Land 77479 (MAP).
GUEST SPEAKER:
Ernest J. Grant, Ph.D., R.N., FAAN – since January 2019 the 36th president of the American Nurses Association (ANA), the nation's largest nurses organization, which represents the interests of the nation's four million registered nurses. He is the first man to serve as ANA president.
Grant also was the first African-American man to serve as ANA vice president, and to earn a PhD in Nursing from the University of North Carolina-Greensboro. He was the first African-American male nurse to lead the North Carolina Nurses Association as its president.
With more than 30 years of nursing experience, and an internationally known expert on burn care and fire safety, Grant currently is the director of the acclaimed burn prevention program at the NC Jaycee Burn Center at the University of North Carolina Hospitals in Chapel Hill. Former President George W. Bush presented Grant with the Nurse of the Year Award in 2002 for his work treating burn victims from the World Trade Center site.
More than 480 students in the BSN, MSN, PhD, DNP and post-master's certificate programs plan to participate in the May 16th commencement ceremony. The traditional "pinning" of over 180 students graduating with BSN degrees will take place during the ceremony, courtesy of the PARTNERS organization, which is celebrating its 25th anniversary this year.
Students anticipating graduation should see more information online at Graduation Central.
Since 1972, Cizik School of Nursing has awarded more than 12,022 nursing degrees to its graduates.