Cizik School of Nursing's MSN ranked in top 12 percent nationally in popular 2020 guide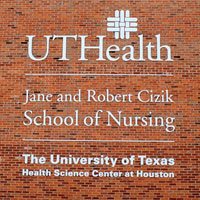 (March 12, 2019) – Two of the graduate education programs at Cizik School of Nursing at The University of Texas Health Science Center at Houston were ranked among the highest in the nation in the just-released 2020 edition of the Best Graduate Schools guide by U.S. News and World Report.
Cizik School of Nursing holds place No. 30 nationwide (top 12 percent) among 252 master's programs ranked by U.S. News & World Report. The Doctor of Nursing Practice (D.N.P.) program is among the top three in the Lone Star State.
"We are very proud that UTHealth continues to place so highly in rankings of all U.S. nursing graduate schools, and we also are proud that we are well-respected for the quality of our Doctor of Nursing Practice program, which we were the first in Texas to offer," said Cizik School of Nursing Interim Dean Diane M. Santa Maria, Dr.P.H., R.N.
UTHealth's Master's of Science in Nursing (M.S.N.) program remains the highest-ranked program in the Gulf Coast Region of Texas, according to the new list.
"Graduate nursing education is, in many ways, the future of health care, and our faculty and staff work hard to provide a unique, high-quality educational experience at those degree levels," added Santa Maria, associate professor, the John P. McGovern Distinguished Professor and Dorothy T. Nicholson Distinguished Professor at UTHealth.
For the 2020 Best Graduate Schools, programs at the 584 nursing schools with master's or doctoral programs accredited by either the Commission on Collegiate Nursing Education (CCNE) or the Accreditation Commission for Education in Nursing were surveyed in summer 2018. Of those, 278 responded to the U.S. News nursing statistical data collection.
UTHealth first appeared as a top-ranked graduate nursing program in the 2001 U.S. News & World Report rankings.
"There is a need to develop the competencies in leadership and quality improvement that a complex healthcare system requires. The D.N.P. program is preparing a graduating class of 42 this year, all experienced clinicians prepared to fill a very real need." said Lisa W. Thomas, D.N.P., R.N., director of the D.N.P. program and assistant professor, Department of Graduate Studies.
The American Association of Colleges of Nursing (AACN) provided an update in 2018, noting 121 new D.N.P. programs are in development around the U.S. There currently are 19 such programs in Texas – after UTHealth offered the first D.N.P. program in the state in 2006 and graduated the first class in 2009.
Complete rankings for the 2020 Best Graduate Schools and methodologies were released by U.S. News online today at https://www.usnews.com/best-graduate-schools/top-nursing-schools.
In the fall 2018 semester, an all-time-high 1,728 students were enrolled in Cizik School of Nursing, of which 59 percent were graduate students.
– reported by Rob Cahill, Public Affairs / Media Hotline 713.500.3030