Five UTHealth & UT Physicians nurses honored at annual "Salute to Nurses" event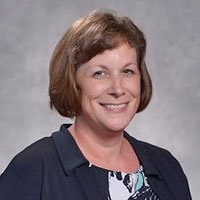 (May 6, 2019) – The University of Texas Health Science Center at Houston (UTHealth) was well represented at an awards program honoring the top nurses in Houston. Five nurses at UTHealth and UT Physicians were recognized at the Houston Chronicle's "Salute to Nurses" luncheon May 2 at the Omni Houston Hotel.
Timed to kick off National Nurses Week, May 6-12, the annual awards program honors the Top 150 nurses in the Greater Houston Area. A panel of educators and leaders in the field selected the region's top nurses. UTHealth's honorees for 2019 are:
Lisa W. Thomas, DNP, RN
Assistant Professor Lisa Thomas, Department of Graduate Studies, served as a rehabilitation nurse at TIRR Memorial Hermann for 12 years before becoming a faculty member at Cizik School of Nursing. She is now the director of the Doctor of Nursing Practice degree program.
"I saw the impact rehabilitation nurses had on my grandfather following his stroke. He wasn't into the rehab but the nurses brought him around. He lived an active and engaged life for another 20 years," said Thomas, who earned her DNP at Cizik School of Nursing.
Rehabilitation nurses have to be creative. "If you can get a patient to pet a dog, that's a form of exercise. With my grandfather, we would throw balloons at him and he would knock them back, making a game out of a need to maintain range of motion in that arm," Thomas said.
Cristina Sola, MSN, RN
Hailing from a family with three generations of nurses, Cristina Sola, a nurse manager with McGovern Medical School at UTHealth, received special recognition by the Houston Chronicle as one of the Top 15 Nurses.
Sola, a nurse manager with McGovern Medical School at UTHealth, received special recognition as one of the Top 15 Nurses. The nurses among the Top 15 received a personalized gift bag, $250 gift card, Salute to Nurses photo frame and a large commemorative framed facsimile "front page."
Sola earned her associate's degree of nursing at Covenant School of Nursing in Lubbock, Texas, her bachelor of science in nursing at Texas Tech Health Sciences Center, and a master of science in nursing (adult geriatric nurse practitioner) at The University of Texas Medical Branch at Galveston.
"When I was in high school, my mom was a home health nurse and I would go with her. I saw firsthand how she made a difference in people's lives," said Sola, whose brother, sister and niece also are nurses, following in the footsteps of Sola's mother, Guillermina Ritz, RN.
"Nursing is about patient relationships. I remember their name. They remember mine. We are both glad to see each other," said Sola, a 2019 recipient of the UTHealth President's Award for Leadership.
Omar Sandoval, BSN, RN
Sandoval works with the nephrologists and endocrinologists at UT Physicians Multispecialty-Bellaire. He earned his associate's degree in nursing at San Jacinto College and his bachelor of science in nursing at The University of Texas at Arlington College of Nursing and Health Innovation.
"The one-on-one contact with families is the most gratifying part of the job. I like to give patients a high-five for a good job. I try to explain everything in layman's terms," said Sandoval, who has been a nurse for 15 years. "This is exactly what I was meant to do," he said.
Ribi Kurian, RN
Kurian, a triage nurse with the UT Physicians 24/7 telephone help line, earned her nursing degree at Tamil Nadu Dr. M.G.R. Medical University in India and has been a nurse for six years.
When counseling patients, Kurian takes a holistic approach and her patients appreciate it.
"I once had a patient come to my workplace to thank me in person along with her family. She had called complaining of serious symptoms, so I dialed 911. Emergency medical services picked her up and took to the hospital where she underwent emergency surgery for internal bleeding," Kurian said.
"Seeing her smiling face was a gratifying moment for me," said Kurian, noting that such moments inspire her to do even more for her patients.
Thelma Rios, LVN
Rios, a family nurse with UT Physicians Multispecialty-The Heights, earned her nursing degree at San Jacinto College and has been a nurse for five years. Because she is bilingual, Rios believes Spanish-speaking patients feel more comfortable talking to her. "This puts the patients at ease," she said.
Rios has always wanted to be a nurse and said that to be a good one, "You have to be compassionate, caring, and an attentive listener. I'm an advocate for my patients."
Also selected one of 2019's "Top 15 Nurses" in the Houston area, Van Jaymar Mariano, BSN, RN, who works at Houston Methodist Baytown Hospital, is a graduate of Cizik School of Nursing's RN-BSN program.
UT Physicians was a Gold sponsor of this year's event.
– by Rob Cahill, Public Affairs | Media Hotline, 713.500.3030