$1 million THECB grant will train nurse practitioners in emergency medicine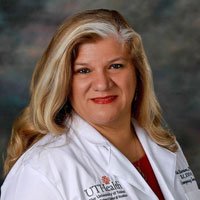 (Feb. 2, 2018) – When accident victims arrive at a hospital emergency center in the Greater Houston area, there is a good chance they will be seen by a nurse practitioner trained at Jane and Robert Cizik School of Nursing.
To support the training of these nurses who work side by side with emergency medicine doctors, the Texas Higher Education Coordinating Board has awarded the university a two-year, $1 million training grant. The purpose of this grant is financially to support emergency/trauma nurse practitioner students during their clinical preceptorships and support faculty with curriculum delivery.
Established in 1994, the Cizik School of Nursing emergency/trauma nurse practitioner program has produced more than 350 emergency nurse practitioners who provide critical lifesaving, quality care throughout the Lone Star State.
"The UTHealth emergency/trauma nurse practitioner program has developed relationships with community partners, which have positively affected patient outcomes throughout the State of Texas by preparing students to save lives in the specialty of emergency medicine," said Elda G. Ramirez, Ph.D., R.N., FAAN, the grant's project director and professor of nursing at Cizik School of Nursing.
In 2015, there were more than 10 million visits to emergency centers in Texas and more than 13 percent of those visits required hospital admission. Trauma is the No. 1 cause of death for people between 1 and 46 in the United States.
"Emergency nurse practitioners have become an essential component of the emergency health care system and work in a collaborative effort with physicians, physician assistants, emergency nurses and other essential staff to provide our system of emergency care," said Arlo F. Weltge, M.D., M.P.H., professor of emergency medicine at McGovern Medical School.
The school's program covers didactic courses and 360 clinical practicum hours over three semesters. Many applicants have prior experience in emergency or intensive care settings.
The Texas Higher Education Coordinating Board was created by the Texas Legislature in 1965 and works to achieve excellence for the college education of Texas students.
For more about this program, see: http://go.uth.edu/emergNP
– by Rob Cahill, UTHealth Public Affairs, Media Hotline: 713-500-3030
In this story