Ruppert among four from UTHealth picked for Shine Academy distinction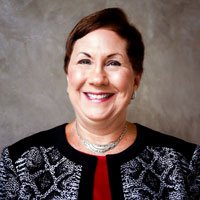 (Nov. 28, 2018) – Cizik School of Nursing Associate Dean and Department of Graduate Studies Chair Susan D. Ruppert, Ph.D., R.N., PARTNERS Endowed Professor in Nursing, is one of only four distinguished UTHealth faculty members elected this year to The University of Texas Kenneth I. Shine, M.D., Academy of Health Science Education (Shine Academy). Only a small number of nominees are selected for membership each year from UT System health institutions, based on their outstanding contributions in the areas of direct teaching, curriculum development, mentorship, educational scholarship and leadership.
"The selection process among the eight UT System health institutions is rigorous and takes months, both locally and at the Shine Academy review level," said Interim Dean Diane M. Santa Maria, Dr.P.H., M.S.N., R.N., the Dorothy T. Nicholson Distinguished Professor. "I am very proud that our own Susan Ruppert is among the select few elected this year."
The title of "Distinguished Teaching Professor" will be awarded by the Executive Vice Chancellor for Health Affairs to members of the Shine Academy after an induction ceremony during the 15th annual "Innovations in Health Science Education" conference to be scheduled for spring 2019.
From 2006-2018, eight Cizik School of Nursing faculty members have been chosen to join the Shine Academy. The list comprises current faculty members Drs. Ruppert, Vaunette Fay (2011) and Geri Wood (2007); emeritus faculty Drs. Deanna Grimes (2008), Marianne Marcus (2006), Sharon Ostwald and Janet Meininger (both in 2007); plus former School of Nursing dean Dr. Patricia Starck (2012).
"Our membership roster reads very much like a 'Who's Who' of excellence in health science and nursing education," said Santa Maria, the John P. McGovern Distinguished Professor in Nursing.
Kenneth I. Shine, M.D., then UT System Executive Vice Chancellor for Health Affairs, worked with the presidents and selected faculty from the health institutions to establish the academy in 2005.
– David R. Bates, Communications Director
In this story