Aging-in-place Smart Apartment focus of new Cizik School of Nursing research led by Johnson and Hickey
Seniors can stay home and thrive in Smart Apartment, nursing researchers say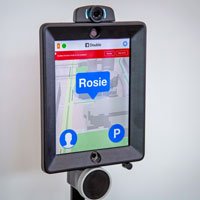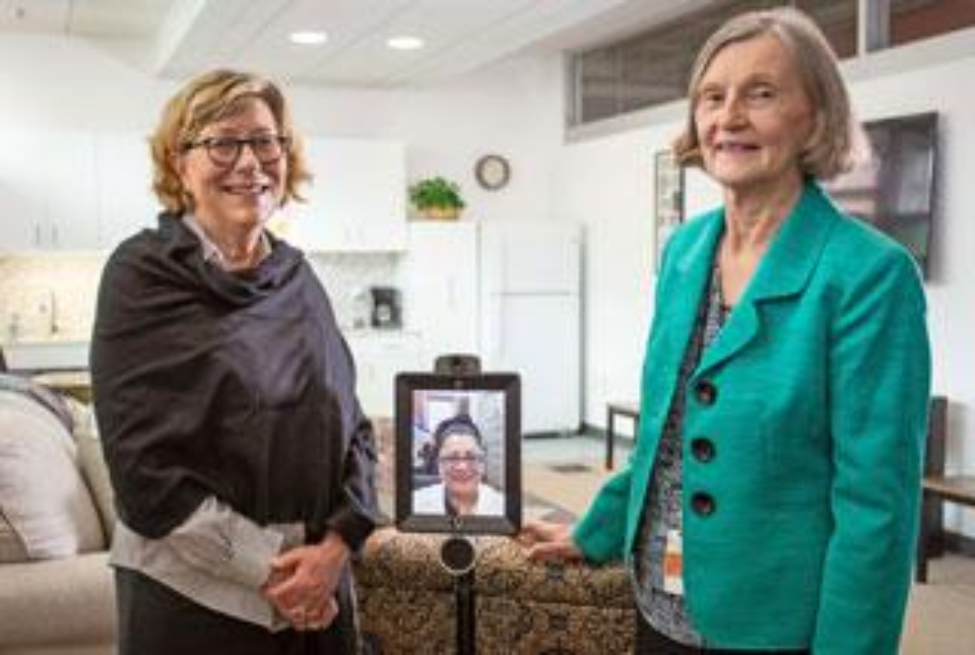 (Oct. 1, 2019) – A growing number of seniors want to stay in their homes as long as possible and the age-friendly technology being tested at Cizik School of Nursing at The University of Texas Health Science Center at Houston (UTHealth) could help them do just that.
To test these technologies, Cizik School of Nursing Department of Research recently built a fully furnished one-bedroom home, called a Smart Apartment, in its main building in the Texas Medical Center.
The real-world home environment features a fully functioning kitchen, living room, bedroom and bathroom. Researchers will investigate how aging in place might make thoughtful and appropriate use of technology such as sensors, monitors, robots, wearables, and other devices to support independent living for seniors.
"This is a living laboratory to pilot test technology," said Constance Johnson, PhD, RN, director of the program and a professor of nursing research with Cizik School of Nursing. "We want to see how well it works on its own and when combined with other technologies. We have an aging population and a shortage of health care providers. We're going to have to provide more services in the homes of seniors and make it easier for them to stay there."
There are 46 million Americans age 65 years or older and that number is expected to climb to 78 million by 2035, according to the U.S. Census Bureau. The American Association of Retired Persons has reported that 90 percent of older adults nationwide want to remain living in their homes for as long as possible.
The new wave of technologies being developed to help seniors live independently includes voice-activated switches for lights and television sets, sensors that can detect if someone has been in bed or on a sofa too long, and two-way video services that seniors can use to talk to their caregivers.
Sensors, monitors, robots, and wearable technology are among the tools that could help seniors.
"We could determine through machine learning or artificial intelligence that someone is becoming more frail. The laboratory could also help determine what types of sensors are most appropriate during certain stages of life, and could be used to develop sensors," Johnson said.
Living independently can become increasingly challenging for seniors because of the gradual decline many experience. Many seniors also have chronic conditions such as back pain, diabetes, and cardiovascular disease.
Joanne Hickey, PhD, RN, a professor of nursing research at Cizik School of Nursing and a collaborator on the school's aging-in-place initiatives, said falls are a big problem for seniors and researchers are addressing contributing factors.
Other issues affecting seniors include malnourishment, dehydration, difficulty regulating body temperature, urinary tract infections, and social isolation.
Hickey and Johnson are also researching what should happen with data picked up by sensors and wearable technology. Johnson said it needs to be determined ahead of time whether data should be sent to family members, informal caregivers, or someone else.
Through interdisciplinary research alliances and engagement of representative older adults, teams will co-design and test innovative integration of new and currently existing technology. New knowledge gleaned from this living-laboratory setting will be translated into community home environments and investigated on a larger scale. Researchers say the work is "directed at redesigned solutions for the preferred aging trajectory," and also to demonstrate the cost savings to healthcare systems.
Dustan Brennan, assistant director of Medical School Information Technology for Innovation, Projects and Research at McGovern Medical School at UTHealth, is coordinating the technology and sensor interface for the Smart Apartment.
Johnson is the associate dean of research, Maria C. and Christopher J. Pappas Family Distinguished Chair in Nursing, and the Lee and Joseph Jamail Distinguished Professor in the School of Nursing. Johnson also has a faculty appointment at UTHealth School of Biomedical Informatics. Hickey is the Patricia L. Starck/PARTNERS Endowed Professor in Nursing.
Johnson and her colleagues plan to award seed grants to promote innovative ideas to improve the lives of seniors, such as the use of virtual reality to cure loneliness. The studies must be conducted in the Smart Apartment.
– by Rob Cahill, Public Affairs | Media Hotline 713.500.3030