Blok, Ownby selected for 2021 McGovern awards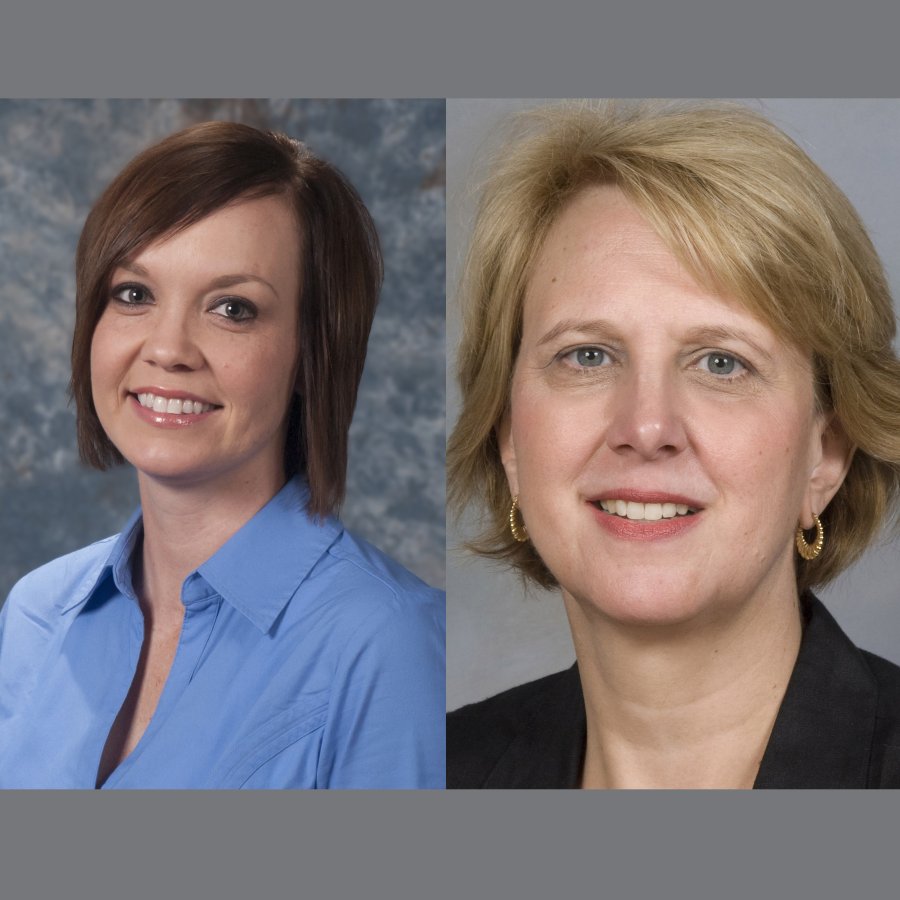 Cizik School of Nursing at UTHealth students have selected Amy Blok, DNP, CRNA, and Kristin Ownby, PhD, RN, as the 2021 John P. McGovern Outstanding Teachers of the Year.
Each year, students nominate faculty members for these prestigious awards, which are made possible by an endowment from the John P. McGovern Foundation. Awards are given to one undergraduate and one graduate faculty member at each of UTHealth's six schools.
"Students choose Cizik School of Nursing because of our exceptional faculty and reputation for academic rigor. Dr. Blok's and Dr. Ownby's ability to inspire students to excellence during the difficult circumstances of the past year are a testament to their professionalism and dedication," said Dean Diane Santa Maria, DrPH, RN, FAAN.
Graduate-level students selected Blok for the McGovern Award. She has been involved with the school's nurse anesthesia program as a student and faculty member since 2008. After earning her BSN from The University of Texas at Austin, she received both her MSN and DNP degrees in nurse anesthesia from Cizik School of Nursing. She worked as a teaching associate while earning her DNP in 2016 and then became an assistant professor. Blok practices with US Anesthesia Partners.
Ownby is a three-time recipient of the McGovern award, having also been selected by students in 2003 and 2015. She began teaching at Cizik School of Nursing as an adjunct clinical instructor in 1997 and became an associate professor in 2000. She has extensive experience in adult health nursing with emphasis in oncology, HIV/AIDS, and hospice and palliative care nursing. She is certified as an Advanced Oncology Certified Nurse (AOCN), Advanced Hospice and Palliative Care Nurse (ACHPN), and as an Adult Health Clinical Nurse Specialist (ACNS). Ownby received her BSN from Vanderbilt University, MSN in adult oncology from the University of Alabama-Birmingham, MPH in health education from Tulane University, a post-master's certificate in palliative care and hospice nursing from Ursuline University, and PhD in Nursing Science from Texas Woman's University in Houston.
Other faculty honored with nominations for the 2021 McGovern award include Dr. Sandra Hanneman, who was recognized by both graduate and undergraduate students. Other nominees were:
Graduate faculty:
Deborah McCrea
Deniz Dishman
Kala Christopherson
Kathleen Siders
Kelly Kearney
Latarsha Cheatham
Mahrokh Kobeissi
Undergraduate faculty:
Candice Triulzi
Juane Alexander
Kelli Galle
Vuong Prieto
In this story