Branson's BSN students saddle up for equine-assisted learning at SIRE horsemanship center
UTHealth nursing students experience equine-assisted activities at SIRE center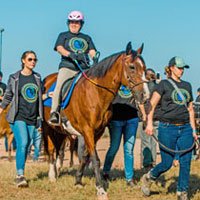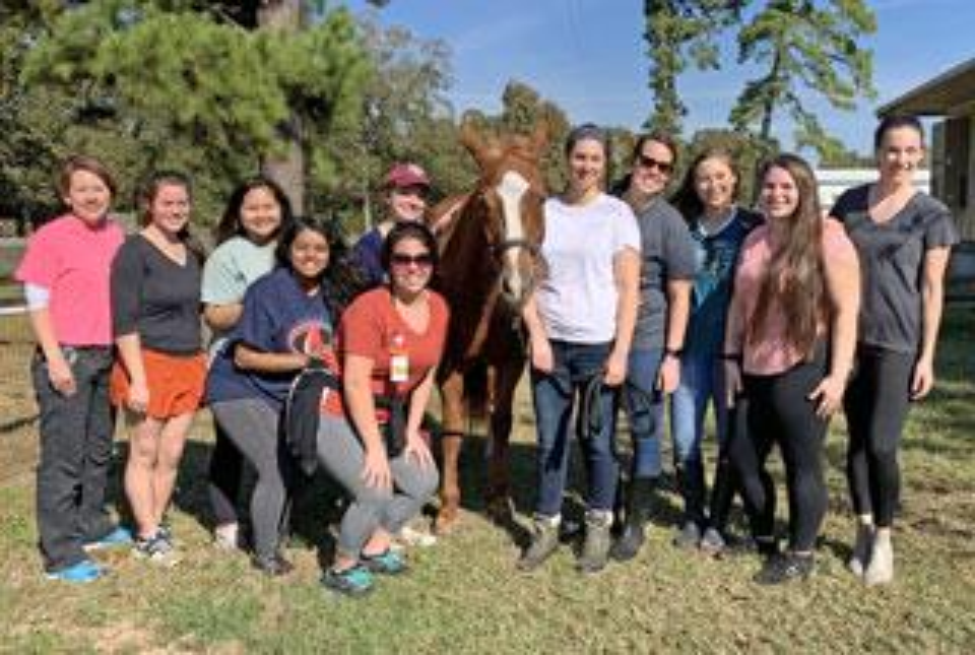 (Dec. 6, 2019) – The smiles of pride and accomplishment went from ear to ear, lighting up the faces of young people with disabilities as they rode horseback. BSN nursing students in the community/public health nursing clinical group of Cizik School of Nursing's Sandy Branson, PhD, RN, collaborated this semester with SIRE, a therapeutic equine riding center in Hockley, Texas, by participating as side-walkers and horse leaders for individuals with disabilities.
Branson, an assistant professor in the Department of Undergraduate Studies, is widely known for her research on the positive effects of human-animal interaction on human health.
"Equine-assisted activities focus on functional rehabilitative skills such as posture control, motor coordination, gait improvements, communication, cognitive skills, and psychosocial activities (games, sensory courses) – all which strengthen the mind, body, and spirit," said Branson.
Students also participated in the "Saddle Up for SIRE" trail ride event on Oct. 19, at the historic 7IL Ranch in Cat Spring, Texas – a day filled with blue skies, sunshine and laughter as more than 240 riders and volunteers joined in the day's activities. Proceeds from the event will help maintain low tuition for SIRE riders and provide care for the specially trained herd of horses.
SIRE is recognized by the Professional Association of Therapeutic Horsemanship International (PATH) as a Premier Accredited Center and serves almost 300 riders in its weekly lesson program. The majority of SIRE riders are children, but the organization also has a strong connection with the military, wounded veterans and their families. SIRE riders reside in six counties in the Houston metropolitan and outlying areas, with the majority residing in Harris, Fort Bend and Montgomery counties.
Branson's students reported being amazed and inspired by the abilities demonstrated by clients and their families through equine-assisted activities.
Pictured at left (back row, left to right) are: Branson with nursing students Heather Ayllon, May Rogelle Tio, Addison Allen, Pablo the horse, Lauren Cucci (horse leader), Ashley Smith, Abigail (Abby) Schmid, Ashley Jeane, and Jessica Ogilvie. Front row (left to right) are Deepa Surendran and Melissa Hanna.
More SIRE photos by Audrey Bratton are posted on #CizikNursing Facebook page.
– by David R. Bates, School Communications Director