Castro uses experience working with children with visual impairments to connect with patients with disabilities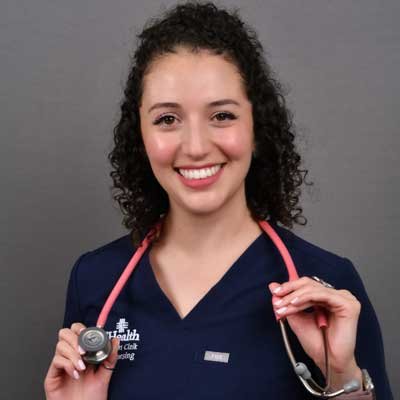 Paula Castro is making a difference in the lives of families caring for children with disabilities, first as an educator, and now as a pediatric nurse.
Castro is in her final year of the pediatric capstone program at Cizik School of Nursing at The University of Texas Health Science Center at Houston (UTHealth). She hopes to secure a position as a pediatric intensive care unit nurse following her graduation in December.
"Seeing the discrepancies that the Hispanic population faces motivated me to get into health care," said Castro, who received a bachelor's degree in early childhood education from The University of Texas at Austin. "When I was in education, some of the students I worked with were very sick, and the parents were sometimes left in the dark on resources available to them, or how to advocate for their children. It's important as a nurse to educate, and having a background in the education field is beneficial. It's important to let families know early on that just because a child has a disability, it doesn't mean they can't achieve things. They are just going to do them differently."
From a young age Castro knew she wanted a career working with children. Castro said she loves the nursing profession, particularly because it offers more time with patients and at their bedside than physicians enjoy. She said it's as emotionally rewarding as teaching, and is mentally stimulating.
Castro's family moved from Colombia to Florida when she was 11, and then to Katy, Texas, where she completed high school. After receiving her bachelor's degree, she entered into a pre-med program that led to an internship with the Texas School for the Blind and Visually Impaired. It was here that Castro found a love of helping children with disabilities. She worked for the school for four years while earning a master's degree in special education, and then with Austin Independent School District for a year doing similar work.
Her work included teaching students how to read braille, take public transportation, and use a cane to navigate the world. It also included sensory and body awareness work to sharpen skills needed to live with impaired sight. While working for Austin ISD, she began to realize the breadth of the gap of available of services to Spanish-speaking families, including barriers to receiving health care. Those include language barriers, fear of consequences from immigration status, or time barriers as parents worked long hours. These barriers are more pronounced for parents of children with special needs.
"I hope that I can help empower families, particularly Spanish-speaking families who may be new to the United States," Castro said. "Having a sick child is scary, and these families have the added burden of being in a new place and navigating language barriers. I hope to convey that things will be different, but they will find people along the way to help. And, for families with children with disabilities, that they are capable of achieving great things."
Castro's background and training in special education can also help others foster better knowledge and awareness on how to treat people with special needs in a clinical setting. She said there's often a lack of knowledge of how they live their outside lives, or an inclination to treat them as fragile.
"As an example, a diabetic patient with visual impairment may need to get their glucose levels checked." she said. "Because of my work with children with visual impairments, I know you don't want to use their index fingers for the test ­— those are their braille fingers. Reading braille requires sensitivity, and that can be lost over time, and constantly pricking the index finger can make it more difficult to read braille."
She also loves being able to personally connect with patients. Castro said patients light up when she is able to speak to them in Spanish, and talk to them about their medical needs or to help connect them to support groups and other resources.
"I'm grateful that I speak two languages, and I can interact with all kinds of people," she said. "I love my culture, and I'm still very in touch with my Colombian roots. Colombia is a country that has suffered a lot of pain, but the first thing I hear when someone has visited is about how warm and welcoming the people are. Colombians are happy people and are able to see the joy in small moments. I consider myself to be a positive and happy person, and I think being from there helped form that."
In her spare time Castro enjoys salsa dancing, hiking, being outdoors, and paddle-boarding.
"We all have hopes and dreams of making the world a better place," she said. "If I can help, in some small way, I'd love that."
Faith Harper