Cizik School of Nursing hosts open house to showcase simulation lab, smart apartment
Cizik School of Nursing hosts open house to showcase simulation lab, smart apartment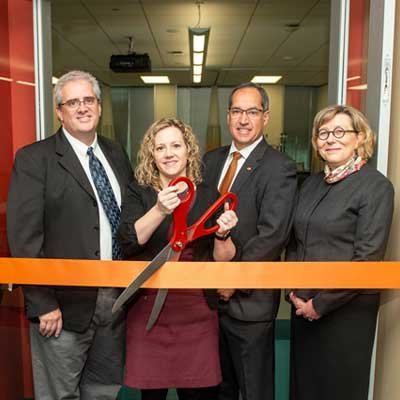 (Jan. 31, 2020) – Cizik School of Nursing at The University of Texas Health Science Center at Houston (UTHealth) held an open house to showcase its innovative technology that will help better educate future nurses as well as provide a new standard for compassionate elder care.
The open house, held on Jan. 22, included tours of the school's recently expanded Simulation and Clinical Performance Laboratory, as well as its new Smart Apartment.
"The World Health Organization has designated 2020 the Year of the Nurse and Midwife and we have just been voted as the most honest and ethical profession 18 years in a row," said Dean ad interim Diane M. Santa Maria, DrPH, MSN, RN. "Just as nurses have always stood on the frontlines of health care, we believe our profession should take the lead in solving these challenges: hence, our Sim Lab and Smart Apartment."
The technologies enhance the school's curriculum and its ability to train nurses.
"These innovations further establish UTHealth at the forefront of technological advancements in health care, offering our students and faculty unprecedented opportunities for research and training – all of which will ultimately benefit the patients who are the focus of our mission," said Michael Blackburn, PhD, executive vice president and chief academic officer at UTHealth.
Sim Lab
The sim lab will allow students to practice a wide range of clinical scenarios from childbirth to emergency medicine, using lifelike patient manikins to develop the skills they will use in hospitals and clinics.
The lab includes 27,000 square feet of space, capable of supporting learning experiences for 1,000 undergraduate students and 1,100 graduate students annually through its six high-fidelity simulation rooms, four debriefing rooms, 14 patient exam rooms, and audio-video control room.
The rooms are modifiable to allow for patient-centered training in home health care, childbirth, and emergency medicine. Students will also have the opportunity to become familiar with low-occurrence, high-acuity situations.
Once fully staffed, the lab will be able to operate 12 hours a day, six days a week.
"Using advanced technology and manikins that can mimic a wide range of symptoms, the Sim Lab can offer realistic scenarios that can substitute for up to 40% of a nursing student's clinical requirements," Santa Maria said. "With faculty supervision to provide immediate feedback and guidance, we can train nurses in a comprehensive range of skills – from the basics like administering medications and taking vital signs to sophisticated procedures like chest tube placement and emergency lifesaving techniques."
Smart Apartment
The goal of the Smart Apartment is to utilize technology to help seniors and people with disabilities live independently.
The one-bedroom apartment includes voice-activated switches for lights and television sets, sensors that can detect if someone has been in bed or on a sofa too long, and two-way video services that seniors can use to talk to their caregivers.
"For older adults, our Smart Apartment serves as a living laboratory to test age-friendly technologies that support aging in place. As a growing number of older adults want to stay in their homes as long as possible, many will face physical disabilities, mental decline, and chronic health conditions that make independent living a challenge," said Constance Johnson, PhD, RN, associate dean of research at Cizik School of Nursing. "This apartment will test technology that combines advanced devices with artificial intelligence to alert family members and medical professionals about changes in the occupant's condition."
Living independently can become increasingly challenging for seniors because of the gradual decline many experience. Many seniors also have chronic conditions such as back pain, diabetes, and cardiovascular disease.
Other issues affecting seniors include malnourishment, dehydration, difficulty regulating body temperature, urinary tract infections, mobility issues, and social isolation.
"This apartment will test technology that combines advanced devices with artificial intelligence to alert family members and medical professionals about changes in the occupant's condition," Johnson said. "For example, we can develop technology to alert family members if the resident sits in the same place too long or if the oven was left on."
More than 90 attendees took tours of the facilities at the open house.
Santa Maria is thankful to the stakeholders who helped make the projects possible. Those include the UTHealth Development Board, PARTNERS members, the advisory council, and members of the faculty and staff at Cizik School of Nursing, especially Cathy Rozmus, PhD, RN, FAAN, vice dean of academic affairs, who contributed countless hours to bring these projects to fruition.
She also thanks Linda Crays, director of educational technology at the school; Eric Christensen, director of the Simulation Lab; Nena Fairbanks and Courtney Stevens, administrative managers at the school; Julie Lucas, director of project management in the Department of Facilities, Planning, and Engineering; Laura Berbel, senior facilities construction manager; and Dustan Brennan, assistant director at Medical School Information Technology for Innovation, Projects, and Research.
This report includes information provided by Cizik School of Nursing at UTHealth and Rob Cahill.
Faith Harper