Cizik School of Nursing Sim Lab expanding space and horizons for clinical instruction
Sim Lab upgrades will accommodate 40 percent of nursing student's clinical hours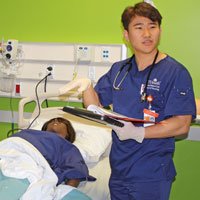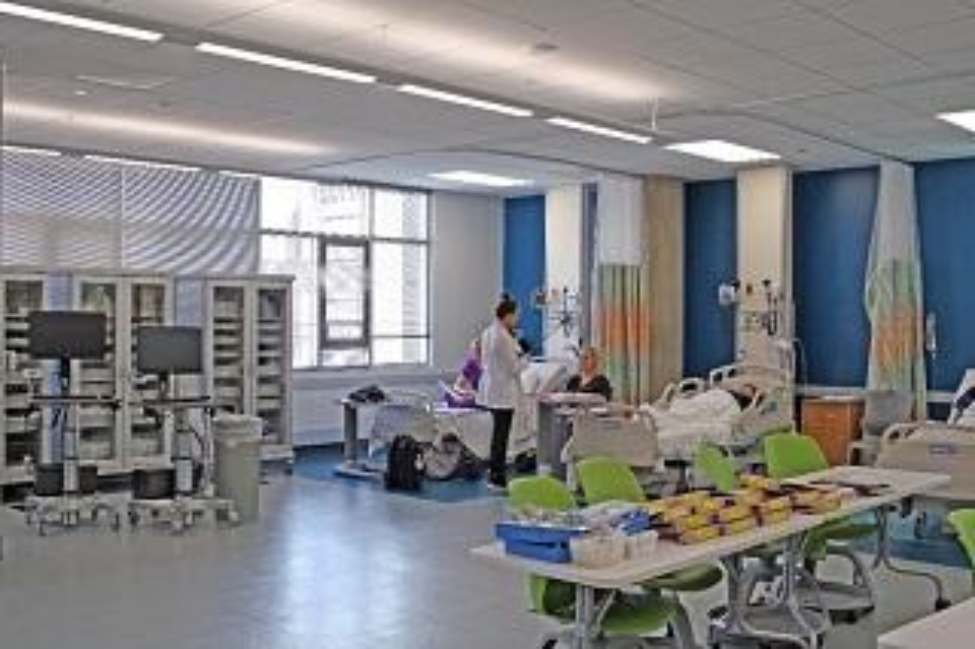 (Nov. 29, 2019) – Cizik School of Nursing at UTHealth's new Simulation and Clinical Performance Laboratory, expanded to more than 27,000 total sq ft, will help bring UTHealth to the forefront as a leader in educating exceptional clinically-prepared nurses.
The enlarged Sim Lab, occupying the 4th floor of the nursing building at 6901 Bertner Avenue, will accommodate nearly twice as many undergraduate and 70 percent more graduate students. Compared to its previous capacity, after all renovations are complete, the Sim Lab will be able to offer 600 percent more clinical hours in the skills and training rooms, 1,200 percent more hours in the flex rooms, and increase hours in the standard patient exam rooms by 400 percent.
The improved space and equipment annually will be able to support learning experiences for 1,000 undergraduate students and 1,100 graduate students through its six high-fidelity simulation rooms, four debriefing rooms, 14 patient exam rooms, and one audio-video control room.
The rooms will be modifiable to allow for experiences such as home healthcare, childbirth and emergency medicine. Students will have the opportunity to become familiar with low-occurrence, high-acuity situations. Planners anticipate that Cizik School of Nursing will be able to provide up to 40 percent of a nursing student's clinical hours in the improved Sim Lab.
"Simulation creates a safe environment for students to make mistakes and learn from those mistakes without risk to a patient," said Sim Lab Director Eric Christensen, MBA. "Students can experience 'high acuity/low occurrence emergencies' to learn the skills and assessment tools needed to care for these patients rather than learning on the job."
The total price tag for the renovation project, which started in December 2018, is about $8.2 million to cover the cost of demolition, construction, and new equipment for the lab. Completion of the final phase is underway.
"But we have come in under budget on several key portions of the project, so the final cost may be less," Christensen said.
The original 16,000-sq-ft lab, a "marvel of state-of-the-art technology" in 2004, was designed for 600 students (current student enrollment totals about 1,535). With enrollment increases, growing competition in the Texas Medical Center for clinical preceptorships, and a boom in technological improvements, the school needed to make enhancements to the simulation equipment and lab layout to meet current and future educational needs.
In the last fiscal year, the Sim Lab averaged 3,500 student visits per semester.
To help alleviate the high demand for more nurses, the Texas Board of Nursing has approved that 50 percent of traditional clinical hours can be substituted for high-quality simulation experiences across the pre-licensure nursing curriculum.
"Simulation allows the student to not only build mastery of specific skills, but it also builds confidence in the student that may otherwise take months of clinical practice to achieve," observed Christensen.
Research has shown that simulation education improves: patient outcomes, the critical thinking of the nurses, interdisciplinary teamwork, and communications within the healthcare team, leading to fewer medical errors.
The Sim Lab will be operational six days a week as staffing increases over the next couple of years. Plus, the upgraded Sim Lab will allow for continuing education opportunities for nurses already in the field, as well as interprofessional collaboration from other healthcare providers and researchers.
Instructors will be able to record simulations, checkoffs, meetings, training and anything that happens in the lab. These videos will be viewable in the lab at the time of recording, or through a secure link that can be viewed by faculty at home or in their office at any time.
The faculty soon will have the ability to do simulation in a virtual reality environment. This will allow them to do simulation sessions with participants that are on another campus or across the world.
– by David R. Bates, School Communications Director