"Combo Sim"
BSN, FNP STUDENTS LEARN TOGETHER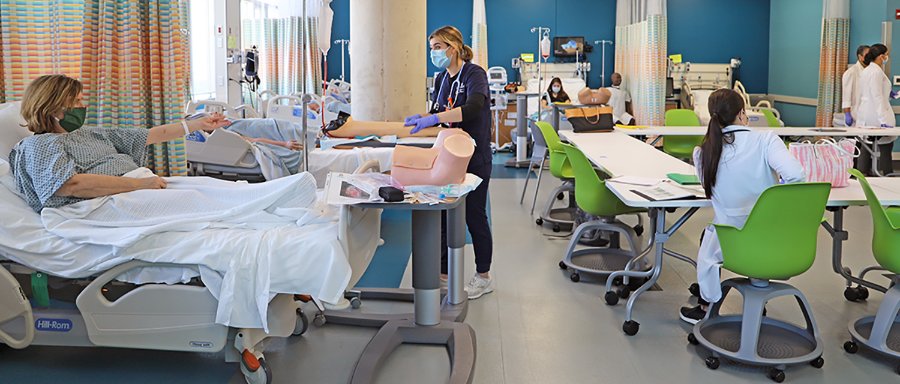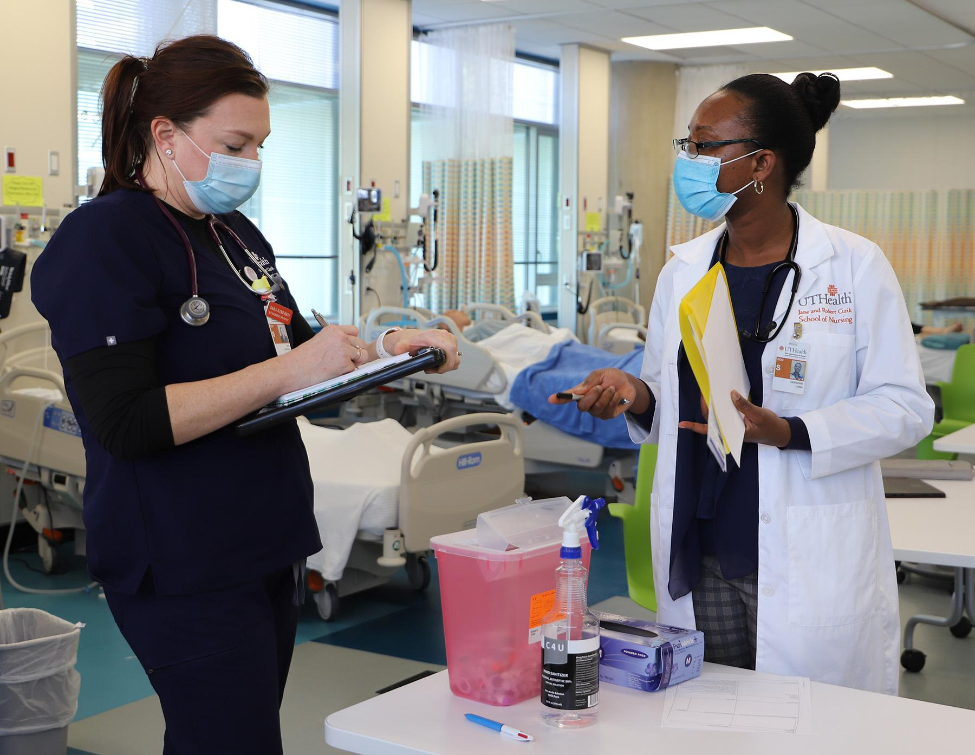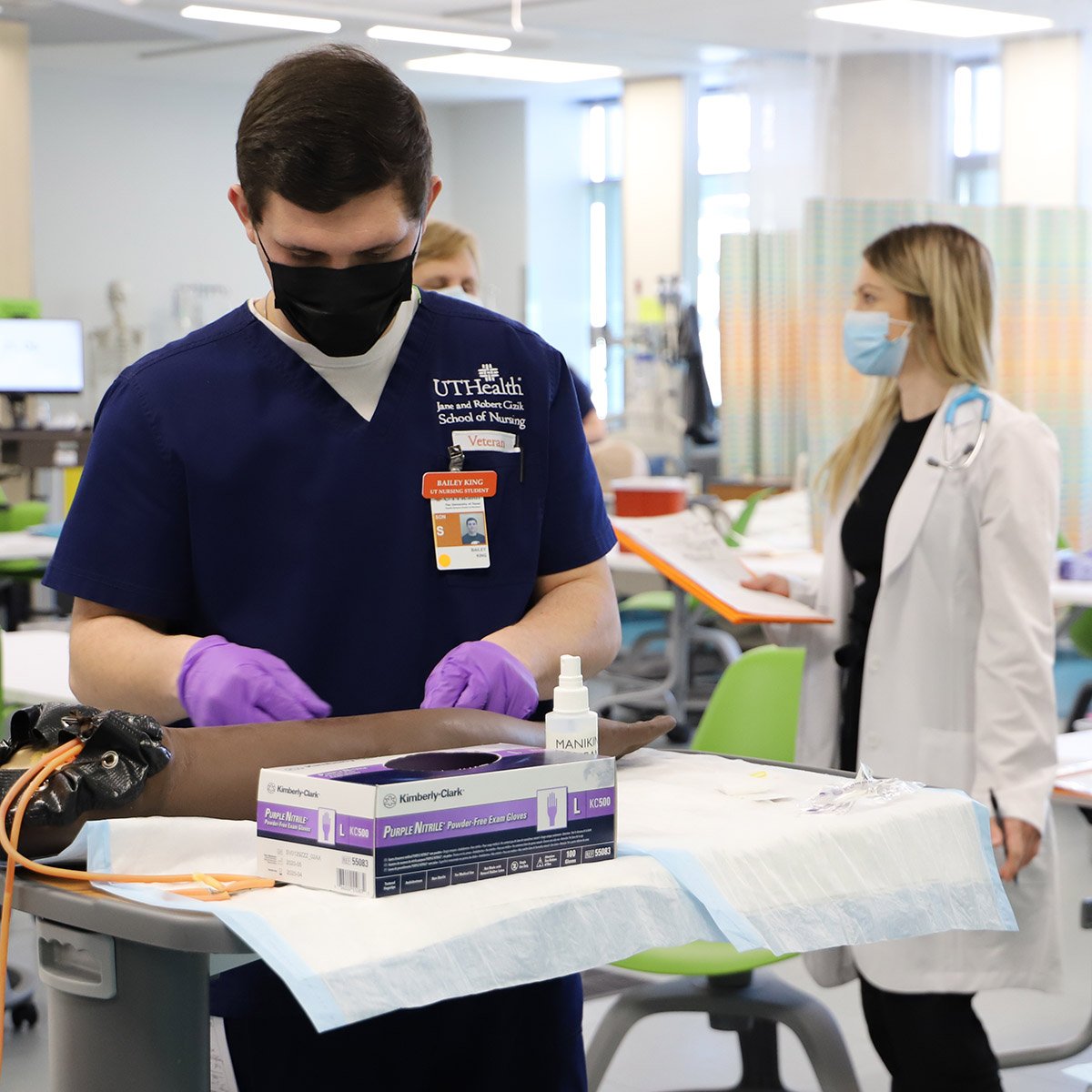 Amid a global pandemic that kept people apart, educators at Cizik School of Nursing at UTHealth Houston came up with a new way to bring together nursing students at different points in their careers.
The intraprofessional simulation they developed lets Bachelor of Science in Nursing (BSN) students in their final semester practice their skills, while Master of Science in Nursing (MSN) students in their first clinical semester begin preparing for their transition into health care provider roles as family nurse practitioners (FNPs).
Graduate and undergraduate faculty worked together in 2020 to develop scenarios acted out by standardized patients pretending to experience various symptoms. In the school's newly expanded Simulation and Clinical Performance Laboratory, BSN students take medical histories and practice skills such as blood draws and injections, while the FNP students hone diagnostic and treatment skills.
"Our goal is to improve teamwork and communication and also work on their skills," said Assistant Professor Padma Ramaswamy, PhD, RN. "The simulation is a welcoming, safe environment where they are learning and faculty are providing feedback."
The first scenario developed for the "combo sim" focused on women's health, with some common real-world factors (social determinants of health) interjected into the actors' bullet points, like challenges with alcoholism and lack of insurance.
"This is a very hard area for students to even approach," said Assistant Professor Mandi Lyons, DNP, RN. "Getting sexual and social health histories is really intimidating. You have to ask hard questions." Practicing with standardized patients before encountering uncomfortable situations in real life can help students overcome some of their anxiety, she added.
Working with Ramaswamy and Lyons to develop the simulation were Associate Professor Kristin Ownby, PhD, RN, and Instructor Kennessa Landry, MSN, RN, as well as clinical educators D'Hania Miller, Jennifer Dugger, and Davida Chatman.
Bailey King, a U.S. Navy veteran working to become a registered nurse, did not need clinical hours but wanted to help out the future FNPs and to practice things like charting and administering medications.
"I attended mainly just because I did want to participate, and it's a good way to keep practicing those skills," said King, whose long-term goal is to complete Cizik School of Nursing's nurse anesthesia program.
On the other side of the equation, FNP student Kaylan Timmons, BSN, RN, works in a hospital observation unit and said the simulation gave her a valuable glimpse into the primary care environment.
"They did a good job of making the simulation feel like what real life is going to be like for me very soon," she said. "I'm going to take on that nurse practitioner role of giving orders instead of carrying out the orders. It was good to have that new mindset and see how we work together as a team."
Lyons and Ramaswamy agreed that the combo sim not only helped bring together students at different levels but also undergraduate and graduate faculty members who interacted less than usual during the pandemic. "I have enjoyed working with the undergraduate faculty, and we have gotten positive feedback from faculty and students," Ramaswamy said.
At first a pandemic necessity, intraprofessional simulations are now requirements of BSN and MSN clinical preparation because they help students bolster skills and confidence before they begin clinical rotations with preceptors. Additionally, simulations allow students to have specific experiences with situations that are high risk but occur in the practice setting at lower frequency and may be missed during clinical rotations.
"This is the small little seed that we hope plants a big tree for the future," Lyons said.