DYNAMIC DNP DUO
GOAL TO SERVE HISPANIC MENTAL HEALTH NEEDS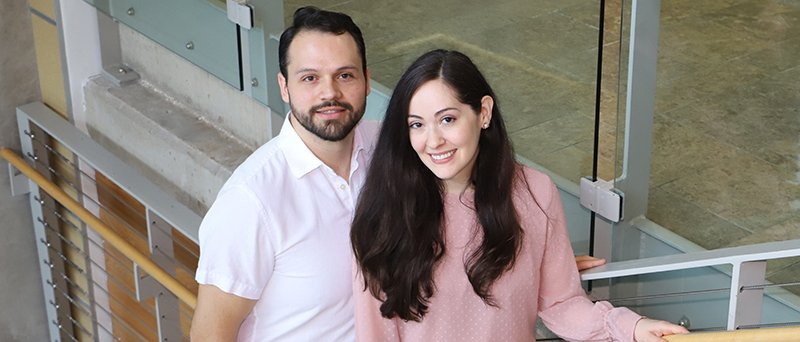 If you listen for a few minutes as Andrea Ancer Leal and Miguel De La Mora discuss the future, chances are you may hear their big plans grow just a little bit bigger.
The couple completed Cizik School of Nursing at UTHealth Houston's Pacesetter Bachelor of Science in Nursing (BSN) program together in 2019 and started the Doctor of Nursing Practice (DNP) program a year later. Both are working toward becoming psychiatric mental health nurse practitioners with the goal of someday establishing their own bilingual practice.
An online dating site matched the pair, who married six months after their first date. They soon decided to combine their common interests and complementary strengths not only in marriage but to help serve the mental health needs of Latino communities.
"It is common to deny depression and anxiety," said De La Mora, BSN, RN. "We need to help the community know and accept that mental health is real."
The couple has spent most of their six years together furthering their education while winning awards and scholarships along the way.
De La Mora was recently awarded a prestigious grant from Jonas Nursing and Veterans Healthcare, a part of Jonas Philanthropies. The Washington-state native received the Nancy A. Akers Endowed Scholarship as an undergraduate.
Ancer Leal, BSN, RN, LMSW, is a PARTNERS Scholar who grew up in Houston. She is the first Cizik School of Nursing student to receive the Graduate Student Brain Awareness Outreach Award from the Neurosciences Research Center at McGovern Medical School at UTHealth Houston. As a Research Coordinator II working with Associate Professor Jennifer Beauchamp, PhD, RN, Ancer Leal helped develop the RAPIDO© acronym for Spanish-language stroke awareness and virtually delivered a well-received oral presentation at the International Stroke Conference in March 2021.
Both are second-career students. Ancer Leal worked for six years as a social worker and studied for a PhD at UTHealth School of Public Health before making the switch to nursing.
"I have always been interested in research," she said. "With a DNP, I can be a clinician and a researcher, and I can collaborate with other health professionals."
De La Mora previously worked as a mortgage loan officer and a credit union manager.
"I have always been interested in entrepreneurship," he said. "We feel like if we can establish a business and be successful, that opens the door for ways to give back to the community."
Since graduation, both have been working as nurses at Harris Health's Ben Taub Hospital, and De La Mora notes that many patients hospitalized there for physical issues have underlying, untreated mental health conditions.
"About 55% of our patient population is Hispanic, and a lot of times they come in with medical issues that are related to unfortunate psychosocial situations," he said. "We're treating the medical issue, but it's really a psychological issue that got them into this situation."
As the couple discussed ways they might someday "pay it forward" to future Cizik School of Nursing students, Ancer Leal mentioned how much she learned through the Joan and Alexander Stanford Fellowship in Intellectual and Developmental Disabilities. De La Mora noted that most undergraduate students complete psych/mental health clinical rotations in hospitals, where they only see the most acutely ill patients. Then to their list of aspirations, they added the idea of creating a fellowship or scholarship to introduce undergraduate students to a broader range of psych/mental health careers and treatment settings.
Judging by their energy, hard work, and academic success so far, it's easy to envision this dynamic duo making their ambitious dreams come true.
"We have been go-go-go since we got married. By the time we are done with school, we will be at the age to start a family," said De La Mora. "We just enjoy the ride and do our best."