Faculty Fellows
Rozmus, Ahn, and McEwen honored in 2020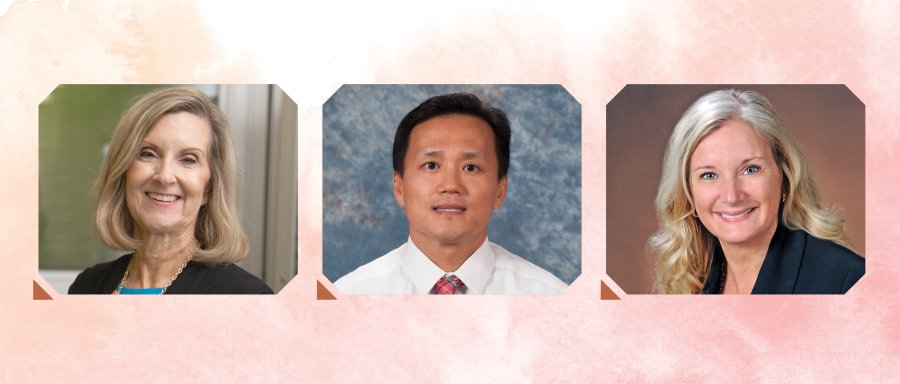 Cathy L. Rozmus, PhD, RN, FAAN, was inducted as a Distinguished Scholar and Fellow of the National Academies of Practice (FNAP). Members of this interprofessional, nonprofit organization represent 13 healthcare professions willing to serve as distinguished advisors to health care policy makers in Congress and elsewhere. Rozmus is the PARTNERS Professor and vice dean for academic affairs.
Hyochol "Brian" Ahn, PhD, RN, became the school's 17th American Academy of Nursing Fellow. Ahn is an associate professor in the Department of Research and has also been named Assistant Dean for Research and the Isla Carroll Turner Chair in Gerontological Nursing.
Melanie McEwen, PhD, RN, FAAN, is a 2020 inductee into The University of Texas Kenneth I. Shine, MD, Academy of Health Science Education (Shine Academy). This honor is awarded to only a handful of nominees each year from across all UT System health institutions and carries with it the title of "Distinguished Teaching Professor." McEwen is a professor and nursing education tract director in the Department of Research.

Other Faculty Fellows
Brian Ahn, FAAN (Class of 2020)
Jennifer Beauchamp, FAAN
Joan Engebretson, FAAN
Deanna Grimes, FAAN
Sandra Hanneman, FAAN
Daphne Hernandez, FAAHB
Joanne Hickey, FAAN, FCCM
Lori Hull-Grommesh, FAANP
Constance Johnson, FAAN
Thomas Mackey, FAAN, FAANP
Marianne Marcus, FAAN
Melanie McEwen, ANEF, FAAN
Janet Meininger, FAAN
Elda Ramirez, FAAN, FAANP, FAEN
Cathy Rozmus, FAAN, FNAP
Susan Ruppert, FAAN, FAANP, FCCM, FNAP
Diane Santa Maria, FAAN, FSAHM
Elizabeth (Beth) Ulrich, FAAN, FACHE, FAONL
Geri Wood, FAAN
Abbreviations:
Academy of Emergency Nursing (FAEN)
Academy of Nursing Education (ANEF)
American Academy of Nursing (FAAN)
American Academy of Behavioral Health (FAAHB)
American Association of Nurse Practitioners (FAANP)
American College of Critical Care Medicine (FCCM)
American College of Healthcare Executives (FACHE)
American Organization for Nursing Leadership (FAONL)
National Academies of Practice (FNAP)
Society for Adolescent Health and Medicine (FSAHM)


The University of Texas Kenneth I. Shine, MD, Academy of Health Science Education
(inductees designated as Distinguished Teaching Professor)
Vaunette Fay, PhD, RNC, FNP, GNP
Deanna Grimes, DrPH, RN, FAAN
Marianne Marcus, RN, EdD, FAAN
Melanie McEwen, PhD, RN, CNE, ANEF, FAAN
Janet Meininger, PhD, RN, FAAN
Susan Ruppert, PhD, RN, FNP-C, ANP-BC, FCCM, FNAP, FAANP, FAAN
Geri Wood, PhD, RN, FAAN

The University of Texas System Regent's Outstanding Teaching Award Recipients
Susan Ruppert, PhD, RN, FNP-C, ANP-BC, FCCM, FNAP, FAANP, FAAN (2018)
Melanie McEwen, PhD, RN, CNE, ANEF, FAAN (2017)
Amy Calvin, PhD, RN (2016)
Joanne Hickey, PhD, RN, APRN, ACNP-BC, FAAN, FCCM (2014)
Cathy Rozmus, PhD, RN, FAAN (2013)
Marianne Marcus, RN, EdD, FAAN (2012)