FACULTY HONORS
RUPPERT AND ROZMUS HONORED IN 2021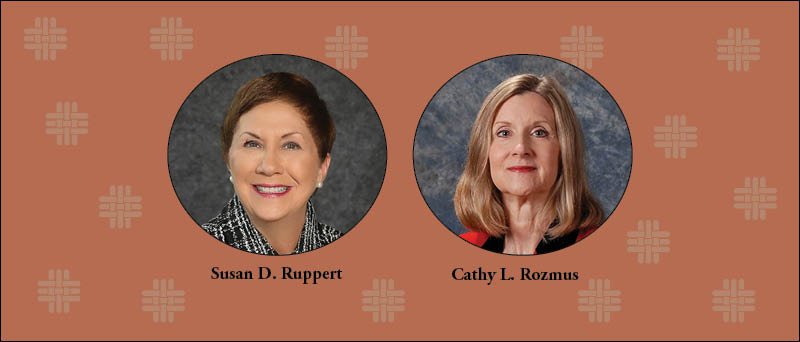 Susan D. Ruppert, PhD, RN, FNP-C, ANP-BC, FCCM, FNAP, FAANP, FAAN, has become the first faculty member of Cizik School of Nursing at UTHealth Houston to receive the prestigious Minnie Stevens Piper Professor Award in recognition of her effectiveness and dedication to teaching. Ten Piper Professors are selected each year from among educators nominated by colleges and universities throughout Texas. Ruppert is the school's associate dean for graduate studies and a PARTNERS Endowed Professor in Nursing.
Cathy L. Rozmus, PhD, RN, FNAP, FAAN, was selected to be part of The University of Texas Kenneth I. Shine, MD, Academy of Health Science Education. Rozmus is a PARTNERS Professor and vice dean for academic affairs at Cizik School of Nursing. She is also assistant vice president for institutional assessment and enhancement in the UTHealth Houston Office of Academic and Research Affairs. In addition, she is a faculty associate in the McGovern Center for Humanities and Ethics at McGovern Medical School at UTHealth Houston.
---
Jennifer E. Sanner Beauchamp, PhD, RN, FAAN, associate professor, received the 2020 Founders' Award for Genomic Nursing Research from the International Society of Nurses in Genetics.
Linda Cole, DNP, RN, CCNS, CPHQ, CNE, FCNSI, assistant professor, was inducted as a Fellow of the Clinical Nurse Specialist Institute (FCNSI).
Stacey Crane, PhD, RN, CPON, and Deniz N. Dishman, PhD, DNAP, CRNA, both assistant professors, were among recipients of "20 for 2020 Awards" from the Texas Nurses Foundation and the Texas Nurses Association.
Maja Djukic, PhD, RN, FAAN, associate professor, was named the John P. McGovern Distinguished Professor in the School of Nursing.
Doncy J. Eapen, PhD, RN, FNP-BC, assistant professor, was selected as a 2021 Academy on Violence and Abuse Scholar.
Allison Edwards, DrPH, MS, RN, CNE, assistant professor, received a Hall of Fame award from The University of Texas Medical Branch and was elected vice president of the Texas Board of Nursing.
Anitra Frederick, PhD, RN, CNE, assistant professor, was named an American Journal of Maternal/Child Nursing editorial fellow.
Hsiao-Hui "Joyce" Ju, DNP, APRN, FNP-BC, received a silver award in the Good Samaritan Foundation's 2021 Excellence in Nursing Program, while six other Cizik School of Nursing faculty members were honored with bronze awards.
Mary Ellen Trail Ross, DrPH, MSN, RN, GCNS-BC, associate professor, received a Distinguished Educator in Gerontological Nursing Award and Recognition at the National Hartford Center of Gerontological Nursing Excellence Leadership Conference.
Beth Ulrich, EdD, RN, FACHE, FAONL, FAAN, professor, received second place in the Medical-Surgical category of the American Journal of Nursing Book of the Year Award for the second edition of "Mastering Simulation: A Handbook for Success."
---
OTHER FACULTY FELLOWS
Jennifer Beauchamp, FAAN | Joan Engebretson, FAAN | Deanna Grimes, FAAN | Sandra Hanneman, FAAN | Daphne Hernandez, FAAHB | Joanne Hickey, FAAN, FCCM | Lori Hull-Grommesh, FAANP | Constance Johnson, FAAN | Thomas Mackey, FAAN, FAANP | Marianne Marcus, FAAN | Melanie McEwen, ANEF, FAAN | Janet Meininger, FAAN | Elda Ramirez, FAAN, FAANP, FAEN | Cathy Rozmus, FAAN, FNAP | Susan Ruppert, FAAN, FAANP, FCCM, FNAP | Diane Santa Maria, FAAN, FSAHM | Elizabeth (Beth) Ulrich, FAAN, FACHE, FAONL | Geri Wood, FAAN
---
THE UNIVERSITY OF TEXAS KENNETH I. SHINE, MD, ACADEMY OF HEALTH SCIENCE EDUCATION
Inductees designated as Distinguished Teaching Professor
Vaunette Fay, PhD, RNC, FNP, GNP | Deanna Grimes, DrPH, RN, FAAN | Marianne Marcus, RN, EdD, FAAN | Melanie McEwen, PhD, RN, CNE, ANEF, FAAN | Janet Meininger, PhD, RN, FAAN | Cathy L. Rozmus, PhD, RN, FAAN | Susan Ruppert, PhD, RN, FNP-C, ANP-BC, FCCM, FNAP, FAANP, FAAN | Geri Wood, PhD, RN, FAAN
---
THE UNIVERSITY OF TEXAS SYSTEM REGENT'S OUTSTANDING TEACHING AWARD RECIPIENTS
Susan Ruppert, PhD, RN, FNP-C, ANP-BC, FCCM, FNAP, FAANP, FAAN '18 | Melanie McEwen, PhD, RN, CNE, ANEF, FAAN '17 | Amy Calvin, PhD, RN '16 | Joanne Hickey, PhD, RN, APRN, ACNP-BC, FAAN, FCCM '14 | Cathy Rozmus, PhD, RN, FAAN '13 | Marianne Marcus, RN, EDD, FAAN '12