Fellowship encourages third group of students to learn about helping people with disabilities
Edwards's program teaching future nurses about caring for people with disabilities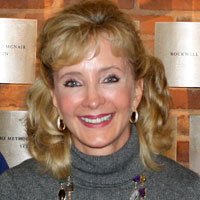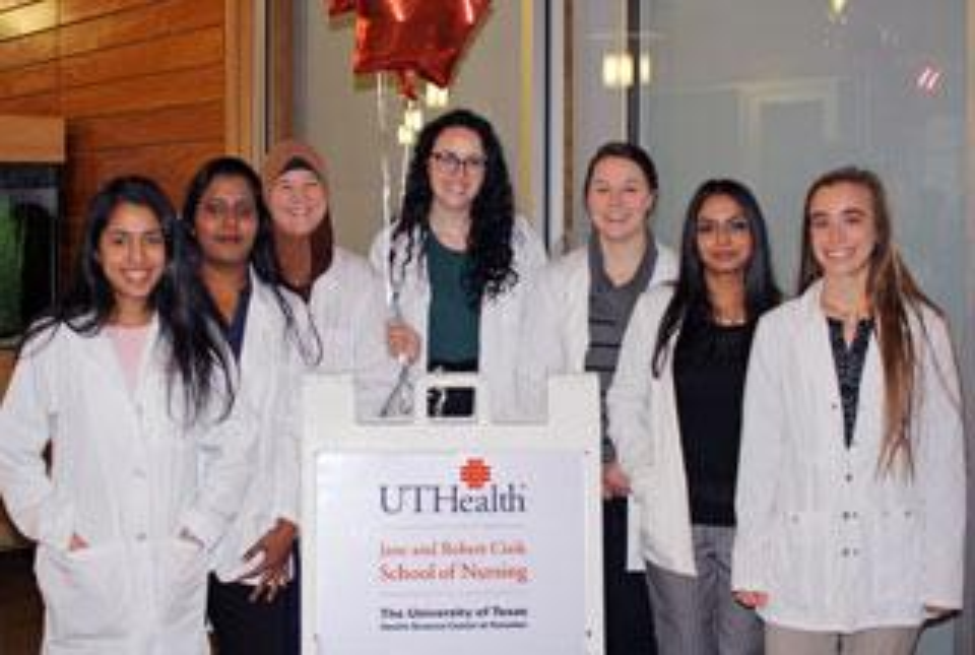 (March 8, 2019) – Cohort Three is the largest group yet of undergraduate nursing students to benefit from a generous grant by Joan and Stanford Alexander that funds specialized fellowships at Cizik School of Nursing. Recipients chosen for the Joan and Stanford Alexander Fellowship in Intellectual and Developmental Disabilities are awarded $2,500 each and participate in a one-semester, two credit hour program of co-curricular study.
The first four participants were selected in spring 2018.
Chosen this spring semester, Cohort Three comprises seven Pacesetter BSN students.
"Something that I never really thought about before is, when a person is curious about how an individual feels about their disability or wants to know more about it, we should never assume anything and just have a conversation and ask instead," says Cohort Three's Anna Roberson, who already has a B.S. in Health Promotion and Behavioral Sciences from The University of Texas at Austin.
Divya Peter, who has earned three degrees summa cum laude from Mahatma Gandhi University in Kerala, India, says: "I realized that most of the times it is our perception that is limiting many of these individuals who have immense capabilities. Society's notion of disability categorizes them into a different group where they are treated with the so-called 'disability labels.' This belief sometimes prevents them from exploring their true potential."
"People with disabilities thrive psychosocially when they are given the freedom to just be independent people with differences. And I think that knowledge will impact my nursing practice the most." adds Helen Cranford, who earned a B.S. from Texas A&M University in 2014 with a major of Kinesiology and is a certified personal trainer.
Others in Cohort Three are:
Angela Pawlak: a Bachelor of Science honors graduate from Texas A&M University. She has taught in a Montessori setting.
Shamim Bhayani started out at Rutgers University in New Jersey, but transferred here after finishing nursing pre-requisites at The University of Texas at San Antonio (UTSA).
Paige Chisholm: earned a bachelor's degree in Biomedical Sciences from Texas A&M and is a Pharmacology tutor.
Pankti Patel was a medical assistant in the Cypress area who graduated with honors from Jersey Village High School.
"Competency-based education such as this Alexander Fellowship exposes student nurses to a variety of disability diagnosis in multiple facilities and settings-that are not always 'controlled,' like in an acute care setting, so they have no choice but to adapt to the needs of the population," says Allison P. Edwards, Dr.P.H., M.S., R.N., who is the program coordinator and an assistant professor in the Department of Undergraduate Studies.
The fellowship includes 90 hours of clinical and enrichment activities fulfilled as independent study. The fellows rotate through various primary, acute and community care sites while working with interdisciplinary professionals. They will take part in multidisciplinary rounds and present clinical case studies during debriefing conferences.
Clinical locations for the Alexander Fellowship have included: The Transition Medicine Clinic at Baylor College of Medicine and TIRR Memorial Hermann: urology outpatient clinic, amputee clinic and outpatient clinic, and The Center providing health promotion activities and primary care interventions. Fellows also had enrichment and observation experiences at sites including Shriner's Hospital, Rise School of Houston, The Arbor School, Jewish Family Services' Celebration Company, Friends of Down Syndrome, the Autism Center at Texas Children's Hospital, and The Brookwood Community.
"There is a strong need for a program like this nationally, addressing the disparities that exist for this population, and furthermore- the CDC, Healthy People 2020 and the National Council for Disability have all thrown down the gauntlet and challenged and encouraged healthcare professionals to incorporate disability education as a priority" said Edwards. "We have to advocate for this population by eliminating the barriers to quality care that include not only negative attitudes but also inaccurate and inadequate knowledge, and limited skills in diagnosing, treating, and providing care which contribute to those disparities."
Application links will be emailed to all to second-semester Pacesetter B.S.N. students at the start of the summer semester, along with the deadline to apply for the Alexander Fellowship in the fall 2019 semester.
For more about the program online, see: go.uth.edu/cocurr
– David R. Bates, School Communications Director
In this story