Fowler receives 2019 President's Award for Leadership
President's Award for Leadership goes to Debra Fowler in faculty category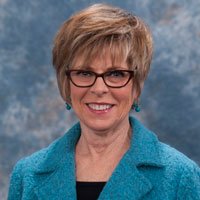 (April 29, 2019) – Cizik School of Nursing Associate Dean for Professional Development and Faculty Affairs Debra L. Fowler, Ph.D., M.B.A., R.N., is a 2019 recipient of the President's Award for Leadership. Michael R. Blackburn, Ph.D., executive vice president and chief academic officer at UTHealth, presented awards at the STAR Awards Luncheon on March 28.
"When you look at the nomination letters, it's amazing to read about the impact each individual has," said Blackburn of the three final honorees. "Listening to what they share, your hard work and dedication becomes evident."
Blackburn read for the audience what one nominator wrote: "I am retired military and I know what true leadership looks like. When you have a person in charge who genuinely cares about their people, whose door is always open and gives their full support to their people, that is the epitome of true leadership."
Established in 2006, the President's Awards for Leadership were inspired by the late Michael Jimenez, former vice president and chief human resources officer at UTHealth, to annually recognize exceptional leaders from across the UTHealth campus. Finalists are selected based on the qualities of leadership that Jimenez embodied: the consistent demonstration of leadership through service, compassion, and ethical standards. Honorees are chosen by the UTHealth President in three categories: classified staff, management/administrative and professional, and faculty.
In addition to Fowler, the 2019 recipients are Cristina Sola, M.S.N., R.N., nurse manager in the Department of Cardiothoracic and Vascular Surgery at McGovern Medical School, and Scott Patlovich, Dr.P.H., director of Environmental Health & Safety in the Office of Safety, Health, Environment and Risk Management at UTHealth.
Accepting the award, Fowler, who also is an associate professor of Community/Educational Outreach, shared the following remarks:
"First, I want to express my deep gratitude to my colleagues who nominated me for this award, Drs. Susan Ruppert, Lisa Boss, Sandy Branson, Angi Nash, Francine Snow, and Erica Yu. I am truly humbled by their acknowledgment of my leadership contribution.
Social scientists debate whether individuals are born leaders or if leadership is learned. My brother would tell you that as a kid, I was bossy. So my journey to becoming a true leader has been a lifelong learning process. Through many years of formal and informal leadership experiences, I have grown to understand that listening is more persuasive than telling, relationships are more important than org charts, and organizations thrive when the people who work in them are given opportunity to develop to their fullest potential.
In his book, The Servant as Leader, Robert Greenleaf tells us the measure of a servant leader is whether the people served grow as persons. During 10 years of teaching aspiring nurse leaders in our graduate program, I have witnessed huge transformation as students realize their potential as leaders. Seeing colleagues I've worked with and mentored, excel in their professional development is extremely rewarding. My students and colleagues teach me to be a better leader.
There are many awards for achievement; I so appreciate this award because it validates the service I endeavor to give every day. My job advancing professional development at Cizik School of Nursing is certainly my career pinnacle. I feel so fortunate to work with the outstanding students, staff, and faculty at the school. It is truly a privilege to serve as a leader in the school and the university.
Again, thank you to my colleagues for their heartfelt endorsement. Thank you, President Colasurdo, for selecting me to receive this honor in tribute to Michael Jimenez."
"Each year, UTHealth accepts nominations for people who have shown exceptional leadership skills through the years. Mike Jimenez believed that leadership qualities in employees should be and could be continually cultivated and encouraged to expand," said Kevin Dillon, M.B.A., C.P.A., senior executive vice president and chief operating officer at UTHealth. "He would be proud of the work Human Resources is doing today through the highly successful leadership development program."
The award carries a $5,000 cash prize and a commemorative gift.
"Thank you so much for what you do. When we have people like you contributing to the mission areas of the university, year after year, it speaks volumes for the passion and loyalty you have," said Giuseppe N. Colasurdo, M.D., president of UTHealth and Alkek-Williams Distinguished Chair.
Visit the 2019 STAR Awards Luncheon Flickr album to view more images of the event and of awardees receiving the President's Awards for Leadership.
– reported by Michelle Ray, UTHealth Public Affairs