Good Samaritan Foundation will salute Ross, Mathew Joseph and Mackavey, Sept. 5th
Ross, Mathew Joseph and Mackavey are Excellence in Nursing medalists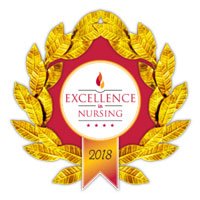 (June 12, 2018) – Three Cizik School of Nursing faculty members will be among the 2018 Excellence in Nursing Award winners in the "Nursing Education: Faculty" category to be honored by the Good Samaritan Foundation during an upcoming Sept. 5th luncheon at the Royal Sonesta Hotel.
Associate Professor of Clinical Nursing Mary Ellen Ross, Dr.P.H., M.S.N., R.N., Department of Nursing Systems, is a 2018 Excellence in Nursing Gold medalist. The Houston Chronicle "Salute to Nurses" program also selected her in 2016 as among the top 150 nurses in the area.
Chosen as Excellence in Nursing Bronze medalists are:
Nitha Mathew Joseph, Ph.D., R.N., assistant professor, Department of Acute and Continuing Care
Carole L. Mackavey, D.N.P., R.N., assistant professor of clinical nursing in the Family Health Department
Cizik School of Nursing Dean and John P. McGovern Distinguished Professor Lorraine Frazier, Ph.D., R.N., FAAN is event chair of the organization's 14th Annual Excellence in Nursing Awards Luncheon.
The foundation's annual Excellence in Nursing Award Luncheon is one of the largest programs dedicated to recognizing the women and men who are actively working in the nursing profession. The Excellence in Nursing Awards recognize registered nurses and nursing educators who are nominated by their peers and chosen by a distinguished selection committee.
The foundation names Gold, Silver and Bronze medalists in each of six award categories. These nurses demonstrate a passion for the nursing profession and exemplify excellence in teaching, mentoring, leadership and service.
– David R. Bates, Communications Director
In this story