Hellos and farewells
New and retiring faculty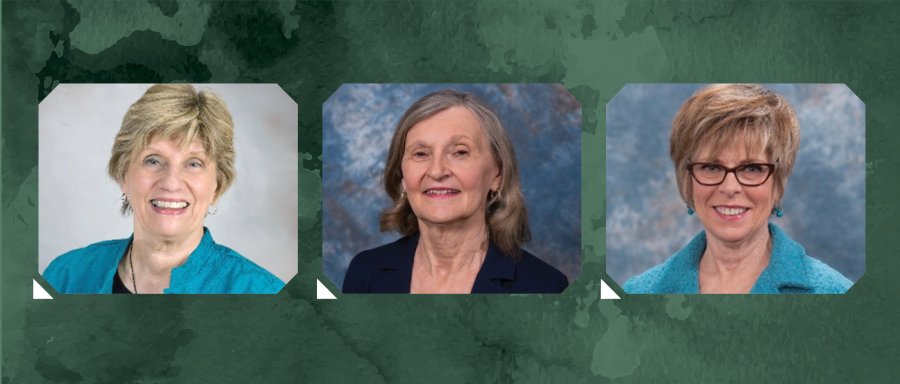 Thanks and best wishes to our retiring faculty!
Joan C. Engebretson, DrPH, AHN-BC, RN, FSfAA, FAAN, retired May 15 after 35 years of teaching, mentoring, and advancing research at UTHealth. She held a joint appointment at two institutions—Cizik School of Nursing at UTHealth and UTHealth School of Public Health, where she earned her DrPH. She had served as the Judy Fred Professor in Nursing in the school's Department of Research since 2010.
Joanne V. Hickey, PhD, RN, ACNP, FAAN, FCCM, retired Aug. 31 after more than two decades of outstanding service and leadership at The University of Texas Health Science Center at Houston. She held the Patricia L. Starck/PARTNERS Endowed Professorship in Nursing and was not only the coordinator but the architect of the school's Doctor of Nursing Practice program.
Debra L. Fowler, PhD, MBA, RN, CNE, NEA-BC, BCC, retired Aug. 31 after 14 years at Cizik School of Nursing at UTHealth, where she helped advance the careers of faculty and students. She wore many hats over the years, most recently as associate dean of Professional Development and Faculty Affairs, associate professor of Community/Educational Outreach, track director for the MSN in Nursing Leadership and Administration program, and head of the Division of Management and Education in the Nursing Systems Department.


Welcome to our new faculty members!
Department of Graduate Studies
Veronica Brady, PhD, RN, FNP-BC, BC-ADM, Assistant Professor
LaDawna Goering, DNP, RN, ANP-BC, ADM, Assistant Professor
Lori Hull-Grommesh, DNP, RN, NEA-BC, FAANP, Assistant Professor
Marissa Solorzano, MSN, PHMNP-BC, FNP-C, Instructor
Susan Stafford, DNP, MPA, MBA, RN-BC, NEA-BC, Assistant Professor
Seth Stephens, DNP, APRN, ACNP-BC, CPHQ, Assistant Professor
Tammy Stout, DNP, RN, ACNP-BC, Assistant Professor
Undergraduate Studies
Sylvia Anasi, DNP, MSN, RN, Assistant Professor
Robert Coghlan III, OP, PhD, RN, BSN, MSN, CNS, FNP, Assistant Professor
Anitra Frederick, PhD, RN, CNE, Assistant Professor
Hsiao-Hui "Joyce" Ju, DNP, RN, FNP-BC, Assistant Professor
Kennessa Landry, MSN, RN-BC, Instructor
Vuong Prieto, PhD, RN, CHSE, Assistant Professor
Department of Research
Stacey Crane, PhD, RN, CPON, Assistant Professor
Maja Djukic, PhD, RN, Associate Professor
Daphne Hernandez, PhD, MSEd, FAAHB, Associate Professor
Meagan Whisenant, PhD, APRN, Assistant Professor