Mathew Joseph study finds diabetes risks in Asian Indian immigrants affected by acculturation
Diabetes study by Mathew Joseph highlighted at ADA Scientific Sessions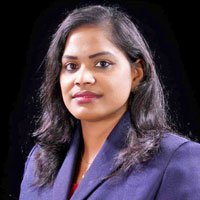 (June 25, 2018) – The American Diabetes Association is highlighting a new study led by Nitha Mathew Joseph, Ph.D., R.N., Cizik School of Nursing at The University of Texas Health Science Center at Houston (UTHealth), in the official news briefing of its 78th Scientific Sessions, being held through June 26 in Orlando, Fla.
Mathew Joseph and her colleagues completed a statistical analysis of 1,000-plus people in seven U.S. cities who had moved to the United States from India, and the results are unsettling. Their already-high risk of diabetes and heart disease went even higher when they adopted the American lifestyle of a high-calorie diet and inadequate exercise. The silver living is that their healthcare providers can now use this information to develop interventions.
Chosen for its overall excellence in furthering research and treatment for people with diabetes, as well as its potential media appeal, Mathew Joseph's study – "Mediating Role of Acculturation and Lifestyle Behaviors on Cardiometabolic Risks among Asian Indians in the United States" – was presented today to more than 200 journalists from around the world who are covering the latest research on psychosocial and health disparities presented at the ADA's sessions.
"Acculturation levels influence lifestyle behaviors, and in turn increase the risks for developing diabetes and cardiovascular disease in Asian Indians in the U.S., yet a gap exists in thoroughly understanding the risk factors and the need for screenings and lifestyle modifications to effectively lower those risks," said Mathew Joseph, assistant professor in the Acute and Continuing Care Department. "Designing culturally tailored dietary education and physical activity interventions for this high-risk ethnic group may promote positive lifestyle changes that have potential to reduce and/or prevent cardiometabolic risks among U.S. Asian Indians.
Asian Indians are the second-largest and fastest-growing Asian American group in the U.S., and they are often prone to developing obesity, cardiovascular disease (CVD) and diabetes due to acculturation – namely unhealthy eating habits and lack of exercise. Adopting American lifestyle behaviors can specifically affect glycosylated hemoglobin (HbA1c) levels and High-density lipoproteins (HDL) cholesterol levels in this group, according to the study.
Researchers concluded that dietary and physical activity interventions that are culturally specific might help lower risks of developing diabetes and CVD in Asian Indian immigrants. Researchers noted that additional research is needed to understand the mechanisms by which acculturation affects other cardiometabolic risk factors such smoking, alcohol, psychosocial factors, and abdominal obesity.
"Plans for future research include enhancing data collection to include information about all the modifiable cardiometabolic risk factors," said Mathew Joseph. "Ultimately, better understanding and prevention strategies will reduce the health and economic burden associated with these chronic conditions among Asian Indians living in the U.S."
This analysis examined the influencing role lifestyle, specifically physical activity and dietary behavior, had on acculturation and the development of diabetes and CVD among the study participants (average age, 48.5 years). Acculturation was assessed using the English proficiency scores from the Acculturation Scale for Southeast Asians, and dietary behavior and physical activity were calculated from the subscales of the Health-Promoting Lifestyle Profile II. The data on cardiometabolic risk factors were collected using HbA1c levels, fasting blood glucose levels, body mass index, systolic and diastolic blood pressure, and lipid profiles (HDL, LDL, total cholesterol and triglycerides).
Senior Statistician Stanley Cron, M.S.P.H., Cizik School of Nursing Center for Nursing Research, is a study co-author:
Nitha Mathew Joseph, Ranjita Misra, Jing Wang, Stanley Cron and Padmavathy Ramaswamy. Mediating Role of Acculturation and Lifestyle Behaviors on Cardiometabolic Risks among Asian Indians in the United States, Diabetes, 2018 May; 67(Supplement 1); online: https://doi.org/10.2337/db18-247-OR
The ADA's 78th Scientific Sessions is the world's largest scientific meeting focused on diabetes research, prevention and care. During the five-day meeting, more than 16,000 health care professionals from around the world will have exclusive access to more than 3,000 original diabetes research presentations, and participate in informative exchanges with leading diabetes experts.
– David R. Bates, Communications Director
In this story