New Dean
Leading with service and compassion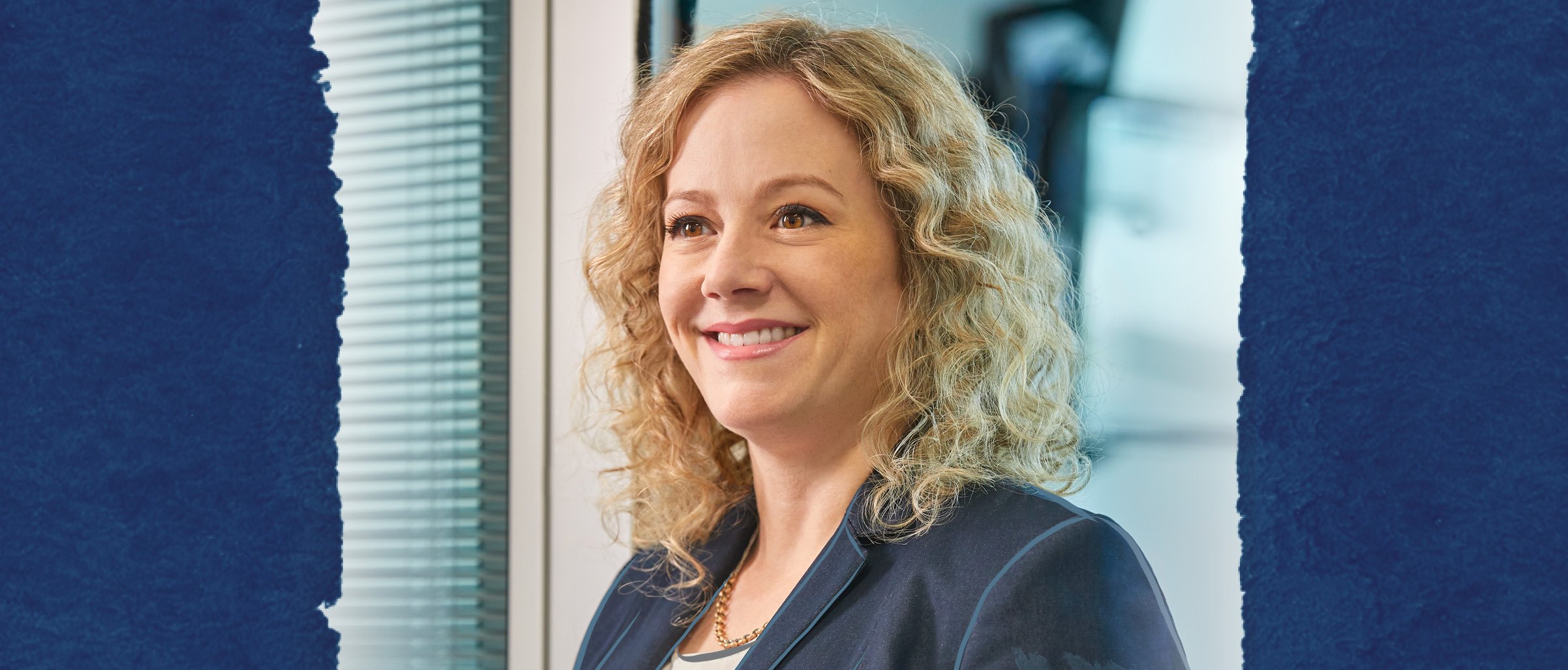 Diane Santa Maria doesn't just meet challenges, she seeks them out.
Take her first experiences as a nurse. While finishing up her BSN at The Ohio State University School of Nursing, she volunteered to help with recovery efforts in Honduras after Hurricane Mitch. Then she joined the United States Peace Corps.
"I was dropped off in the middle of the Dominican Republic with no Spanish skills, no running water, and no electricity," recalled Santa Maria, DrPH, MSN, RN, FAAN.
Her latest challenge—leading the Jane and Robert Cizik School of Nursing at UTHealth—was not one she took on lightly, even if did not require learning a new language or cooking over a campfire. When she became the school's dean ad interim in August 2018, she had three young children, was teaching several classes, and had applied for her first R01 grant from the National Institute of Nursing Research.
"I had to prove to myself that I could do this in a way that I would be proud of while meeting obligations to students, research, and family," she said.
Santa Maria did prove to herself that she could lead one of the nation's top nursing schools. She also convinced a search committee that worked diligently for two years, interviewing candidates from across the U.S. Effective Sept. 1, 2020, Santa Maria became the fifth dean in the school's 48-year history. She also serves as The Jane and Robert Cizik Distinguished Chair and the Huffington Foundation Endowed Chair in Nursing Education Leadership.

"I am pleased that we ultimately found the best possible candidate right here among our own faculty," said Michael R. Blackburn, PhD, UTHealth's executive vice president and chief academic officer, who co-chaired the committee along with Barbara Stoll, MD, former dean of McGovern Medical School at UTHealth.

A thread of helping those most in need has run throughout Santa Maria's career. While earning her MSN from Case Western Reserve University School of Nursing in 2003, she developed measles vaccination initiatives in Kenya and East Cleveland, Ohio, with the Red Cross. Afterward, she served as director of community health nursing with the Ho-Chunk Nation's Indian Health Service in Black River Falls, Wisconsin. She moved to San Antonio in 2005 and served in various capacities for the Medical Institute for Sexual Health.

Santa Maria came to Cizik School of Nursing in 2009 as a community health clinical faculty member. She earned her DrPH in health promotion and behavioral sciences at UTHealth School of Public Health, where she now serves as an adjunct faculty member. She became an associate professor with tenure in September 2018 and held two distinguished professorships before being named dean.
Santa Maria has focused much of her prolific research on youth experiencing homelessness.
Meaningful work that improves the lives of those who are marginalized and stigmatized is incredibly important to her. Her five-year, $3 million R01 grant funds a randomized trial assessing the efficacy of nurse case management for HIV prevention and care intervention among homeless youth. In August 2020, Santa Maria secured a supplemental award to study the effects of COVID-19 among the same cohort. She has also encouraged other nurse scientists at the school in applying for grants to study sexual and gender minority youth and the effects of COVID-19.
"I am greatly honored and grateful for the opportunity to lead such an outstanding team that amazes me at every turn, especially with their flexibility and resilience during the pandemic," Santa Maria said.

A drive to seek out challenges, a voracious appetite for lifelong learning, and a desire to lift up others combine in Santa Maria's engaging leadership style.

"I am trained as a behavioral scientist, as a mindfulness-based stress reduction facilitator, and in motivational interviewing. These things help me to connect with and listen to people in a manner that can lead to motivation for change and problem-solving," she said. "I want to create a work environment where people want to show up every day, not just for what they can give but for what they can learn from others."
Her ambitious vision for the future of Cizik School of Nursing touches all aspects of education, research, and practice – using lessons learned from the pandemic to help working nurses better fit education into their lives, partnering with hospitals to develop dedicated education units, nurturing the next generation of nurse scientists, and much more.

"Dr. Santa Maria is an effective and compassionate leader with a true commitment to service," said Giuseppe N. Colasurdo, MD, president and Alkek-Williams Distinguished Chair at UTHealth. "The COVID-19 pandemic has been a true test of leadership for every organization, and she has successfully helped Cizik School of Nursing continue to meet the needs of our students, patients, and community. I have no doubt that Dr. Santa Maria will help further the school's stature as one of the best institutions for nursing in the nation."
Sherri Deatherage Green