NURSES NEED HELP, TOO
THE STRESS OF EMERGENCY NURSING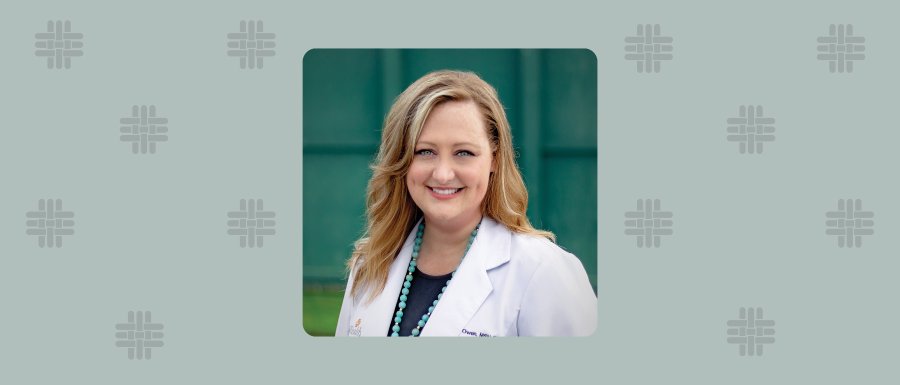 With a background as an emergency nurse and a sexual assault nurse examiner, PhD student and clinical instructor Christian Paige Owen, MSN, RN, CEN, knows how caring for traumatized patients affects nurses.
"Trauma takes its toll on the nurse both emotionally and physically," said Owen, whose dissertation will focus on factors associated with occupational stress among emergency nurses.
Owen is one of two Cizik School of Nursing students to receive a prestigious Jonas Philanthropies grant in 2021 to study aspects of mental health. Jonas Philanthropies is a leading national philanthropic funder of graduate nursing education. The Jonas Scholars at Cizik School of Nursing are made possible by a grant from Jonas Nursing and Veterans Healthcare. Each $15,000 grant is matched by Cizik School of Nursing.
Owen is excited to work with Associate Professor Maja Djukic, PhD, RN, FAAN, as her advisor for the Jonas scholarship and for her PhD. Djukic, the John P. McGovern Distinguished Professor in the School of Nursing, has pioneered national research of new graduate nurses to identify key gaps in quality and safety competencies essential for high-value patient care.
Emergency nurses are chronically exposed to trauma as part of their commitment to patients. "By understanding how secondary trauma impacts emergency nurses as well as the occupational factors that contribute to traumatic stress, we can better understand the mental health needs of emergency nurses as well as changes needed within the work environment to promote well-being and career longevity," Owen said.
Owen considers this work especially important due to the impact of COVID-19 on health care providers and the expected shortage of nurses. "We need to realize that taking care of the emergency nurse is every bit as important as taking care of trauma patients," Owen said.
Owen calls herself a "home-grown" nurse scientist and educator, having earned both undergraduate and graduate degrees from Cizik School of Nursing. She received her BSN in 2007 and MSN in leadership and administration in 2019.