Nursing students spend semester break volunteering in emergency departments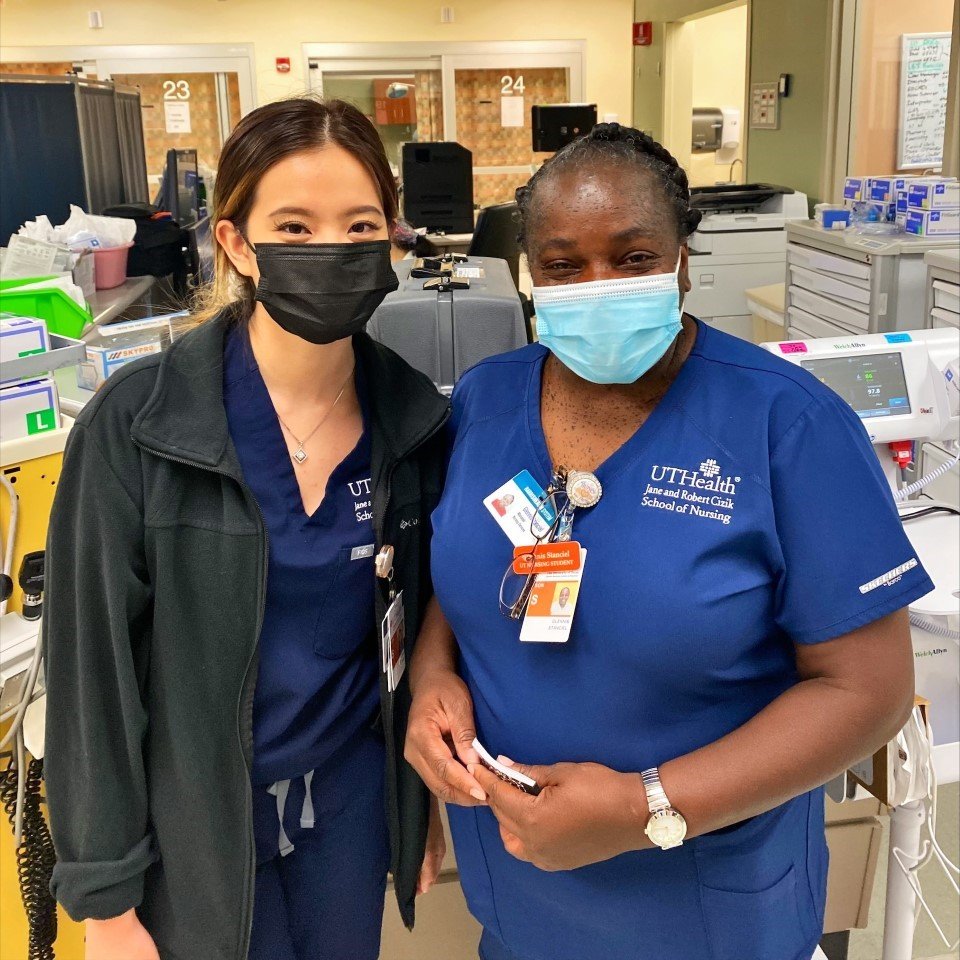 Students earning Bachelor of Science in Nursing Degrees through Cizik School of Nursing at UTHealth Houston's Pacesetter program don't get much time away from their studies. Yet, several dozen jumped at the chance to volunteer in emergency departments (EDs) between the summer and fall semesters.
Those two weeks coincided the peak of the COVID-19 Delta variant surge in the Houston area, and the providers in the EDs at Memorial Hermann-Texas Medical Center and Harris Health System's Lyndon B. Johnson Hospital (LBJ) were under tremendous stress, said Bentley J. Bobrow, MD, FACEP, professor and chair of the Department of Emergency Medicine at McGovern Medical School at UTHealth Houston. He reached out to Cizik School of Nursing leadership and requested student support for the emergency nursing teams.
"We were extremely impressed with how efficient and flexible Cizik School of Nursing was and their deep desire to work collaboratively," Bobrow said. "There is no better way to learn than to actually do, and we were all excited and grateful to have the nursing students on our team during this surge."
Most students worked two or three shifts and were paired with a nurse on each visit. Faculty from the medical and nursing schools worked with hospital leaders to develop a list of tasks and skills students were prepared to perform without instruction from the nurses.
Glennis Stanciel and Ann Tram Ngu were among the 30 undergraduate students about to begin their final semester who volunteered at LBJ. They gained invaluable hands-on experience and earned clinical hours before classes began.
"I wasn't really doing anything over the break, and it looked like a good opportunity to see what the ED was like, so I signed up for it," said Ngu. "We got to put in IVs, do blood draws, and help nurses taking vitals. It doesn't sound exciting, but the nurses were glad I was there to help them."
With so many patients coming into the EDs, the nurses on staff needed a lot of help with the little things, said Angie Steen, MSN, RN, CEN, director of the emergency center at Memorial Hermann-TMC. The more than 40 students who volunteered at her site spent part of their time sitting with and assisting high-risk patients and making patients comfortable in crowded waiting rooms. Students also benefited from experiences they might not have otherwise encountered before graduation.
"The nurse let me do everything I felt comfortable doing," Stanciel said. "One of the doctors even let me assist with a paracentesis." Ngu, who happened to be working the same shift, observed her classmate helping with the procedure to drain fluid from a patient's abdomen.
The volunteer worked piqued several students' interest in emergency nursing, and Associate Dean for Undergraduate Studies Erica Yu, PhD, RN, received a number of emails from students grateful for the opportunity to volunteer. The experience built students' confidence not only with clinical skills but with patient interactions, Stanciel noted.
The nurses they assisted were equally appreciative.
"I can tell you the nurses in the ED thought they were just awesome. That's the word we keep hearing – awesome," Steen said.
"It's a win-win situation," Yu said. "I think this is a great example of collaboration during pandemic especially, with regard to surge management."
"Having the nursing students work closely with our nurses during the COVID surge was not only a great help to the nurses, but they also provided welcomed assistance with caring for our patients in their times of greatest need, said Walé Salvador, DNP, NE-BC, administrative director of nursing for the emergency center at LBJ Hospital. "We are most grateful to the UT student nurses and wish them well as they complete their education and becoming our future health care heroes."