Ombudsman improves quality of life as caring advocate for long-term care residents
Volunteers "truly making a difference" in Long-term Care Ombudsman Program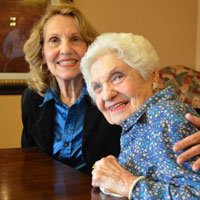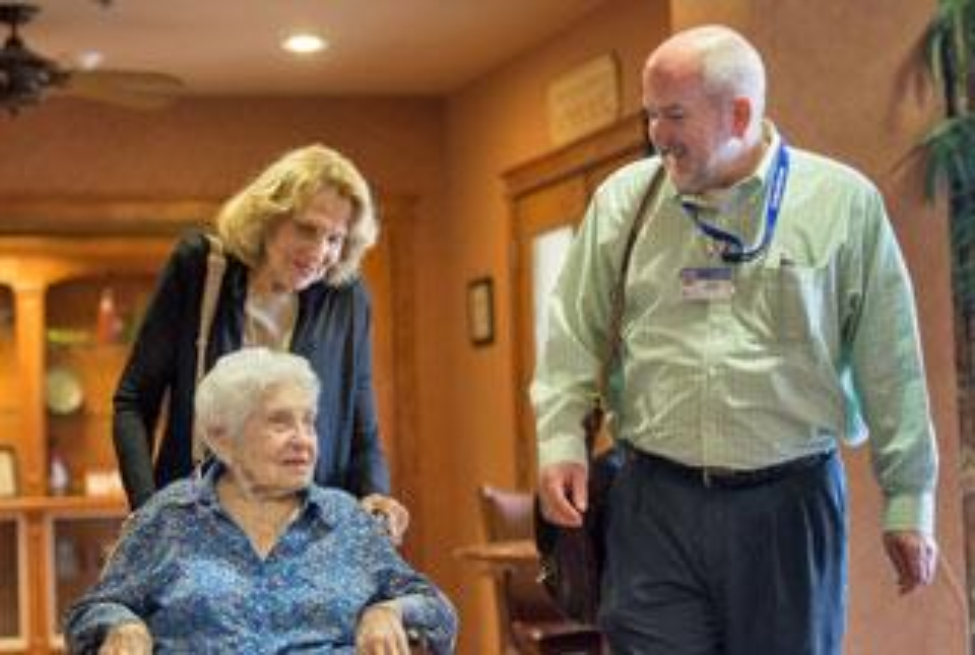 (Oct. 15, 2019) – "Ombudsman" is a word that baffles most people upon first hearing it. A simple definition is a person who investigates complaints and gets problems resolved, yet those at the Office of the State Long-Term Care Ombudsman describe the role of an ombudsman as "being an advocate for residents."
The Harris County Long-term Care Ombudsman Program at Cizik School of Nursing at The University of Texas Health Science Center at Houston (UTHealth) has 103 nursing homes and 295 assisted living facilities to cover. According to Greg Shelley, the program manager, due to the geographical size of the county, the number of facilities, and the number of long-term care residents, finding enough people to help is vital.
Nothing is more important to their success than volunteers.
Nursing and assisted living residents are diverse, come from all sorts of backgrounds, and possess different levels of abilities. The job of the ombudsman is to protect residents' rights, involving everything from fairly straightforward issues such as meal preferences to highly complex care issues such as medication administration and other care-planning concerns.
Some residents can't verbalize their feelings, but an ombudsman can spot when there are issues that need to be addressed. Other residents can verbalize concerns but are sometimes afraid to go out on their own and say how they feel. An ombudsman is able to help residents express their needs and solve problems.
Investigative work is key to the job description of an ombudsman. Just ask Jo Latimer, a volunteer now in her thirteenth year of serving the Willowbrook area of North Houston.
"It's an opportunity to fine-tune any investigative skills you may have," Jo explains. "You're always trying to figure out what happened here, and how do we approach solving this problem, and who do I need to go to in order to tackle it."
Until her own mother was assigned to a long-term care facility, Jo didn't know anything about the ombudsman program. Visiting every day, she struck up a friendship with a gentleman assigned to the facility who encouraged her to become an ombudsman as well. A couple months after her mother passed away, Jo felt a magnetic pull to help others, in the same manner, she witnessed when an ombudsman was fighting for her mom. From the beginning, Jo felt like she was fulfilling a need.
"The training was thorough," Jo recalls. "I felt very comfortable when they said I was released and certified to act on my own. If you feel like you need help at any point, we have a top-notch crew in our local staff that's able to fill in the gaps."
Becoming an Ombudsman –
For the longest time, Jackie Friedman wanted to be a patient advocate, dreaming of the role as a profession. Over the years, she worked in research labs, including UTHealth, where she first read an internal newsletter that outlined the ombudsman program.
"I thought, 'That's right up my alley!'" Jackie says, recalling that discovery 11 years ago which has since transformed her life.
Before retiring, Jackie went through the certified ombudsman training (two sessions totaling about 12 hours) and began making weekly visits to nursing facilities. Having a little extra time to spare these days, she has now upped her involvement to two days a week, split between a pair of facilities in Spring Branch. Jackie loves having the opportunity to visit with hundreds of residents.
"What's rewarding is leaving with the feeling I've helped at least one person," Jackie says. "It's very humbling to get on the floor and tie somebody's shoes or reach their clothes in the closet – little things that we take for granted."
Jackie almost tears up thinking about one melancholy resident who never has any visitors. Whenever Jackie stops by, he'll perk up and say, "I knew you'd be here. It's Tuesday."
"There's a lot of loneliness in nursing homes," Jackie says. "Anything you have the heart for will help the people there."
Truly Making a Difference –
One common misperception is that all nursing home residents are elderly and/or lacking in mental capacity. The reality is they vary in age and ability. Many, while physically dependent, are still able to make decisions independently. Others may be in relatively good physical shape but have cognitive disabilities, requiring them to need assistance with multiple aspects of daily living.
While the ombudsman can be particularly helpful to those who have no family or friends involved in their care, they can provide significant assistance to all. A large part of their mission is to educate everyone about the unique rights of residents in long-term care facilities, helping residents, their family, and their friends successfully navigate the complexities of getting good care in these residential settings. The ombudsman is also a great resource when you are trying to decide where to go to get care in the first place.
The longest-serving volunteer of the Houston-based ombudsman program is Chuck Tortorich, who first joined back in 2000. During his time, he has served in Katy, Spring Branch, and now St. Dominic Village, a Senior Care Community just outside the Texas Medical Center.
What first compelled Chuck to get involved was the need to give back. "We've been put on earth to use whatever talents and gifts we have to help one another," he says. "A lot of the seniors are battling so many problems, especially dementia. It touches my heart to see the condition they're in, but it also encourages me to see how upbeat they are about everything."
Committing to Help –
The requirements are simple. Volunteers must be able to visit an assigned nursing home or assisted living facility in Harris County. They also ask that everyone be 18 or older and have their own transportation. Additionally, since Houston is widely considered to be the most diverse city in America, bilingual skills are a definite plus.
Becoming a certified volunteer ombudsman is free and rewarding. To become certified, a person must participate in a 60-day minimum internship which includes at least 36 hours of training. In Harris County, three group trainings are conducted each year (September, January, and April). Volunteers are asked to make at least a one-year commitment, visiting a facility once a week for an average of two hours. The one-year commitment is required to ensure residents have an ombudsman who they can get to know as a trusted advocate.
"I would encourage anybody who has a calling to do it because there's a great need out there," says Chuck, reflecting on his 19 years of service as an ombudsman. "There are a lot of people in nursing homes who have no family, and they have nobody to look out for them. We have to make sure they get the care they need."
Of course, it can be difficult for people to volunteer their time, especially when they have kids of their own along with a 40-hour workweek. While the time commitment is real, so are the rewards. Greg Shelley, who oversees the local ombudsman program, speaks from experience. He started out as a volunteer, as did three other staff members. Volunteers continue to be in high demand throughout Houston, particularly in Baytown and Pasadena.
"Volunteers are the heart of our program," Greg says. "It's a chance to meet some incredible people and become a voice for those who otherwise wouldn't have anybody."
Just remember, if you advocate on behalf of other residents and family members living in long-term care facilities, someone just might return the favor someday.
Those looking to learn more or perhaps get involved are encouraged to email ombudsman@uth.tmc.edu and/or call 713-500-9931. The program is funded by the Texas Health and Human Services Commission.
(NOTE: This article first appeared in Chron.com's blog, StoryStudio)