Outstanding Educators
2020 McGovern Awards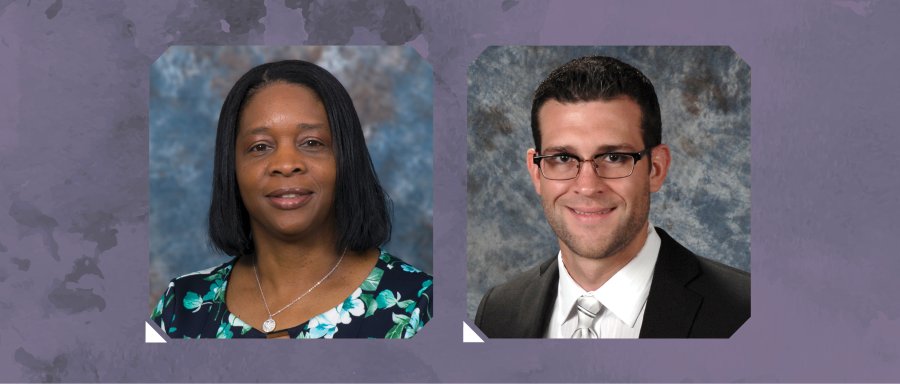 Cizik School of Nursing at UTHealth students this spring honored Dr. Hildreth Eloi, DNP, MSN, RN, and Dr. Matthew Lewis, PhD, DNP, CRNA, by selecting them the 2020 John P. McGovern Outstanding Teachers of the Year.
"Because COVID-19 derailed our in-person commencement plans this year, we were not able to recognize Drs. Eloi and Lewis in person as we would have wished," said Diane Santa Maria, DrPH, RN, FAAN, the school's dean. "We are very fortunate to have such talented educators on the Cizik team who inspire our students to success."
Each year, students nominate faculty members for the prestigious awards, which are made possible by an endowment from the John P. McGovern Foundation. Awards are given to one undergraduate and one graduate faculty member at each of UTHealth's six schools.
Dr. Eloi, an assistant professor, was chosen this year in the Department of Undergraduate Studies. She joined the Cizik School of Nursing faculty in 2017, where she teaches courses and conducts skills labs in reproductive health. Dr. Eloi began her career on the Caribbean island nation of Dominica, where she earned her associate's degree and practiced as an RN. She later moved to Miami, where she worked in women's health, and then to Houston, where she was a charge nurse at Ben Taub General Hospital. She earned her BSN from American Sentinel University, as well as her MSN in Nursing Education and her DNP from Grand Canyon University.
Graduate-level students selected Dr. Lewis for the McGovern Award. An assistant professor in the Department of Graduate Studies, Dr. Lewis serves as assistant track director for the nurse anesthesia program. He has been teaching at UTHealth since 2013. He worked in the coronary care unit at St. Luke's Episcopal Hospital in the Texas Medical Center after earning his BSN from The University of Texas at Austin in 2007. He received his MSNA and DNP degrees from Texas Christian University in 2011. In 2019, Dr. Lewis completed his PhD at the Cizik School of Nursing where he focused on cognitive load and student performance during simulation. He teaches anatomy and physiology and maintains an active clinical practice in the greater Houston area.
Other faculty honored with nominations for the 2020 McGovern awards were:
Juane Alexander, MSN
Dr. Daniel Arellano, PhD
Dr. Mitzy Kobeissi, DNP
Kennessa Landry, MSN
Dr. Mandi Lyons, DNP
Dr. Kristin Ownby, PhD
Michelle Peck, MSN
Candice Triulzi, MSN
by Sherri Deatherage Green
In this story