RESEARCH HIGHLIGHTS
CURRENTLY FUNDED STUDIES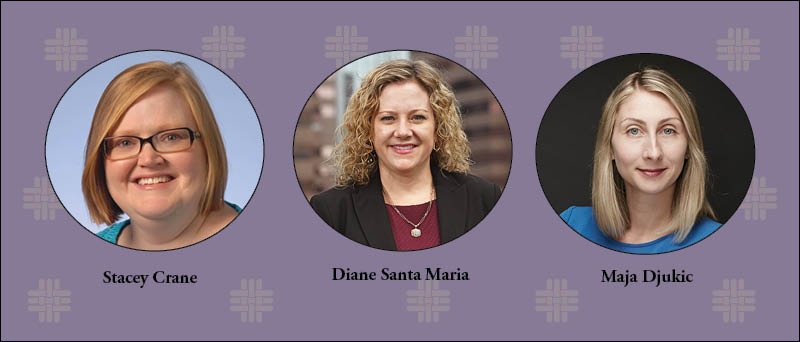 Stacey Crane, PhD, RN, is developing the Smart Pediatric Oncology Tracker of Symptoms (SPOTS), a web-based interface designed to make it easier for kids with cancer and their parents to report symptoms in real time with the ultimate goal of improving kids' outcomes. In 2021, she received a K-23 Mentored Patient-Oriented Research Career Development Award from the National Institutes of Health/National Institute of Nursing Research to support the development of SPOTS.
Diane Santa Maria, DrPH, MSN, RN, FAAN, received a three-year, $731,783 award from the National Center for Complementary and Integrative Health to expand her work with youth experiencing homelessness. This grant funds a pilot project to tailor and test a mindfulness-based intervention designed for delivery to youth staying in homeless shelters. This grant will run in parallel with Santa Maria's ongoing R01 grant from the National Institute of Nursing Research, which funds a nurse case management HIV prevention intervention among youth experiencing homelessness.
Maja Djukic, PhD, RN, FAAN, received a substantial grant from the National Council of State Boards of Nursing to study the experiences of new graduates transitioning to nursing during the pandemic. Djukic also received the Quality and Safety Education for Nurses (QSEN) Research Award bestowed by the QSEN Institute at Case Western Reserve University's Frances Payne Bolton School of Nursing. In addition, she attended the Harvard Macy Institute leadership development program. In November 2020, she received a PARTNERS grant to analyze national data to identify gaps in quality and safety education among nurses.
OTHER CURRENTLY FUNDED PROJECTS INCLUDE:
Feasibility of a Patient-Centered, Telehealth-Delivered Diabetes Foot Care Educational Program - PI: Hsiao-Hui "Joyce" Ju, DNP, RN, FNP-BC. Funded by the Endocrine Nurses Society.
Post-Master's Certificate-Seeking Nursing Students' Outcomes on Advanced HESI Examinations - PI: Kathleen Siders, DNP, APRN, FNP-C. Funded by STTI Zeta Pi.
South East Texas Geriatrics Workforce Enhancement Program Grant (SETx-GWEP) - PI: Vaunette P. Fay, PhD, RNC, FNP, GNP. Funded by Geriatric Workforce Enhancement Program-HRSA-19-008 subcontract to Baylor College of Medicine, grantee institution.
INTERDISCIPLINARY TEAMS FROM MULTIPLE INSTITUTIONS:
Facial and Body Motion Technology to Detect Psychosocial Distress in Stroke Survivors and Informal Caregivers Living at Home - PI: Jennifer E. S. Beauchamp, PhD, RN, FAAN. Funded by Maria C. and Christopher J. Pappas Family Distinguished Chair in Nursing.
An AI-Powered Chatbot for Supporting the Medication Information Needs of Older Adults - PI: Kirk Roberts, PhD, MS. Co-investigator: Mary Ross, DrPH, MSN, RN, GCNS-BC; and Mandi Lyons, DNP, MSN, RN, WHNP-BC. Funded by Maria C. and Christopher J. Pappas Family Distinguished Chair in Nursing.
Aging in Place with Cognitive Impairment: Toward User-Centered Assistive Technologies - PI: Sabrina Pickens, PhD, MSN, GNP-BC, ANP-BC. Funded by Rice University ENRICH Program.
In this story