UTHealth's schools of nursing and dentistry team up with community agencies to give 100 veterans a smile
Cizik School of Nursing students help School of Dentistry give veterans a smile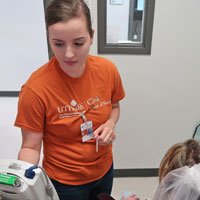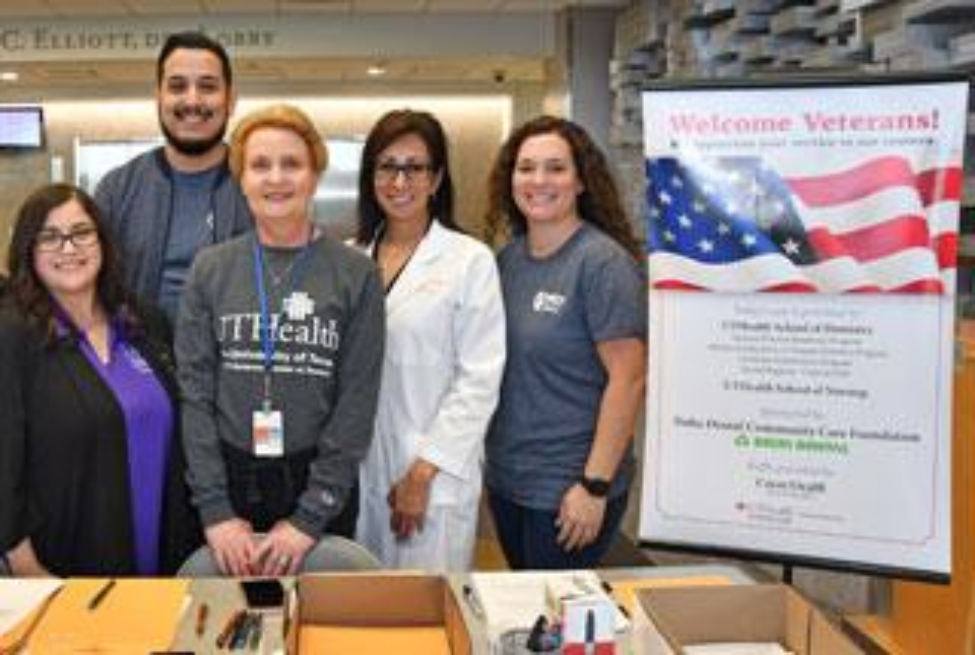 (Nov. 11, 2019) – On Friday, Nov. 8th, volunteers from UTHealth's School of Dentistry and Cizik School of Nursing gave back to a 26-year-old former Marine corporal by providing him with a no-cost dental checkup. He was one of about 100 United States military vets invited to receive free urgent, palliative, therapeutic and/or preventive dental care during the fifth "Give Veterans a Smile" event at the School of Dentistry, 7500 Cambridge.
A dental resident, dental student and/or dental hygiene student saw each of the veterans who were invited to participate. The vets could qualify for additional treatment, if needed, thanks to a grant provided by the Delta Dental Community Care Foundation.
The free dental care was by invitation only.
"We're providing urgent/palliative and therapeutic dental care to veterans affiliated with invited organizations in the Greater Houston Area," said Associate Professor Margo Melchor, RDH, MEd, EdD, the director of community outreach for UTHealth's dental school. "This event is an annual opportunity to help those uninsured veterans in need of pain relief."
The dental services began with the veterans being assessed/triaged by nursing students of Cizik School of Nursing at UTHealth and faculty members from the School of Dentistry.
"This event focuses on providing dental care to 100 homeless and at-risk veterans, an initiative was started five years ago after my students and I noted the great need for dental care among veterans, and it has grown every year," said Cizik School of Nursing Associate Professor Bridgette R. Pullis, PhD, RN, and director of the Veterans Bachelor of Science in Nursing Program (VBSN). "The nursing school is responsible for identifying and registering veterans for the event, and our students volunteer to take vital signs and help the veterans during the day."
Many dental students also volunteered, including many who are veterans themselves.
The sponsor for the event was Delta Dental Community Cares Foundation. A raffle was provided by Procter & Gamble. The veterans in need were identified by Easter Seals Greater Houston, Catholic Charities of the Archdiocese of Galveston-Houston Women Veteran Services, The Salvation Army, Harris County Precinct 2 Veterans Services, U.S. Vets, Goodwill Women's Veteran Program and Combined Arms.
Before the event, John Valenza, DDS, dean of UTHealth School of Dentistry offered greetings, along with several area elected officials.
For more information about Give Vets a Smile, contact Dr. Margo Melchor, community outreach director for the School of Dentistry.