WELCOME AND FAREWELLS
NEW AND RETIRING FACULTY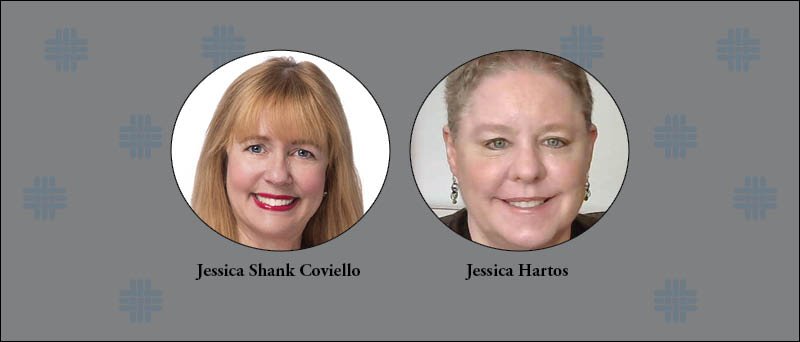 Welcome to our new faculty members and leaders!
Jessica Shank Coviello, DNP, APRN, ANP-BC, joined Cizik School of Nursing at UTHealth Houston in the Fall 2021 semester as associate dean for faculty development. Previously, she held a joint appointment at Yale School of Nursing as an associate professor in the Doctor of Nursing Practice (DNP) program and as an adult nurse practitioner in cardio-oncology at Smilow Cancer Hospital in New Haven. Coviello is widely published in the area of cardiooncology, and programs she has developed include the TakeHeart Cardiac Rehabilitation Program at Yale New Haven Hospital. She led the curriculum development and CCNE certification for the DNP program at Yale and most recently developed a mentorship program for junior clinical faculty.
Jessica Hartos, PhD, was named assistant dean for education and assessment effective March 1, 2021, focusing on program evaluation, assessment, and accreditation. Most recently, Hartos was assistant dean of assessment and quality improvement at the University of Houston College of Medicine. Previously, she was responsible for program evaluation, assessment, and accreditation at the University of North Texas Health Science Center Department of Physician Assistant Studies, The University of Texas at Austin's College of Natural Sciences, the Texas Department of State Health Services' Mental Health Transformation program, and the University of North Carolina at Charlotte's Department of Public Health Sciences, where she also received tenure.
DEPARTMENT OF GRADUATE STUDIES
Linda Roussel PhD, RN, NEA-BC, CNL, FAAN
Professor
Haley De La Garza DNP, CRNA
Assistant Professor, Nurse Anesthesia
Sydnee Lucas DNP, APRN, FNP-BC
Assistant Professor
Carolyn Tran DNP, APRN, GNP-BC, PMHNP-BC
Instructor
DEPARTMENT OF UNDERGRADUATE STUDIES
Riza Mauricio PhD, APRN, CPNP-AC/PC, FCCM, CCRN
Assistant Professor-Clinical
DEPARTMENT OF RESEARCH
Carina Katigbak PhD, RN, ANP-BC, FAHA
Associate Professor
Karla Abela PhD, RN, CCRN-K, CPN
Assistant Professor

Thanks and best wishes to our retiring faculty!
Rebecca L. Casarez, PhD, RN, PMHCNS-BC, retired May 31, 2021, after more than 15 years of teaching and advancing research at Cizik School of Nursing. She also provided mental health counseling for individuals and families at UT Health Services. Over the years, she served on various institutional bodies, including Baccalaureate Council, Faculty Life Council, and PhD Council.
Rebecca Jo Helmreich, PhD, PNNP, RN, WHNP-BC, retired September 30, 2021, after more than 19 years with Cizik School of Nursing at UTHealth Houston. In addition to preparing student nurses for practice, she strove to improve outcomes for mothers and babies through research and clinical practice. She taught research courses at the master's and DNP levels as well as advanced physical assessment classes and labs.
Susan Parnell, PhD, MSN, MPH, RN, CIC, retired October 23, 2020, as director of UT Health Services. In her 25 years at UTHealth Houston, she served in many positions: coordinator of Communicable Disease and Travel Health Programs, clinical nursing instructor at Cizik School of Nursing and UT Health Services, associate director of Occupational Health for Nurses Program at UTHealth School of Public Health, and associate director of the Occupational Health Nursing Program at the Southwest Center for Occupational and Environmental Health at the School of Public Health.