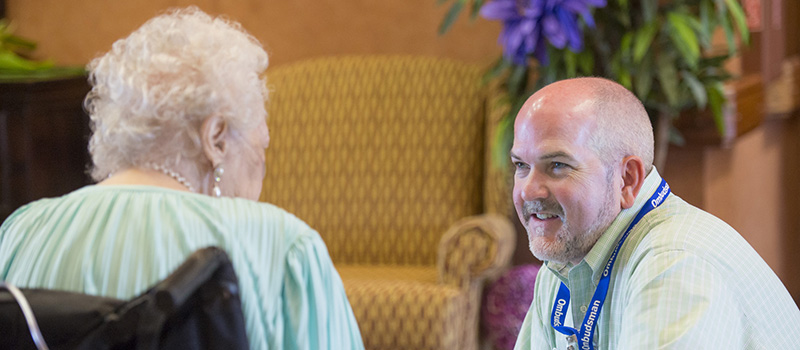 What is an Ombudsman?

Long-term care (LTC) ombudsmen are advocates for resident rights. They help protect the quality of life and quality of care of anybody who lives in a nursing home or an assisted living facility.
Ombudsmen can be volunteers or paid employees of agencies that are independent of any long-term care facility. Services are free, confidential and available statewide.
An LTC ombudsman listens to and addresses the concerns of nursing home and assisted living facility residents. Issues can range from the food service to problems with therapy. At all times, residents decide on the ombudsman's level of involvement. They can be counted on to respect residents' privacy and confidentiality.
LTC ombudsmen also represent residents' interests by speaking out to government agencies and legislators for increased consumer protections in state and federal laws and regulations.
Ombudsmen can be volunteers who have been specially trained to help residents solve problems or they can be paid staff of a local ombudsman program. Each nursing home or assisted living facility has a volunteer or paid ombudsman available to residents.
In Harris County, the long-term care ombudsman program is administered at Cizik School of Nursing at UTHealth Houston in collaboration with the Harris County Area Agency on Aging, which is funded by the Texas Health and Human Services Commission.
Office of the Long-term Care Ombudsman
---
What does an Ombudsman Do?

Ombudsmen work to solve problems and make sure state regulations and laws protect residents. Some of the ways LTC ombudsmen help nursing home and assisted living residents include:
Listening to residents and family members when they have concerns or issues
Telling residents about their rights
Protecting resident health, safety, welfare and rights
Helping families learn about nursing homes and how to pay for them
Learn more about LTC Ombudsmen.
---
Who can be a Volunteer?

You can! Volunteers must be at least 18 years old, have available transportation, and possess genuine care and concern for older adults. All volunteers must be able to pass a criminal history check and screening for conflicts of interest.
Learn more about how to become a certified volunteer ombudsman.
Contact us for application information
713.500.9931 || ombudsman@uth.tmc.edu