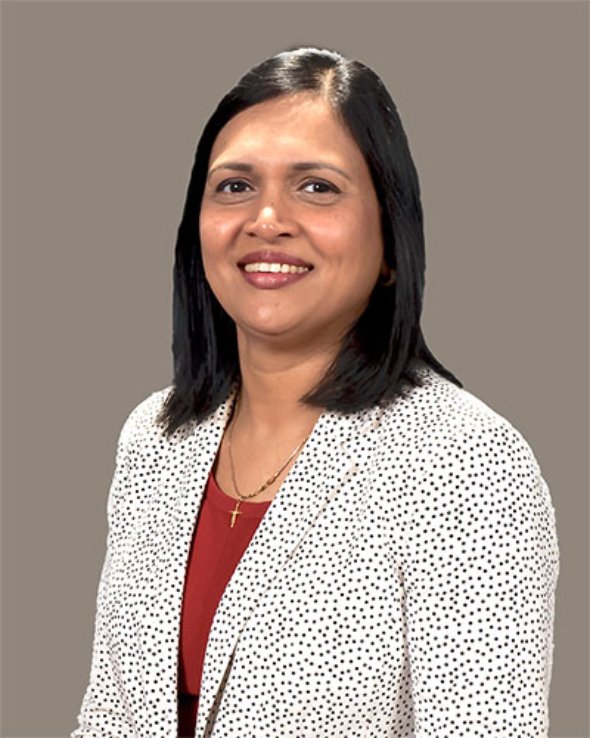 Daisy G. Mullassery
DrNP, RN, WHNP-BC
Assistant Professor
Department of Graduate Studies
Dr. Daisy Mullassery has more than 30 years of experience in the field of nursing in various capacities: Staff Nurse, Nurse-Midwife, Nurse Practitioner, and Nurse Educator. Dr. Mullassery completed her undergraduate education in Nursing from Calicut University in India. After 2 years of clinical teaching at Bombay Hospital and Research Center, she migrated to Doha, Qatar, to work as a Senior Nurse Midwife at Hamad Medical Corporation (HMC). During her time there, Dr. Mullassery had the opportunity to care for patients ranging from the royal family members of Qatar to the Bedouins out in the desert. She recognized her passion for Women's Health care issues while working in the Middle East and was instrumental in developing policies and protocols of Midwifery practice in HMC. She also worked as a clinical adjunct faculty for Qatar University.

After immigrating to the United States, Dr. Mullassery began her career as a Labor and Delivery Nurse in Long Island, New York and then in Philadelphia. She furthered her education in Nursing while working in Philadelphia and graduated from Drexel University with a Master's and a Doctoral degree in Women's Health. She worked as a full-time, board-certified Women's Health Nurse Practitioner (WHNP-BC) in an inner-city hospital in Philadelphia before moving to Houston, Texas in 2013.

Currently, she works as an assistant professor of clinical nursing at the University of Texas Health Science Center at Houston, Texas. She predominantly teaches in the graduate program teaching nurse practitioner students Advanced Pathophysiology and is actively involved in advising DNP students for their scholarly projects. Additionally, she maintains an active practice by providing clinic services to patients one day per week at the University of Texas Health Services clinic in Houston.

Her research interests include vaccine preventable cancers such as Human Papillomavirus (HPV) related cancers, Sexual and Gender Minority healthcare issues and curriculum development for healthcare education. She has completed the Community of Medical Education Scholars (CoMES) program in 2022. She currently is a Co-Investigator (Co-I) for 3 active funded research projects. Two of these projects involve interprofessional collaboration with the school of Public Health and the School of Dentistry.
Education
Drexel University, Philadelphia, Pennsylvania
DrNP
2012 – 2016
Drexel University, Philadelphia, Pennsylvania
MS in Nursing – Women's Health
2007 – 2010
Calicut University, India
BSc in Nursing
1984 - 1988
Clinical/Research Focus
Women's' health, HPV and vaccine preventable cancers, Sexual Health, Menopause associated health issues.