2023 Texas Public Health Summit
Event Description
Join TEPHI for the second annual Texas Public Health Summit. This year's hybrid event explores the interconnection between wastewater science and public health preparedness: "From Sewage to Solutions."
This day-long summit brings together leading experts and professionals to explore the vital role of wastewater science in safeguarding public health. You'll hear from researchers on current efforts, learn about challenges to implementation, and gain valuable insights into the transformative potential of wastewater science in public health preparedness.
Free to register, but limited spots available. Register today to secure your spot online or in-person.
Event Site Link
https://reg.learningstream.com/view/cal10a.aspx?ek=&ref=&aa=&sid1=&sid2=&as=108&wp=602&tz=&ms=&nav=&cc=&cat1=&cat2=&cat3=&aid=TXEPHI&rf=&pn=
When & Where
October 19, 2023
8:30 AM - 3:00 PM
The Cooley Center, 7440 Cambridge St., Houston, TX 77054 ( View in Google Map)
Contact
Additional Information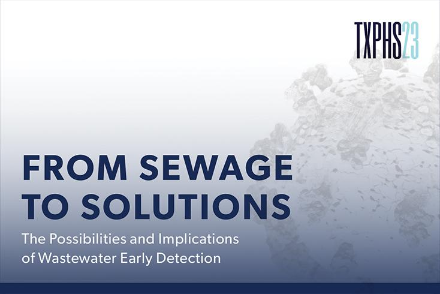 Back