Aging research: Grant deadline, consortium retreat upcoming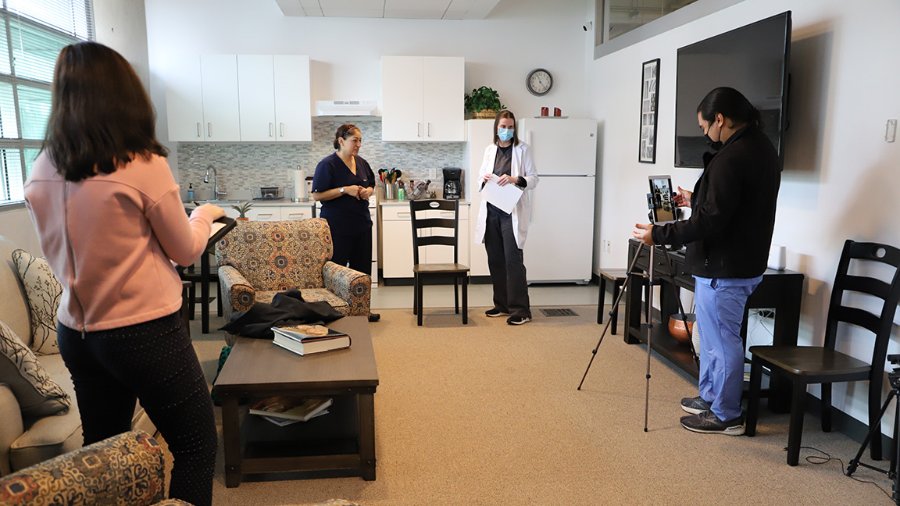 A second round of seed grant funding will soon be awarded for collaborative interprofessional projects researching aging-in-place technologies in the Smart Apartment at Cizik School of Nursing at UTHealth Houston. The opportunity comes as recipients of first-round grants are wrapping up their work and while planning is underway for the 6th Annual UTHealth Houston Consortium on Aging Member Retreat.
Grant proposal deadline: July 25
Two intramural grants of $40,000 each will be awarded to interdisciplinary teams conducting research in the Smart Apartment for the 2022-2023 academic year. The seed funding will support pilot projects to develop and test innovative uses of technology that help aging individuals live safely in their homes. Teams must be interdisciplinary and include at least one nursing faculty member.
Funding for seed grants comes from Cizik School of Nursing and the Maria C. and Christopher Pappas Distinguished Chair in Nursing Endowment, which is held by Associate Dean for Research Constance Johnson, PhD, RN, FAAN, and the UTHealth Houston Consortium on Aging.
Interested researchers should review the guidelines and submit proposals to cnrgrants@uth.tmc.edu by 5 p.m., July 25.
Technological advances from first-round grants
An interprofessional team led by Associate Professor Kirk Roberts, PhD, of the School of Biomedical Informatics (SBMI) at UTHealth Houston recently published findings from its Smart Apartment project titled "An AI-powered Chatbot for Supporting the Medication Information Needs of Older Adults." The team used information extracted from structured drug labels mandated by the FDA to develop a voice-activated artificial intelligence system to answer common questions that older adults have about particular medications.
"We found that at least for adults 65 to 75 years old, the technical barriers of using such as system would not be daunting," Roberts said. "Overall, this pilot project demonstrated that the key pieces of a Smart Apartment-based voice chatbot for medication information for older adults is feasible."
Co-investigators on the project were Associate Professor Mary E. Ross, DrPH, MSN, RN, GCNS-BC, Assistant Professor Mandi Lyons, DNP, MSN, RN, WHNP-BC, and Assistant Professor Padmavathy Ramaswamy, PhD, MPH, RN, FNP-C, from Cizik School of Nursing, and Assistant Professor Muhammad Amith, PhD, from SBMI. Graduate research assistants Meghana Gudala and Suditha Mogalla contributed to the team's paper published recently in JMIR Aging, with Gudala serving as lead author.
Another team led by Cizik School of Nursing Associate Professor Jennifer E.S. Beauchamp, PhD, RN, FAAN, is wrapping up its work on a project titled "Facial and Body Motion Technology to Detect Psychosocial Distress in Stroke Survivors and Informal Caregivers Living at Home."
The team is testing telemonitoring technology to identify facial expressions and body motions associated with psychosocial distress in stroke survivors and their informal caregivers aging at home. Early identification and timely intervention may help decrease morbidity, mortality, and disability.
Beauchamp's co-investigators are Associate Professor Xiaoqian Jian, PhD, from SBMI; Clinical Assistant Professor Jennifer Hughes, PhD, Professor and Frank M. Yatsu, MD, Chair in Neurology Sean Savitz, MD, and Associate Professor Anjail Sharrief, MD, MPH, from McGovern Medical School at UTHealth Houston; Christopher Fagundes, PhD, from Rice University School of Social Sciences, and Assistant Professor Shayan Shams of San Jose State University.
Register for retreat
Previous Smart Apartment grant recipients will make presentations at the Consortium on Aging Member Retreat, scheduled for 4-6 p.m., Thursday, August 4, at the Cooley Life Center. The event will also feature a presentation from Aanand Naik, M.D., who was appointed the consortium's new executive director in March 2022.