Hanneman among 2022 Shine Academy inductees
Hanneman among 2022 Shine Academy inductees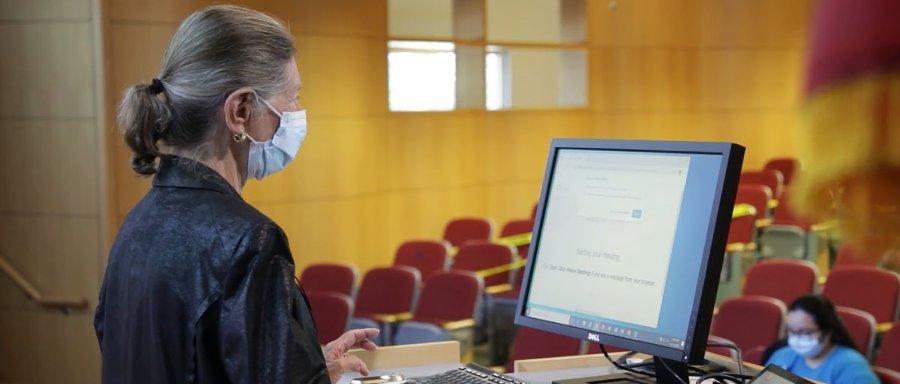 Long-time student favorite Professor Sandra K. Hanneman, PhD, RN, FAAN, became one of the newest members of The University of Texas Kenneth I. Shine, MD, Academy of Health Science Education during an induction ceremony on February 26.
She joined 15 other educators from UT-system schools throughout the state as 2022 inductees, including UTHealth School of Public Health Professor Melissa Peskin, PhD, and MD Anderson Cancer Center UTHealth Graduate School of Biomedical Sciences Professor Raghu Kalluri, MD, PhD.
"Dr. Hanneman is what I would call a preeminent educator," Associate Dean for Research Constance Johnson, PhD, RN, FAAN, wrote in her nomination. Johnson included several notes from students praising Dr. Hanneman's talent for finding engaging and fun ways to present complex subjects.
Associate Professor Sandra Branson, PhD, MSN, RN, CNE, who has known Hanneman as a student as well as a colleague, recalls her dancing the "Time Warp" in a doctoral psychometrics class to demonstrate variation of measures. "I can attest that we still hold this knowledge about measurement variation today," Branson wrote.
Hanneman takes great pride in her relationships and mentorships with students. Several graduating classes have chosen her to present their nursing pins, and undergraduates selected her for the John P. McGovern Outstanding Teacher Award in 2014, 2017, and 2019.
Hanneman joined the UTHealth Houston nursing faculty in 1996 as a tenured associate professor, earning the rank of full professor a decade later. She was named the Jerold B. Katz Distinguished Professor in Nursing Research in 2006 and has served in various leadership positions over the years, including associate dean for research from 1996 to 2010 and director of the Preclinical Critical Care Laboratory for nurse anesthesia and critical care student and faculty training and research from 2009 to 2012. She has received numerous preclinical and clinical research and educational grants and is widely published, particularly in the area of mechanical ventilation and pulmonary complications for patients in critical care settings.
Previously, Hanneman taught and served as director of research at Texas Woman's University in Houston after earning her PhD there in 1990. She holds a BSN from the University of Florida and an MSN from the University of California – San Francisco. She has practiced and served in leadership positions at several hospitals around the U.S. and provided consulting services domestically and internationally.
In this story