Meet the 2022 UTHealthLeads Cizik School of Nursing fellows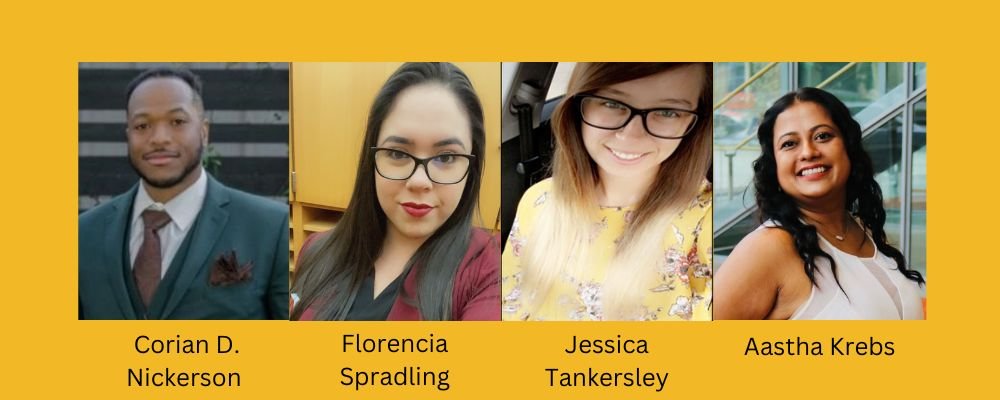 UTHealthLeads is a one-year student fellowship program to develop future leaders in health care.
In the program, UTHealth Houston students learn how to develop self-awareness, increase their leadership confidence, lead others, and effectively influence systems.
A total of 24 UTHealth Houston students — four students from each school — make up this year's cohort. They will be provided opportunities to network with leaders, develop fundamental skills, and commit to actions to continue their growth.
Meet the 2022-23 UTHealthLeads fellows at Cizik School of Nursing at UTHealth Houston:
Corian D. Nickerson
Nickerson is a first-generation college graduate. He grew up in poverty in the Greenspoint area of Houston, where he was taught by his parents to excel in any opportunity that presented itself. His previous studies were in science and communication. He has held a variety of jobs, including working as an NCAA referee and a standardized patient. He is currently a private tutor in addition to his studies working toward a Bachelor of Science in Nursing. In his free time he enjoys reading, writing, and sports. He is an avid dancer, practicing Afro-Latin dance — salsa, rueda, bachata, merengue, cumbia, kizomba, and zouk — for the better part of a decade.
What brought you to nursing?
"I have always enjoyed science and saw myself working in health care from a young age. I think the human body is amazing, and I have always wanted to learn more about it. I also enjoy teaching others. The combination of science and teaching is what has helped me find a home in nursing. I want to be able to not only help others in times of need, but to be able to educate them about improving their own personal knowledge of the issues they may encounter, methods to achieve their health goals, and the steps they can take to maintain their health in the future."
What are you hoping to gain from this program?
"Throughout my life I have been told by others that they see me as a leader, but it is something that I have never really seen in myself. I hope that through my education at Cizik School of Nursing, and with the aid of this program, that I can embrace the potential that others see in me and develop my confidence and leadership skills."
Where do you hope to be in 10 years?
"My goal is to continue my education and work toward becoming a Doctor of Nursing Practice. I hope to work in critical care and to help provide better outcomes for patients in even the most dire of situations and circumstances. I have lived in Houston for most of my life and I want to be able to give back to my community."
Florencia Spradling
Spradling is a 28 year old from Argentina, married and a mom to a 5-year-old little boy. Prior to pursuing a Bachelor of Science in Nursing, she was an event bartender, where she had the opportunity to work many interesting events and acquire great customer service experience.
What brought you to nursing?
"The labor and delivery nurses I had during the delivery of my son truly changed my life and made me want to become a nurse to help others in the way they helped me."
What are you hoping to gain from this program?
"My hopes for this program are that I develop skills and knowledge in nursing leadership that can carry me throughout my career as well as help me teach and inspire others around me."
Where do you hope to be in 10 years?
"I hope to be in my dream career as a certified registered nurse anesthetist. I hope to be involved in some sort of leadership role within the nursing profession or part of a research team dedicated to bettering the profession as a whole."
Jessica Tankersley
Tankersley is a 27-year-old wife and dog mom of three pups. Prior to enrolling in the Bachelor of Science in Nursing program, she received a bachelor's degree in biochemistry from the University of Houston. She currently works part-time as a student nurse intern at Baylor St. Luke's Medical Center.
What brought you to nursing?
"I was a scribe in the emergency room and preparing to take my MCAT to apply to medical school when I fell in love with the nurses and their roles in patient care."
What are you hoping to gain from this program?
"I am hoping to gain knowledge in how to be a good leader and how to handle problems as they arise. During this program I would like to better understand how to manage groups to work proficiently together."
Where do you hope to be in 10 years?
"I hope to become a nurse practitioner."
Aastha Krebs
Krebs is in her final year of the Doctor of Nursing Practice program, specializing as a psychiatric mental health nurse practitioner. She has worked as a psychiatric-mental health registered nurse for more than 10 years. During her time as an admissions nurse in various psychiatric facilities, she recognized the barriers that prevented Texans from receiving adequate mental health services. Her interests lie in improving access to mental health services and reducing mental health disparities.
What brought you to nursing?
"The drive to influence positive changes in health care, public policy, and professional development."
What are you hoping to gain from this program?
"Mentorship in organizational leadership, improved leadership skills, learning from leaders, networking, and paving a path for myself to be a nurse leader."
Where do you hope to be in 10 years?
"In 10 years, I hope to be leading an organization, whether in health care or in public policy. An additional goal is to start and operate a successful business related to mental health care."
Faith Harper