Treating travelers
Alumna helps elevate travel health nursing to an ANA-recognized specialty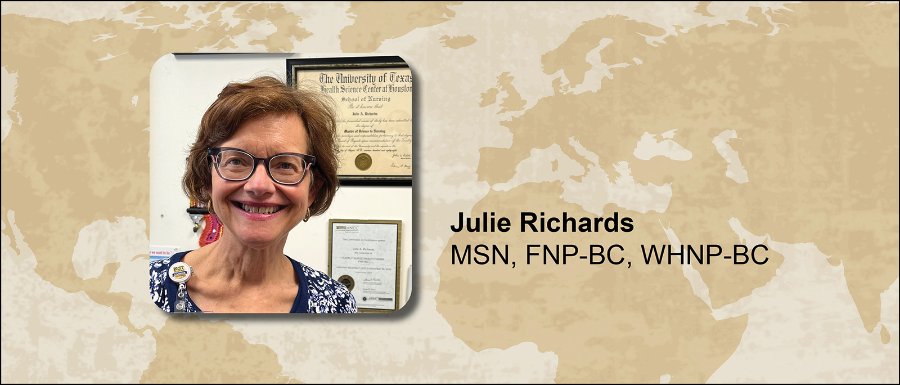 One week before the World Health Organization declared COVID-19 a pandemic, the American Nurses Association (ANA) announced its official recognition of travel health nursing as a specialty. It was a milestone Julie Richards had been working toward for years.
Richards, MS, MSN, FNP-BC, WHNP-BC, was among the first cohort to complete the women's health nurse practitioner program at UTHealth Houston in 1995. She later gained several years of experience in student health before she began practicing at the Stanford University Vaden Health Center in 2005. There, she jumped at the chance to get involved in travel health.
Travel nursing combines two of Richards' passions – exploring the world and health promotion and prevention.
"International travel helps us see the common humanity in all people, and ultimately that we are all more alike than different," she wrote in the Travel Bytes blog, published by the American Travel Health Nurses Association (ATHNA).
Travel nursing offers many interesting job opportunities within business, government, education, and tourism. Religious organizations who send missionaries abroad also frequently need travel health services, Richards said.
As a past president and charter fellow in the ATHNA, Richards served on a task force that convinced the ANA to recognize the new specialty. She and her colleagues strive to dispel the notion that the only thing needed to prepare a traveler for a trip abroad is a quick check of the latest guidance on immunizations.
Richards is focusing on quality improvement and vaccine uptake while pursuing her Doctor of Nursing Practice from Frontier Nursing University. However, she emphatically states that travel nursing isn't just about the shots. "We do a much broader type of risk assessment," she said.
Myriad factors about the individual and their itinerary must be considered to create a customized plan for care before, during, and after a trip. For example, motor vehicle accidents pose a greater risk than infectious disease for younger travelers, she notes. Other considerations include chronic health conditions, medications, trip insurance, seasonal and geographical variances in risk, and awareness of potential exposures after a journey.
The Vaden clinic has implemented a number of procedures specific to travel health, such as adding a template to its electronic medical record for travel-related concerns and asking all patients about their travel within the previous three months. When Richards sends a patient to an emergency room because she suspects a travel-related illness that is uncommon in the U.S., she calls the hospital directly to explain her concerns.
The ATHNA pressed for specialty recognition because the underappreciated complexities of travel nursing often lead to inconsistent practices and suboptimal outcomes, explained Richards, who co-authored, the ANA's "Travel Health Nursing: Scope and Standards." She is particularly proud of the code of ethics the ATHNA developed as part of the ANA's process for earning nursing specialty recognition.
Her hope is that travel nursing education will become integrated within undergraduate and graduate nursing programs across the nation.
"We're developing a curriculum to provide some guidance for schools of nursing," she said. "It's really an exciting specialty, and it's unique in that it changes every day."
Richards keeps in touch with several of her UTHealth Houston classmates and fondly recalls Dean Emerita Patricia Starck, DSN, RN, FAAN, and faculty members who taught in the women's health program during her time at the nursing school. She has also given back to the school via philanthropic support.
"I am a big believer in mentoring and support for nursing students and nurses at the beginning of their careers," she said. "I got that help myself."
Sherri Deatherage Green