World AIDS Day: HIV research gaining momentum at Cizik School of Nursing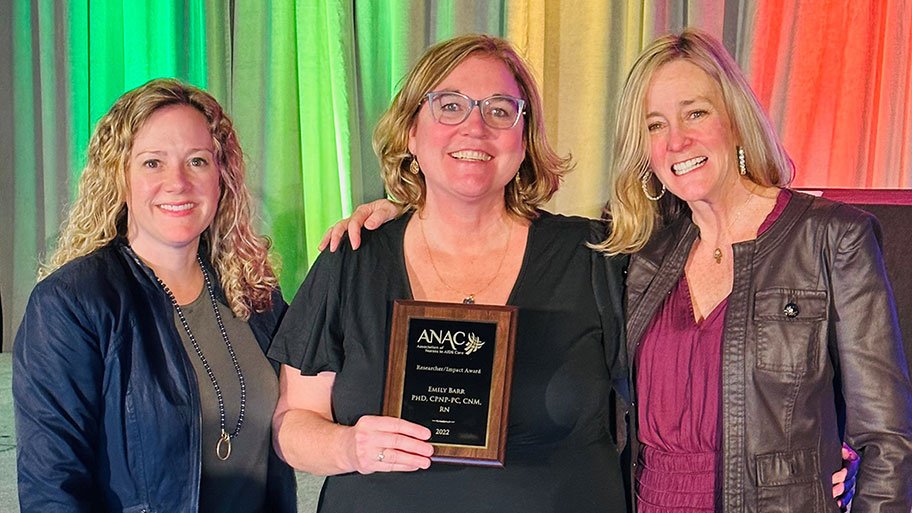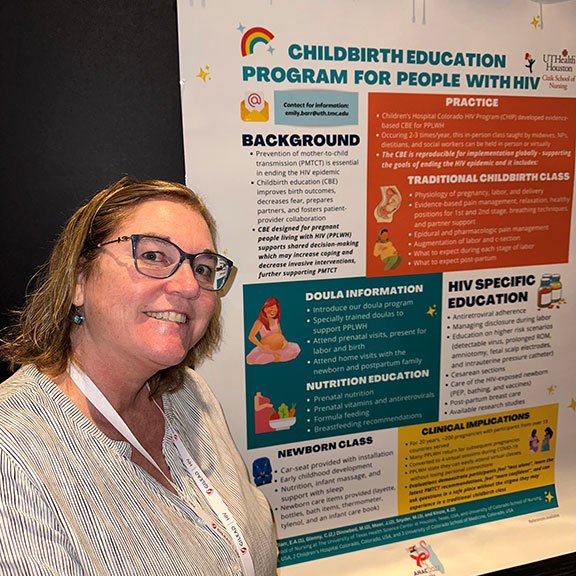 The first World AIDS Day in 1988 drew attention to a deadly epidemic. Prevention and treatment methods developed in the past 34 years have transformed HIV into a manageable chronic condition, but one that continues to infect thousands of people every year in the Houston area.
At Cizik School of Nursing at UTHealth Houston, faculty members and graduate students are exploring many facets of HIV and earning recognition for their efforts.
The school made a strong showing at the recent Association of Nurses in AIDS Care (ANAC) conference in Tampa, Florida, with Assistant Professor Emily Barr, PhD, CPNP-PC, CRM, RN, being honored as the organization's Research of the Year.
"Dr. Barr's work is making a positive impact on mothers and children affected by HIV, and I am excited to see what she will accomplish next with her growing program of research," said Dean Diane Santa Maria, DrPH, MSN, RN, FAAN. "Please join me in congratulating Dr. Barr on this well-deserved honor."
Barr presented a poster titled "Childbirth Education Program for people with HIV," which she worked on as part of the Children's Hospital of Colorado HIV Program before joining the Cizik School of Nursing Faculty earlier this year. She also shared data from a recent study, "Trust, Telehealth, and Transition: Factors Affecting Patient-Provider Trust, Trust in Telehealth, and Engagement in Care During Health Care Transition of Young Adults with HIV During the COVID-19 Pandemic." Barr is currently building on that work with a $50,000 seed grant from the Texas Development Center on AIDS Research (TX D-CFAR). Earlier this year, Barr received an award for Excellence in Service to Pediatric HIV/AIDS Cohort Study at the 14th Annual CFAR Social and Behavioral Sciences Research Network Conference.
Several other faculty and staff members attended the event, including Santa Maria, who presented a poster titled "Challenges of PrEP uptake in adherence among youth experiencing homelessness." The ANAC conference also include a plenary presentation from PhD candidate Maggie White, MPH, MSN, FNP, "Leave No Patient Behind: When Undetectable Matters Most," a patient case study.
"Our representation at this year's ANAC conference shows the momentum that is building at Cizik School of Nursing in this important area of research and practice," Santa Maria said.
Other faculty at Cizik School of Nursing who are conducting HIV research include assistant professors Meagan Whisenant, PhD, APRN, and Veronica J. Brady, PhD, RN, FNP-BC. Whisenant has enrolled 70 people so far for her study "Characterizing Symptoms Among Subpopulations of Persons Living with Human Immunodeficiency Virus."
"While the mean symptom severity for all symptoms is mild, a percentage of participants report multiple symptoms at severe levels," Whisenant said. "Emerging themes from 25 qualitative interviews include barriers to care, adjusting to a new diagnosis, worry about what others will think, symptoms interfering with daily functioning, impact on employment, and leaning on faith."
Brady's project, "Impact of Depression and HIV Symptoms on Glycemic Outcomes (A1c, BG) Among Patients Living with HIV and Type 2 Diabetes," is funded by a $15,000 seed grant from a CFAR at the University of Alabama, and she is collaborating with faculty from that University as well as Cizik School of Nursing and the University of Texas in Austin.
Below are resources for HIV, information, and health care in the Houston area:
In this story