"A BSN opens doors"
RN to BSN student applies what he learns daily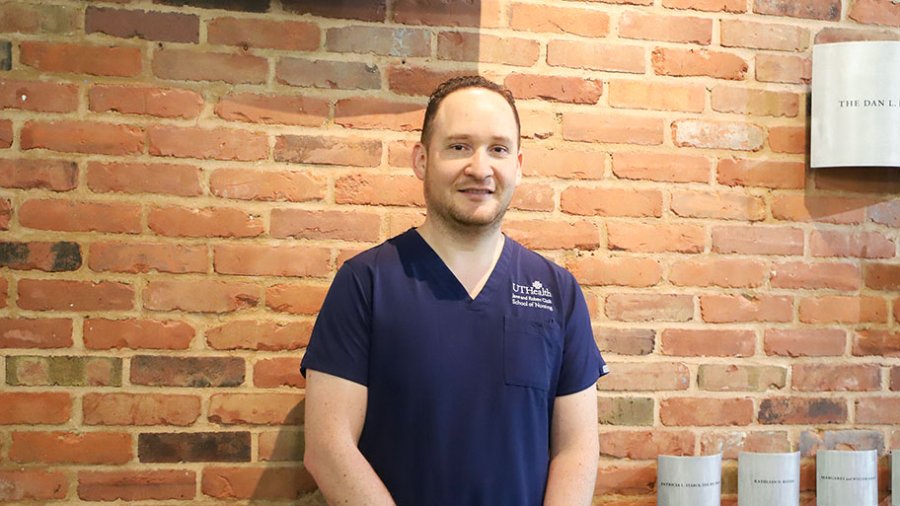 Arnoldo Varela-Guillen, RN, passed by Cizik School of Nursing at UTHealth Houston every day on his way to work as an anesthesia technician at The University of Texas MD Anderson Cancer Center.
"It was my dream to become an RN," he said. "Walking in here for the first time is literally a dream come true."
Varela-Guillen had never stepped into the nursing school's lobby before being interviewed for this article. He is working towards his Bachelor of Science in Nursing (BSN) through Cizik School of Nursing's RN to BSN option, which means all of his courses are online and most of them are self-paced.
A native of Mexico, Varela-Guillen grew up in El Paso and became a U.S. resident through the Deferred Action for Childhood Arrivals (DACA) program. He was inspired to pursue a health care career by his brother, a nurse.
After moving to Houston, Valera-Guillen worked as an anesthesia technician at Ben Taub Hospital and later MD Anderson. He met several Cizik School of Nursing alumni among the nurses and nurse anesthetists he worked with who highly recommended the school.
Varela-Guillen was accepted into the Associate Degree Nursing (ADN) program at Houston Community College in 2021 and was excited to learn that he could apply to Cizik School of Nursing for early decision before graduating from HCC. He enrolled in the city's top BSN program January 2023 and received the Mary Joe White Scholarship to help fund his studies.
RN to BSN students may choose to complete their bachelor's degrees in two, three, or five semesters. Didactic courses are online, and students can satisfy their in-person community clinical requirements in a variety of settings in the Houston area or other parts of Texas. Like most students, Varela-Guillen chose the three-semester plan.
"The professors are very easy work with," he said. Tutoring is available for BSN students, but Valera-Guillen said he had not needed it so far because faculty has been so supportive and accessible.
He is working full time as an RN in a local cardiovascular intensive care unit while completing his studies, so he can quickly put newly gained knowledge into practice. "I learn it in class and apply it at work the very next day," he said.
BSN preparation fosters a higher level of critical thinking and awareness in the workplace, Valera-Guillen said. Moreover, finding a nursing job in the Texas Medical Center or anywhere in Houston can be difficult without a BSN. Most hospitals require the degree, and some hire ADN-prepared RNs with the understanding that they will obtain a BSN within a specified timeframe.
Valera-Guillen advises nurses considering the RN to BSN option to select the semester plan that fits in with their work life and to stick to a consistent study schedule.
"Don't take overtime shifts," he said. "Make sure to pace yourself."
Earning a BSN is a key step toward achieving his ultimate goal of one day becoming a nurse anesthetist or nurse practitioner. He enjoyed a brief tour of Cizik School of Nursing, where he may one day return as a graduate student.
"The BSN definitely opens doors," he said. "Now that I have been exposed to nurse anesthetists and nurse practitioners, I know where I can land."