Accomplished Alumni
DNP graduate leads with data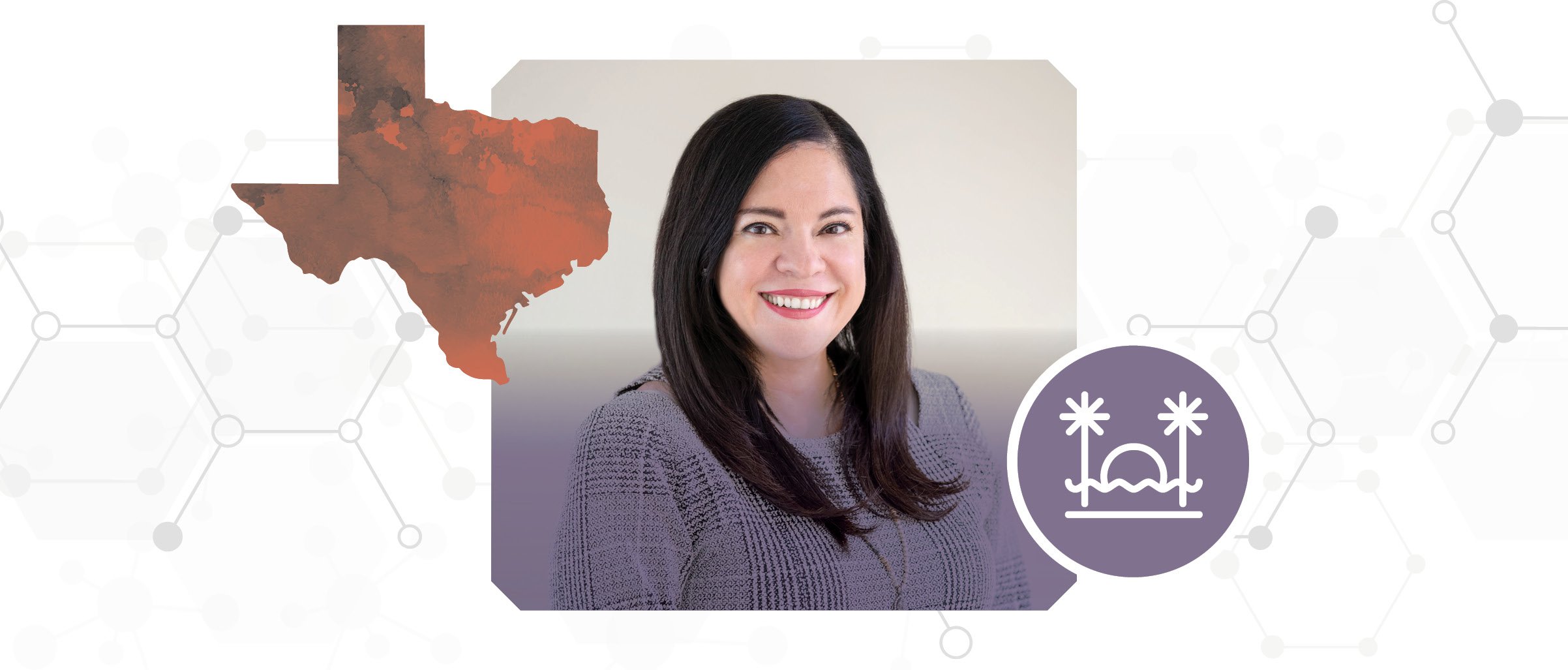 Elizabeth Cantu Adamson, DNP, RN, was an experienced nurse who did not know how to use a spreadsheet program when she took a new job in South Texas 15 years ago. In 2018, she became the first Cizik School of Nursing at UTHealth student to receive a Doctor of Nursing Practice degree with a specialization in informatics.
Adamson has come a long way since earning her associate's degree at Moraine Valley Community College in the Chicago suburbs. Her family relocated to Dallas in the late 1990s, where she gained critical care, endoscopic, and a wide range of operating room experience at Baylor Scott & White Medical Center in Grapevine, Texas.
In 2005, she took a job with DHR Health in Edinburg, Texas, which now operates more than 70 hospitals and clinics in the Rio Grande Valley. Adamson was hired to establish a preadmission testing unit, but within two weeks, she was instead assigned to implement a surgical management system.
"I told them I thought they had the wrong person because I was a nurse. I didn't have an IT background," she said.
In fact, Adamson had the exact qualifications the health system was looking for – the clinical experience to help the information technology team develop a decision management system that worked for nurses, doctors, and other health care professionals. That first project led to another, then another, and over the years, Adamson helped implement systems for laboratory information, order management, and several other functions.
Her career evolved into informatics without any formal training in the field, and she became DHR's first Chief Nursing Informatics Officer. Along the way, she became a Certified Professional in Health Informatics Systems and earned her BSN and MSN degrees from The University of Texas at Arlington. Her chief nursing officer inspired her to seek her DNP. Online coursework was the only practical way for her to advance her education while working full time and raising two children in the far reaches of South Texas.
"Between work and school, that time is a big blur," Adamson said. "I was keeping my eye on the prize - to get an advanced education."
Knowing that campus visits would be required, she chose Cizik School of Nursing in part because of its relative proximity to Edinburg – which still meant a 5 ½-hour drive one way.
"Going through the process was both exciting and motivating," Adamson said. "Even though I had a lot of hands-on experience, I didn't realize how much I didn't know. Getting that degree helped me fill in a lot of the gaps."
"Liz was the first graduate of this unique program between Cizik School of Nursing and UTHealth School of Biomedical Informatics, the only school of its kind in the country," said Juliana Brixey, PhD, RN, associate professor of health informatics at the School of Biomedical Informatics. "She was an exemplary student and a role model for future informatics students entering the program."
The Cizik School of Nursing's DNP program culminates with a process improvement project, and Adamson's was titled Improving Health Communication for Limited English Proficiency Spanish-Speaking Patients through Clinical Decision Support. She stresses the importance of effective communication not only with patients but their family members in the region where she works along the U.S.– Mexico border. The system she helped develop ensures that Spanish speakers receive printed discharge instructions as well as follow-up surveys and communications in their preferred language.
The online aspect of Cizik's hybrid program proved critical because it enabled Adamson to continue working while earning her degree, but she emphasizes the irreplaceable value of in-person interaction.
"Being on-site is so important—being able to connect with your peers and instructors. The stories and experiences that are shared are just as valuable as the coursework itself," she said. "I still have relationships with a lot of my classmates that I probably will have for life."
Adamson is still leading informatics initiatives at DHR. The knowledge gained through the DNP program gives her confidence to hone her vision and better advocate for clinicians. In addition to her involvement with clinical information systems, she has developed a business intelligence team to improve data collection and analysis used in decision-making. The business development team focuses on applications used in the revenue and finance functions.
"I'm not done growing," said Adamson, who has been promoted to chief experience officer since earning her DNP. "With every new experience, I'm learning. I'm kind of just getting started."