Cizik School of Nursing alumnus assumes command of Navy hospital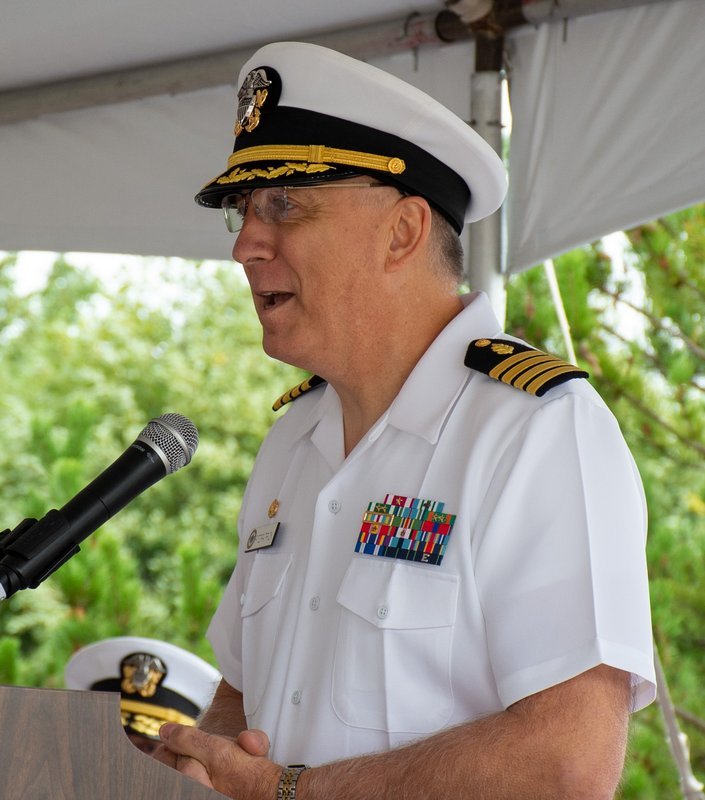 Navy Capt. Patrick Fitzpatrick, MSN, ENP, credits Cizik School of Nursing at UTHealth Houston with preparing him to advance through the ranks to lead both military and civilian operations at a Navy hospital just across Puget Sound from Seattle.
Fitzpatrick assumed command of Navy Medicine Readiness and Training Command Bremerton on August 20, 2021. "It is the pinnacle of anything that I could have hoped for, to have the honor of command," he said.
Nursing came before the Navy for Fitzpatrick. He began his career as a civilian nurse in a cardiac step-down unit at a hospital in Missoula, Montana.
"I wanted to get into emergency nursing, and it was really hard to do in the town where I lived. You had to have experience, and it was hard to get the necessary experience," Fitzpatrick recalled. "I thought I would join the Navy for a tour or two. Then maybe come back to Montana and work in an emergency department. That one tour led into another and another, and now I'm on my eighth."
As the old saying goes, he joined the Navy and saw the world. He began his active duty at Bremerton and later served tours in Italy, Guam, and several military hospitals on the eastern seaboard and west coast of the U.S. From 2006-2008, he called Houston home while earning his Master of Science in Nursing as a clinical nurse specialist (CNS) and completed postmasters work to become an emergency nurse practitioner (ENP).
"I am not at all surprised about Patrick's success," said ENP track director Professor Elda Ramirez, PhD, RN, ENP. "He was a leader when he came to us, combining a calming presence, trustworthiness, and a great capacity to improve processes and achieve results."
As a Navy Nurse Corps officer, Fitzpatrick was eligible to pursue graduate studies under the Duty Under Instruction program. At the time he was accepted into the program, UTHealth School of Nursing was pioneering ENP education and was his clear first choice.
"The CNS program director stressed to us that you should be able to go into any kind of system and be effective at assessing and creating change within that organization," Fitzpatrick said. "I think that had a lot to do with my right turn into leadership."
In his new role, Fitzpatrick serves as both commander of military personnel stationed at Bremerton and as director of Defense Health Agency (DHA) operations. The DHA provides treatment and services to dependents and retirees. He also collaborates with the leaders of several other military medical installations in the region, which now share services and resources under a geographic market model.
Some of the military personnel at Bremerton work in the hospital on base, while others train and maintain readiness to respond to emergencies. Current deployments include helping victims of the earthquake in Haiti and Hurricane Ida as well as Afghan refugees. Staff members – providers, nurses, and hospital corpsmen - are also working with hospitals throughout the U.S. to help stop the spread of COVID-19.
A highlight of Fitzpatrick's command so far has been to meritoriously promote eight sailors to higher levels of service and responsibility.
"I've been on the job just a couple of weeks now, and it was a great experience," he said. "It's something we can do at the local level to recognize talent that helps shape our Navy Medicine force."