Leading domestic violence scholar featured in new lecture series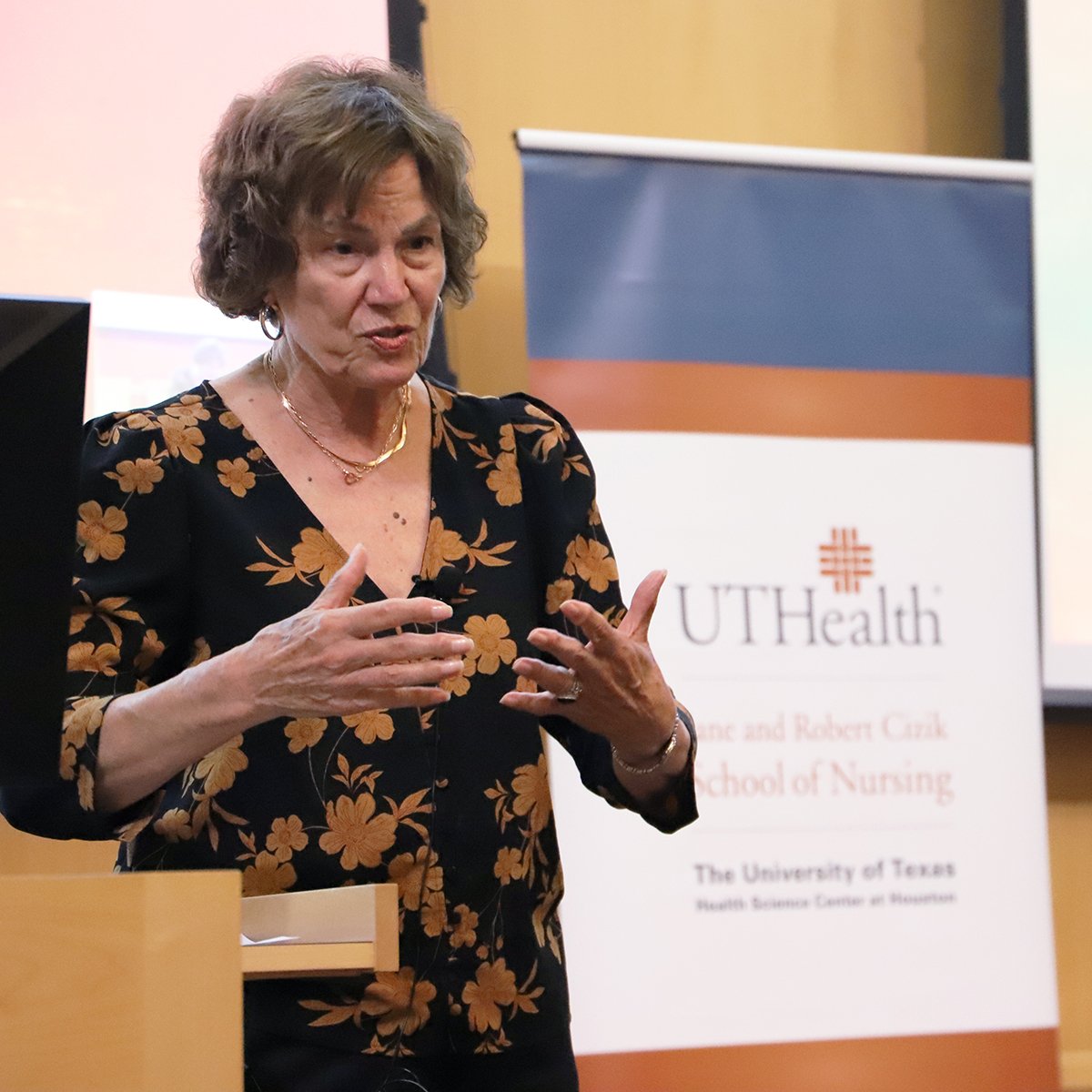 Health care professionals must actively engage with people who have experienced domestic violence to connect them to needed services, said Professor Jacquelyn Campbell, PhD, MSN, RN, FAAN, in the inaugural presentation of the Carla Diaz-Lewis Domestic Violence Lecture Series on October 13, 2021.
Campbell, the Anna D. Wolf Chair at the Johns Hopkins School of Nursing, explained many harrowing statistics and described a number of approaches to recognize, address, prevent, and heal from domestic violence. Faculty, students, staff, and community supporters of The University of Texas Health Science Center at Houston (UTHealth Houston) attended virtually and in person at Cizik School of Nursing. The school's Center for Nursing Research hosted the program.
Women who are killed by intimate partners have often sought health care within the previous year, Campbell noted.
"Part of what we do in the health care system is get those women connected to domestic violence services," she said, noting the importance of actively engaging in that process instead of simply providing referral information. "We have to make that bridge for them."
Campbell's lecture served as a springboard for a panel discussion that followed. Professor Judith McFarlane, DrPH, RN, served as moderator. She is the Parry Nursing Chair in Health Promotion - Houston Center at Texas Women's University. Expert panelists were Maisha Colter, MSW, JD, CEO of Aid to Victims of Domestic Abuse; Sandra Sanchez, MSN, RN, SANE-A, SANE-P, forensic program nursing director at Harris Health System; Rebecca Tsusaki, PhD, RN, WHNP-BC, IBCLC, assistant professor of Graduate Studies at Cizik School of Nursing; and Nagi M. Demian, DDS, MD, professor of oral and maxillofacial surgery at UTHealth Houston School of Dentistry.
McFarlane posed questions to the panel about effective programs and ways to prevent repeat incidents after the initial contact with someone who has experienced domestic violence.
Colter said helping the individual gain self-reliance is one key to preventing continued abuse. "How can we shore up that person so they can make decisions for themselves?" she said. "Most of the time when they stay [in an abusive relationship] it's because they can't see a way out. They don't think they have the resources to sustain themselves."
"Once you get someone to safety, you really have to work on substance use and mental health," added Tsusaki, who noted that many people experiencing abuse struggle with such issues. "They have to be addressed together and addressed separately," she said.
The event was the first in an annual series established by Carla Diaz-Lewis and her husband, Kenneth Lewis. Its aim is to teach health care providers and community members how to identify and assist victims of domestic violence.
Mrs. Diaz-Lewis serves on the board of directors for Aid to Victims of Domestic Abuse, a nonprofit organization focused on family violence intervention and prevention, and Mr. Lewis is a member of the Cizik School of Nursing Advisory Council and UTHealth Houston Development Board. Creation of the lectureship was inspired by Mrs. Diaz-Lewis' own experience as a survivor of domestic violence in her youth.
"Domestic violence is a major public health concern," she said. "It causes a ripple effect of repercussions. Survivors can slip into drug and alcohol addiction, homelessness, and criminal behavior; have lasting mental health issues; or find themselves victims of human trafficking. It can strike across all cultures, genders, socioeconomic levels, and sexual orientations."
The problem has increased during the past couple of years, likely associated with pandemic-related stressors. It adds to the urgency of the couple's gift, which they hope will lay the foundation for a future hub of domestic violence research and education at UTHealth Houston.
"We are extremely grateful for this generous gift, and we see this lecture series as a critical first step to meeting the needs of people impacted by domestic violence locally and across the nation," said Dean Diane Santa Maria, DrPH, MSN, RN. "This lecture series will allow us to strengthen our connections to community providers, increase the knowledge of health care providers on best practices to assess and care for those affected by domestic violence, and conduct research on effective prevention and treatment strategies."